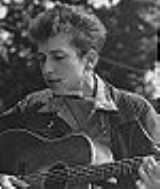 Singer-songwriter
Singer-songwriters
are musicians who
write
Lyricist
A lyricist is a songwriter who specializes in lyrics. A singer who writes the lyrics to songs is a singer-lyricist. This differentiates from a singer-composer, who composes the song's melody.-Collaboration:...
,
compose
Composer
A composer is a person who creates music, either by musical notation or oral tradition, for interpretation and performance, or through direct manipulation of sonic material through electronic media...
and sing their own musical material including
lyrics
Lyrics
Lyrics are a set of words that make up a song. The writer of lyrics is a lyricist or lyrist. The meaning of lyrics can either be explicit or implicit. Some lyrics are abstract, almost unintelligible, and, in such cases, their explication emphasizes form, articulation, meter, and symmetry of...
and
melodies
Melody
A melody , also tune, voice, or line, is a linear succession of musical tones which is perceived as a single entity...
. As opposed to contemporary popular music singers who write their own songs, the term singer-songwriter describes a distinct form of artistry, closely associated with the
folk
Folk music
Folk music is an English term encompassing both traditional folk music and contemporary folk music. The term originated in the 19th century. Traditional folk music has been defined in several ways: as music transmitted by mouth, as music of the lower classes, and as music with unknown composers....
-acoustic tradition. Singer-songwriters often provide the sole
accompaniment
Accompaniment
In music, accompaniment is the art of playing along with an instrumental or vocal soloist or ensemble, often known as the lead, in a supporting manner...
to an entire
composition
Musical composition
Musical composition can refer to an original piece of music, the structure of a musical piece, or the process of creating a new piece of music. People who practice composition are called composers.- Musical compositions :...
or song, typically using a guitar or piano; both the compositions and the arrangements are written primarily as solo vehicles, with the material angled toward topical issues; sometimes political, sometimes introspective, sensitive, romantic, and confessional.
The concept of a singer-songwriter can actually be traced to ancient
bardic
Bardic poetry
Bardic Poetry refers to the writings of poets trained in the Bardic Schools of Ireland and the Gaelic parts of Scotland, as they existed down to about the middle of the 17th century, or, in Scotland, the early 18th century. Most of the texts preserved are in Middle Irish or in early Modern Irish,...
culture, which has existed in various forms throughout the world.