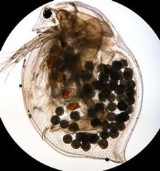 Daphnia
Daphnia
are small,
plankton
Plankton
Plankton are any drifting organisms that inhabit the pelagic zone of oceans, seas, or bodies of fresh water. That is, plankton are defined by their ecological niche rather than phylogenetic or taxonomic classification...
ic
crustacean
Crustacean
Crustaceans form a very large group of arthropods, usually treated as a subphylum, which includes such familiar animals as crabs, lobsters, crayfish, shrimp, krill and barnacles. The 50,000 described species range in size from Stygotantulus stocki at , to the Japanese spider crab with a leg span...
s, between 0.2 and 5 mm in length.
Daphnia
are members of the
order
Order (biology)
In scientific classification used in biology, the order is# a taxonomic rank used in the classification of organisms. Other well-known ranks are life, domain, kingdom, phylum, class, family, genus, and species, with order fitting in between class and family...
Cladocera
Cladocera
Cladocera is an order of small crustaceans commonly called water fleas. Around 620 species have been recognised so far, with many more undescribed. They are ubiquitous in inland aquatic habitats, but rare in the oceans. Most are long, with a down-turned head, and a carapace covering the apparently...
, and are one of the several small aquatic crustaceans commonly called water fleas because of their saltatory swimming style (although
flea
Flea
Flea is the common name for insects of the order Siphonaptera which are wingless insects with mouthparts adapted for piercing skin and sucking blood...
s are
insect
Insect
Insects are a class of living creatures within the arthropods that have a chitinous exoskeleton, a three-part body , three pairs of jointed legs, compound eyes, and two antennae...
s and thus only very distantly related). They live in various aquatic environments ranging from
acid
Acid
An acid is a substance which reacts with a base. Commonly, acids can be identified as tasting sour, reacting with metals such as calcium, and bases like sodium carbonate. Aqueous acids have a pH of less than 7, where an acid of lower pH is typically stronger, and turn blue litmus paper red...
ic
swamp
Swamp
A swamp is a wetland with some flooding of large areas of land by shallow bodies of water. A swamp generally has a large number of hammocks, or dry-land protrusions, covered by aquatic vegetation, or vegetation that tolerates periodical inundation. The two main types of swamp are "true" or swamp...
s to
freshwater
Fresh Water
Fresh Water is the debut album by Australian rock and blues singer Alison McCallum, released in 1972. Rare for an Australian artist at the time, it came in a gatefold sleeve...
lakes, ponds, streams and rivers.
The division of the body into
segments
Segmentation (biology)
Segmentation in biology refers to either a type of gastrointestinal motility or the division of some animal and plant body plans into a series of repetitive segments. This article will focus on the segmentation of animal body plans, specifically using the examples of the phyla Arthropoda,...
is not visible.