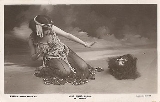 Dance of the Seven Veils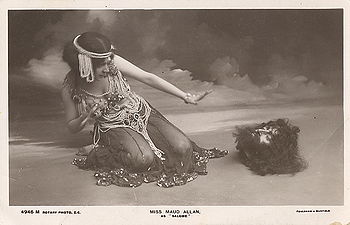 In several notable works of Western culture, the
Dance of the Seven Veils
(usually described as danced by
Salome
Salome
Salome , the Daughter of Herodias , is known from the New Testament...
) is one of the elaborations on the
biblical
Bible
The Bible refers to any one of the collections of the primary religious texts of Judaism and Christianity. There is no common version of the Bible, as the individual books , their contents and their order vary among denominations...
tale of the execution of
John the Baptist
John the Baptist
John the Baptist was an itinerant preacher and a major religious figure mentioned in the Canonical gospels. He is described in the Gospel of Luke as a relative of Jesus, who led a movement of baptism at the Jordan River...
. Details enriching the story in later
Christian mythology
Christian mythology
Christian mythology is the body of myths associated with Christianity. In the study of mythology, the term "myth" refers to a traditional story, often one which is regarded as sacred and which explains how the world and its inhabitants came to have their present form.Classicist G.S. Kirk defines a...
include providing a name for the dance, and describing the purpose of the dance as being to inflame King Herod with
incest
Incest
Incest is sexual intercourse between close relatives that is usually illegal in the jurisdiction where it takes place and/or is conventionally considered a taboo. The term may apply to sexual activities between: individuals of close "blood relationship"; members of the same household; step...
uous desire so that he would treat John as she wished.
Biblical account
According to ten verses of , John was imprisoned for criticizing King
Herod Antipas
Herod Antipas
Herod Antipater , known by the nickname Antipas, was a 1st-century AD ruler of Galilee and Perea, who bore the title of tetrarch...
's marriage to
Herodias
Herodias
Herodias was a Jewish princess of the Herodian Dynasty. Asteroid 546 Herodias is named after her.-Family relationships:*Daughter of Aristobulus IV...
, the former wife of Antipas' "brother" Herod Philip I. Herod offered his niece a reward of her choice for performing a dance on his birthday. Herodias persuaded her daughter to ask for John the Baptist's head on a platter. Against his better judgment, Antipas reluctantly acceded to her request.
Account by Flavius Josephus
The historian
Josephus
Josephus
Titus Flavius Josephus , also called Joseph ben Matityahu , was a 1st-century Romano-Jewish historian and hagiographer of priestly and royal ancestry who recorded Jewish history, with special emphasis on the 1st century AD and the First Jewish–Roman War, which resulted in the Destruction of...
lists the stepdaughter's name as Salome, but makes no mention of a dance.
Cultural references
The
Oscar Wilde
Oscar Wilde
Oscar Fingal O'Flahertie Wills Wilde was an Irish writer and poet. After writing in different forms throughout the 1880s, he became one of London's most popular playwrights in the early 1890s...
play
Salomé
Salome (play)
Salome is a tragedy by Oscar Wilde.The original 1891 version of the play was in French. Three years later an English translation was published...
, and
Strauss
Richard Strauss
Richard Georg Strauss was a leading German composer of the late Romantic and early modern eras. He is known for his operas, which include Der Rosenkavalier and Salome; his Lieder, especially his Four Last Songs; and his tone poems and orchestral works, such as Death and Transfiguration, Till...
's
opera adaptation
Salome (opera)
Salome is an opera in one act by Richard Strauss to a German libretto by the composer, based on Hedwig Lachmann's German translation of the French play Salomé by Oscar Wilde. Strauss dedicated the opera to his friend Sir Edgar Speyer....
, both feature the dance of the seven veils. The dance remains unnamed except in the acting notes, but Salome's sexual fascination with John seems to motivate the request—though Herodias is portrayed as pleased. The most famous music for the "Dance of the Seven Veils" comes from near the climax of the opera. The visual content of that scene (about seven minutes in length with standard
tempi
Tempo
In musical terminology, tempo is the speed or pace of a given piece. Tempo is a crucial element of any musical composition, as it can affect the mood and difficulty of a piece.-Measuring tempo:...
) has varied greatly depending on the aesthetic notions of the stage director, choreographer, and
soprano
Soprano
A soprano is a voice type with a vocal range from approximately middle C to "high A" in choral music, or to "soprano C" or higher in operatic music. In four-part chorale style harmony, the soprano takes the highest part, which usually encompasses the melody...
, and on the choreographic skills and body shape of that singer.
The 1953 film
Salome
Salome (1953 film)
Salome is a Biblical epic film made in Technicolor by Columbia Pictures. It was directed by William Dieterle and produced by Buddy Adler from a screenplay by Harry Kleiner and Jesse Lasky Jr. The music score was by George Duning, the dance music by Daniele Amfitheatrof and the cinematography by...
features Rita Hayworth performing the dance of the seven veils as a strip dance in which she starts the dance wearing seven "veils" (most of which more closely resemble scarves) and removes six of them during the course of the dance, ending the routine wearing only a beige and gold dress, which is the seventh veil. The veils she removes, in order from first removed to last are: black and gold, blue and silver, purple, red, orange and pink, and finally yellow.
The character Lisa in the 1954 Alfred Hitchcock film
Rear Window
Rear Window
Rear Window is a 1954 American suspense film directed by Alfred Hitchcock, written by John Michael Hayes and based on Cornell Woolrich's 1942 short story "It Had to Be Murder"...
remarks that she'll have to move "into an apartment across the way and do the dance of the seven veils every hour" if she's to keep her boyfriend sensually entertained, and not peeping at a ballet-dancer in the opposite apartment.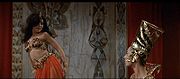 In the 1961 film
King of Kings
,
Salomé
Salome
Salome , the Daughter of Herodias , is known from the New Testament...
, portrayed by
Brigid Bazlen
Brigid Bazlen
Brigid Mary Bazlen was an American actress. Although she made only three Hollywood films, The Honeymoon Machine, King of Kings, and How the West Was Won, because all three remain popular films from the early 1960s, she is still remembered...
, performs a similar dance; her voluptuous seduction of a drunken lascivious
Herod Antipas
Herod Antipas
Herod Antipater , known by the nickname Antipas, was a 1st-century AD ruler of Galilee and Perea, who bore the title of tetrarch...
remains highly praised and is now widely regarded as Bazlen's best performance.
In
The Night Porter
The Night Porter
The Night Porter is a controversial 1974 film by Italian director Liliana Cavani, starring Dirk Bogarde and Charlotte Rampling.- Synopsis :...
(
Il Portiere di notte
), a controversial 1974 film of the
Nazi exploitation
Nazi exploitation
Nazi exploitation is a subgenre of exploitation film and sexploitation film that involves villainous Nazis committing criminal acts of a sexual nature often as camp or prison overseers in World War II settings...
genre by Italian director
Liliana Cavani
Liliana Cavani
Liliana Cavani is an Italian film director and screenwriter. She belongs to a generation of Italian filmmakers that came into prominence in the 1970s and includes Bernardo Bertolucci, Pier Paolo Pasolini and Marco Bellochio. Cavani became internationally known after the success of her 1974 feature...
,
Charlotte Rampling
Charlotte Rampling
Charlotte Rampling, OBE is an English actress. Her career spans four decades in English-language as well as French and Italian cinema.- Early life :...
plays concentration camp survivor Lucia Atherton. In an iconic scene, Lucia sings a Marlene Dietrich song and dances for the concentration camp guards while wearing pieces of an SS uniform, and her Nazi abuser Max rewards her with the head of a male inmate who had been bullying the other inmates. (The
Duran Duran
Duran Duran
Duran Duran are an English band, formed in Birmingham in 1978. They were one of the most successful bands of the 1980s and a leading band in the MTV-driven "Second British Invasion" of the United States...
video "The Chauffeur" features an homage to this dance.)
Sinéad O'Connor
Sinéad O'Connor
Sinéad Marie Bernadette O'Connor is an Irish singer-songwriter. She rose to fame in the late 1980s with her debut album The Lion and the Cobra and achieved worldwide success in 1990 with a cover of the song "Nothing Compares 2 U"....
refers to the dance in her song, "
Mandinka
Mandinka (song)
"Mandinka" is a song by Sinéad O'Connor from her 1987 album The Lion and the Cobra.The video for "Mandinka" was shown heavily after debuting January 24, 1988 on 120 Minutes on MTV. The single was a mainstream pop hit in the UK, peaking at #17 in the singles chart, as well as her native Ireland.The...
", on her 1987 album
The Lion and the Cobra
The Lion and the Cobra
The Lion and the Cobra is the 1987 debut album by Irish singer Sinéad O'Connor. O'Connor, age 20 at the time, recorded the album while heavily pregnant with her first child....
:
"I'm dancing the seven veils/
Want you to pick up my scarf/
See how the black moon fades/
Soon I can give you my heart"
The R-rated 1988 film,
Salome's Last Dance
features Imogen Millais-Scott as a chambermaid playing the part of Salome in a film rendition of Oscar Wilde's play. In the film she performs a dance of veils. After she has promised to dance and the king agrees to give her anything she wants as a reward, he then inquires why she has not yet started the dance, and she replies, "I am waiting for my slaves to bring me perfume, and the seven veils, and to unlace my boots". The majority of the dance in this film however is performed by a man (Dougie Howes) dressed in a copy of Salome's veil costume.
The climax to the
Tom Robbins
Tom Robbins
Thomas Eugene "Tom" Robbins Thomas Eugene "Tom" Robbins Thomas Eugene "Tom" Robbins (born July 22, 1936 is an American author. His best-selling novels are serio-comic, often wildly poetic stories with a strong social and philosophical undercurrent, an irreverent bent, and scenes extrapolated from...
1990 novel
Skinny Legs and All
features the mysterious belly-dancer Salome performing an hours-long version of the Dance of the Seven Veils. As each of her veils drops, the main character comes to an epiphany about life.
U2
U2
U2 are an Irish rock band from Dublin. Formed in 1976, the group consists of Bono , The Edge , Adam Clayton , and Larry Mullen, Jr. . U2's early sound was rooted in post-punk but eventually grew to incorporate influences from many genres of popular music...
released a song called "Salomé" as a B-side to their 1992 single "
Even Better Than the Real Thing
Even Better Than the Real Thing
"Even Better Than the Real Thing" is the second song on U2's 1991 album Achtung Baby. It was released as the album's fourth single on 7 June 1992.-Writing and recording:...
". The dance is referenced in the song's chorus - "Shake it, shake it, shake it, Salomé". The song was a prominent project during the early stages of recording for
Achtung Baby
Achtung Baby
Achtung Baby is the seventh studio album by Irish rock band U2. It was produced by Daniel Lanois and Brian Eno, and was released on 19 November 1991 on Island Records. Stung by the criticism of their 1988 release Rattle and Hum, U2 shifted their musical direction to incorporate alternative...
, but was later relegated to a B-side after the band decided they were not satisfied with the lyrics.
Singer/songwriter
Liz Phair
Liz Phair
Phair's entry into the music industry began when she met guitarist Chris Brokaw, a member of the band Come. Brokaw and Phair moved to San Francisco together, and Phair tried to become an artist there...
released a song named "Dance of the Seven Veils" on her 1993 album
Exile in Guyville
Exile in Guyville
The album, which was out of print, was again available on CD, vinyl and, for the first time, in digital format. The special reissue package includes three never-before-released songs from the original recording sessions: "Ant in Alaska", "Say You", and an untitled instrumental with Phair on guitar...
.
In 2004, British singer-songwriter
Lucie Silvas
Lucie Silvas
Lucie Silvas is a British singer-songwriter.- Early life :...
released a song called "Seven Veils" on her debut album
Breathe In
Breathe In
- Credits :* Art direction - David Coffin* Art producer - David Coffin* Bass - Paul Turner* Cello - Anthony Pleeth* Conductor - Nick Ingham* Digital editing - Keith Gary* drums - Charlie Russell* Engineer - Martin Hayles...
.
On a 2007 episode of the American TV program
Ace of Cakes
Ace of Cakes
Ace of Cakes is an American reality television show which airs on the Food Network. The show focuses on the daily operations of Duff Goldman's custom cake shop, Charm City Cakes, in Baltimore, Maryland; including small-business ownership, working with various vendors, tasting with customers,...
, Charm City Cakes owner
Duff Goldman
Duff Goldman
Jeffrey Adam "Duff" Goldman is a pastry chef and television personality. He is the executive chef of the Baltimore-based Charm City Cakes shop which is featured in the Food Network reality television show Ace of Cakes...
performs a "Dance of the Seven Veils", slowly removing seven veils to display a cake his bakery made for a variety show called "Glitterama."
The band
Xandria
Xandria
Xandria is a German symphonic metal band, founded by Marco Heubaum in 1997. The band's music combines elements of symphonic metal with light electronic elements and rock....
released the album
Salomé – The Seventh Veil
in 2007, which includes a song titled "Salome".
Eskimo Joe
Eskimo Joe
Eskimo Joe is an Australian alternative rock band formed by Stuart MacLeod on guitars, Joel Quartermain on drums and guitar and Kavyen Temperley on bass guitar and vocals, in East Fremantle, Western Australia in 1997....
's 2004 album
A Song Is a City
A Song Is a City
A Song Is a City is the second studio album by Australian rock band Eskimo Joe, released on 17 May 2004.The debut single "From the Sea" made it to the top 40 of the Australian singles charts and was number one on the Triple J Net 50 between March and May. The album A Song Is a City debuted on the...
includes a track "Seven Veils".
Peter Doherty
Pete Doherty
Peter Doherty is an English musician, writer, actor, poet and artist. He is best known musically for being co-frontman of The Libertines, which he reformed with Carl Barât in 2010. His other musical project is indie band Babyshambles...
released a song called "Salome" on his 2009 album
Grace/Wastelands
Grace/Wastelands
Grace/Wastelands is the debut solo album from Babyshambles frontman/The Libertines co-frontman Peter Doherty. It was released in the UK on 16 March 2009, with the single "Last of the English Roses" preceding it by one week...
.