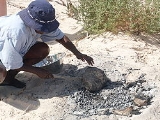 Damper (food)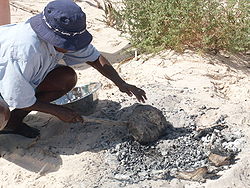 Damper
is a traditional
Australia
Australia
Australia , officially the Commonwealth of Australia, is a country in the Southern Hemisphere comprising the mainland of the Australian continent, the island of Tasmania, and numerous smaller islands in the Indian and Pacific Oceans. It is the world's sixth-largest country by total area...
n
soda bread
Soda bread
Soda bread is a variety of quick bread traditionally made in a variety of cuisines in which sodium bicarbonate is used as a raising agent rather than the more common yeast. The ingredients of traditional soda bread are flour, bread soda, salt, and buttermilk...
prepared by
swagmen
Swagman
A swagman is an old Australian and New Zealand term describing an underclass of transient temporary workers, who travelled by foot from farm to farm carrying the traditional swag...
,
drover
Drover (Australian)
A drover in Australia is a person, typically an experienced stockman, who moves livestock, usually sheep or cattle, "on the hoof" over long distances. Reasons for droving may include: delivering animals to a new owner's property, taking animals to market, or moving animals during a drought in...
s, stockmen and other travelers. It consists of a
wheat flour
Flour
Flour is a powder which is made by grinding cereal grains, other seeds or roots . It is the main ingredient of bread, which is a staple food for many cultures, making the availability of adequate supplies of flour a major economic and political issue at various times throughout history...
based
bread
Bread
Bread is a staple food prepared by cooking a dough of flour and water and often additional ingredients. Doughs are usually baked, but in some cuisines breads are steamed , fried , or baked on an unoiled frying pan . It may be leavened or unleavened...
, traditionally baked in the coals of a campfire. Damper is an iconic Australian dish. It is also made in camping situations in New Zealand, and has been for many decades.
Damper was originally developed by stockmen who travelled in remote areas for weeks or months at a time, with only basic rations of flour, sugar and tea, supplemented by whatever meat was available. The basic ingredients of damper were flour, water, and sometimes milk.
Baking soda
Sodium bicarbonate
Sodium bicarbonate or sodium hydrogen carbonate is the chemical compound with the formula Na HCO3. Sodium bicarbonate is a white solid that is crystalline but often appears as a fine powder. It has a slightly salty, alkaline taste resembling that of washing soda . The natural mineral form is...
could be used for leavening. The damper was normally cooked in the ashes of the camp fire. The ashes were flattened and the damper was placed in there for ten minutes to cook. Following this, the damper was covered with ashes and cooked for another 20 to 30 minutes until the damper sounded hollow when tapped. Alternatively, the damper was cooked in a greased
camp oven
Dutch oven
A Dutch oven is a thick-walled cooking pot with a tight-fitting lid. Dutch ovens have been used as cooking vessels for hundreds of years....
. Damper was eaten with dried or cooked meat or
golden syrup
Golden syrup
Golden syrup is a pale treacle. It is a thick, amber-colored form of inverted sugar syrup, made in the process of refining sugar cane juice into sugar, or by treatment of a sugar solution with acid. It is used in a variety of baking recipes and desserts. It has an appearance similar to honey, and...
, also known as "cocky's joy".
Damper is also a popular dish with
Indigenous Australians
Indigenous Australians
Indigenous Australians are the original inhabitants of the Australian continent and nearby islands. The Aboriginal Indigenous Australians migrated from the Indian continent around 75,000 to 100,000 years ago....
. Aboriginal women had traditionally made
bush bread
Bush bread
Bush bread, or seedcakes, refers to the bread made by Australian Aborigines for many thousands of years. The bread was high in protein and carbohydrate, and helped form part of a balanced traditional diet....
from seasonal grains and nuts, which they cooked in the ashes of fires. It also became a popular dish for recreational campers and has become available in bakeries. Many variations and recipes exist, some authentic, others using the name to sell a more palatable bread product to the urban public.
See also
Bush tucker
Seed cake

Seed cake

Seed cake or bush bread refers to bread made by crushing seeds into a dough after which it is baked . Some seeds need to be heated, hulled and then ground dry, while others can be ground with water. Bush bread was traditionally made by aboriginal Australians...



Tortilla de rescoldo

Tortilla de rescoldo

Tortilla de rescoldo is a traditional Chilean unleavened bread prepared by rural travellers. It consists of a wheat flour based bread, traditionally baked in the coals of a campfire.-See also:*Damper...