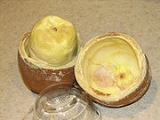 Cupuaçu
Cupuaçu
also spelled
Cupuassu
,
Cupuazú
, and
Copoasu
, is a
tropical rainforest
Tropical rainforest
A tropical rainforest is an ecosystem type that occurs roughly within the latitudes 28 degrees north or south of the equator . This ecosystem experiences high average temperatures and a significant amount of rainfall...
tree
Tree
A tree is a perennial woody plant. It is most often defined as a woody plant that has many secondary branches supported clear of the ground on a single main stem or trunk with clear apical dominance. A minimum height specification at maturity is cited by some authors, varying from 3 m to...
related to cacao. Common throughout the
Amazon basin
Amazon Basin
The Amazon Basin is the part of South America drained by the Amazon River and its tributaries that drains an area of about , or roughly 40 percent of South America. The basin is located in the countries of Bolivia, Brazil, Colombia, Ecuador, Guyana, Peru, and Venezuela...
, it is widely cultivated in the jungles of
Colombia
Colombia
Colombia, officially the Republic of Colombia , is a unitary constitutional republic comprising thirty-two departments. The country is located in northwestern South America, bordered to the east by Venezuela and Brazil; to the south by Ecuador and Peru; to the north by the Caribbean Sea; to the...
,
Bolivia
Bolivia
Bolivia officially known as Plurinational State of Bolivia , is a landlocked country in central South America. It is the poorest country in South America...
and
Peru
Peru
Peru , officially the Republic of Peru , is a country in western South America. It is bordered on the north by Ecuador and Colombia, on the east by Brazil, on the southeast by Bolivia, on the south by Chile, and on the west by the Pacific Ocean....
and in the north of
Brazil
Brazil
Brazil , officially the Federative Republic of Brazil , is the largest country in South America. It is the world's fifth largest country, both by geographical area and by population with over 192 million people...
, with the largest production in
Pará
Pará
Pará is a state in the north of Brazil. It borders the Brazilian states of Amapá, Maranhão, Tocantins, Mato Grosso, Amazonas and Roraima. To the northwest it also borders Guyana and Suriname, and to the northeast it borders the Atlantic Ocean. The capital is Belém.Pará is the most populous state...
, followed by Amazonas,
Rondônia
Rondônia
Rondônia is a state in Brazil, located in the north-western part of the country. To the west is a short border with the state of Acre, to the north is the state of Amazonas, in the east is Mato Grosso, and in the south is Bolivia. Its capital is Porto Velho. The state was named after Candido Rondon...
and
Acre
Acre (state)
Acre is one of the 27 states of Brazil. It is situated in the southwest of the Northern Region, bordering Amazonas to the north, Rondônia to the east, Bolivia to the southeast and the Ucayali Region of Peru to the south and west. It occupies an area of 152,581.4 km2, being slightly smaller...
.
Cupuaçu trees usually range from 5 to 15 meters (16 to 50 feet) in height, though some can reach 20 meters (65 feet). They have brown bark. Their leaves are 25–35 cm (10–14 in) long and 6–10 cm (2–4 in) across, with 9 or 10 pairs of veins. As they mature, their leaves change from pink-tinted to green, and eventually they begin bearing fruit. Cupuaçu fruits are oblong, brown, and fuzzy, 20 cm (8 in) long, 1–2 kg (2–4 lb) in weight, and covered with a thick (4–7 mm), hard exocarp.
The white pulp of the cupuaçu is uniquely fragrant (described as a mix of
chocolate
Chocolate
Chocolate is a raw or processed food produced from the seed of the tropical Theobroma cacao tree. Cacao has been cultivated for at least three millennia in Mexico, Central and South America. Its earliest documented use is around 1100 BC...
and pineapple), and it contains theacrine (1,3,7,9-tetramethyluric acid) instead of the
xanthine
Xanthine
Xanthine , is a purine base found in most human body tissues and fluids and in other organisms. A number of stimulants are derived from xanthine, including caffeine and theobromine....
s (
caffeine
Caffeine
Caffeine is a bitter, white crystalline xanthine alkaloid that acts as a stimulant drug. Caffeine is found in varying quantities in the seeds, leaves, and fruit of some plants, where it acts as a natural pesticide that paralyzes and kills certain insects feeding on the plants...
,
theobromine
Theobromine
Theobromine , also known as xantheose, is a bitter alkaloid of the cacao plant, with the chemical formula C7H8N4O2. It is found in chocolate, as well as in a number of other foods, including the leaves of the tea plant, and the kola nut...
, and
theophylline
Theophylline
Theophylline, also known as dimethylxanthine, is a methylxanthine drug used in therapy for respiratory diseases such as COPD and asthma under a variety of brand names. Because of its numerous side-effects, the drug is now rarely administered for clinical use. As a member of the xanthine family, it...
) found in cacao. It is frequently used in desserts, juices and sweets. The juice tastes primarily like a
pear
Pear
The pear is any of several tree species of genus Pyrus and also the name of the pomaceous fruit of these trees. Several species of pear are valued by humans for their edible fruit, but the fruit of other species is small, hard, and astringent....
, with a hint of
banana
Banana
Banana is the common name for herbaceous plants of the genus Musa and for the fruit they produce. Bananas come in a variety of sizes and colors when ripe, including yellow, purple, and red....
.
The
wood
Wood
Wood is a hard, fibrous tissue found in many trees. It has been used for hundreds of thousands of years for both fuel and as a construction material. It is an organic material, a natural composite of cellulose fibers embedded in a matrix of lignin which resists compression...
is also commonly used for timber. The pulp is also used in cosmetics products such as body lotions, as is highly hydratating, similar to
cocoa butter
Cocoa butter
Cocoa butter, also called theobroma oil, is a pale-yellow, pure edible vegetable fat extracted from the cocoa bean. It is used to make chocolate, biscuits, and baked goods, as well as some pharmaceuticals, ointments, and toiletries...
.
Cupuaçu supports a phylogenetically intriguing
butterfly
Butterfly
A butterfly is a mainly day-flying insect of the order Lepidoptera, which includes the butterflies and moths. Like other holometabolous insects, the butterfly's life cycle consists of four parts: egg, larva, pupa and adult. Most species are diurnal. Butterflies have large, often brightly coloured...
herbivore
Herbivore
Herbivores are organisms that are anatomically and physiologically adapted to eat plant-based foods. Herbivory is a form of consumption in which an organism principally eats autotrophs such as plants, algae and photosynthesizing bacteria. More generally, organisms that feed on autotrophs in...
the "lagarta verde"
Macrosoma tipulata
(
Hedylidae
Hedylidae
Hedylidae, the "American moth-butterflies", is a family of insects in the lepidopteran order, representing the superfamily Hedyloidea. They are an extant sister group of the butterfly superfamilies Papilionoidea and Hesperioidea...
) which can be a serious defoliator
Phytochemicals
Cupuaçu is touted as a possible
superfruit
Superfruit
Superfruit, a marketing term first used in the food and beverage industry in 2005, refers to a fruit which combines exceptional nutrient richness and antioxidant quality with appealing taste that can stimulate and retain loyalty for consumer products. "Superfruit" has not official U.S. Food and...
flavor deriving from its
phytochemical
Phytochemical
Phytochemicals are biologically active chemical compounds that occur naturally in plants . Phytochemicals are the molecules responsible for the color and organoleptic properties . For example, the deep purple color of blueberries and the smell of garlic...
s, such as polyphenolic
tannin
Tannin
A tannin is an astringent, bitter plant polyphenolic compound that binds to and precipitates proteins and various other organic compounds including amino acids and alkaloids.The term tannin refers to the use of...
s, theograndins I and II, and
flavonoid
Flavonoid
Flavonoids , are a class of plant secondary metabolites....
s including
catechin
Catechin
Catechin is a natural phenol antioxidant plant secondary metabolite. The term catechins is also commonly used to refer to the related family of flavonoids and the subgroup flavan-3-ols ....
s,
quercetin
Quercetin
Quercetin , a flavonol, is a plant-derived flavonoid found in fruits, vegetables, leaves and grains. It also may be used as an ingredient in supplements, beverages or foods.-Occurrence:...
,
kaempferol
Kaempferol
Kaempferol is a natural flavonol, a type of flavonoid, that has been isolated from tea, broccoli, Delphinium, Witch-hazel, grapefruit,cabbage, kale, beans, endive, leek, tomato, strawberries, grapes, brussels sprouts, apples and other plant sources. Kaempferol is a yellow crystalline solid with a...
and isoscutellarein. Commercial production of cupuaçu includes food supplements, pills, drinks,
smoothies
Smoothie
A smoothie is a blended and sometimes sweetened beverage made from fresh fruit and in special cases can contain chocolate or peanut butter. In addition to fruit, many smoothies include crushed ice, frozen fruit, honey or contain syrup and ice ingredients...
and sweets.
External links