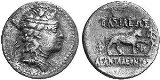 Cupronickel
Cupronickel
or
copper-nickel
or "cupernickel" is an
alloy
Alloy
An alloy is a mixture or metallic solid solution composed of two or more elements. Complete solid solution alloys give single solid phase microstructure, while partial solutions give two or more phases that may or may not be homogeneous in distribution, depending on thermal history...
of
copper
Copper
Copper is a chemical element with the symbol Cu and atomic number 29. It is a ductile metal with very high thermal and electrical conductivity. Pure copper is soft and malleable; an exposed surface has a reddish-orange tarnish...
that contains
nickel
Nickel
Nickel is a chemical element with the chemical symbol Ni and atomic number 28. It is a silvery-white lustrous metal with a slight golden tinge. Nickel belongs to the transition metals and is hard and ductile...
and strengthening elements, such as
iron
Iron
Iron is a chemical element with the symbol Fe and atomic number 26. It is a metal in the first transition series. It is the most common element forming the planet Earth as a whole, forming much of Earth's outer and inner core. It is the fourth most common element in the Earth's crust...
and
manganese
Manganese
Manganese is a chemical element, designated by the symbol Mn. It has the atomic number 25. It is found as a free element in nature , and in many minerals...
. Cupronickel is highly resistant to corrosion in
seawater
Seawater
Seawater is water from a sea or ocean. On average, seawater in the world's oceans has a salinity of about 3.5% . This means that every kilogram of seawater has approximately of dissolved salts . The average density of seawater at the ocean surface is 1.025 g/ml...
, because its
electrode potential
Electrode potential
Electrode potential, E, in electrochemistry, according to an IUPAC definition, is the electromotive force of a cell built of two electrodes:* on the left-hand side is the standard hydrogen electrode, and...
is adjusted to be neutral with regard to seawater. Because of this, it is used for piping, heat exchangers and condensers in seawater systems as well as marine hardware, and sometimes for the
propeller
Propeller
A propeller is a type of fan that transmits power by converting rotational motion into thrust. A pressure difference is produced between the forward and rear surfaces of the airfoil-shaped blade, and a fluid is accelerated behind the blade. Propeller dynamics can be modeled by both Bernoulli's...
s,
crankshaft
Crankshaft
The crankshaft, sometimes casually abbreviated to crank, is the part of an engine which translates reciprocating linear piston motion into rotation...
s and
hull
Hull (watercraft)
A hull is the watertight body of a ship or boat. Above the hull is the superstructure and/or deckhouse, where present. The line where the hull meets the water surface is called the waterline.The structure of the hull varies depending on the vessel type...
s of premium
tugboat
Tugboat
A tugboat is a boat that maneuvers vessels by pushing or towing them. Tugs move vessels that either should not move themselves, such as ships in a crowded harbor or a narrow canal,or those that cannot move by themselves, such as barges, disabled ships, or oil platforms. Tugboats are powerful for...
s, fishing boats and other working
boat
Boat
A boat is a watercraft of any size designed to float or plane, to provide passage across water. Usually this water will be inland or in protected coastal areas. However, boats such as the whaleboat were designed to be operated from a ship in an offshore environment. In naval terms, a boat is a...
s.
A more familiar common use is in silver-coloured modern circulation
coin
Coin
A coin is a piece of hard material that is standardized in weight, is produced in large quantities in order to facilitate trade, and primarily can be used as a legal tender token for commerce in the designated country, region, or territory....
s.