 Crew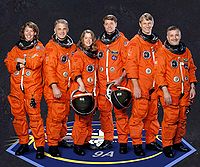 A
crew
is a body or a class of people who work at a common activity, generally in a structured or
hierarchical
Hierarchy
A hierarchy is an arrangement of items in which the items are represented as being "above," "below," or "at the same level as" one another...
organization. A location in which a crew works is called a
crewyard
or a
workyard
. The word has nautical resonances: the tasks involved in operating a ship, particularly a sailing ship, providing numerous specialities within a ship's crew, often organised with a
chain of command
Chain of Command
Chain of Command may refer to:* Chain of command, in a military context, the line of authority and responsibility along which orders are passed* "Chain of Command" , the fifth episode of the first season of Beast Wars...
. Traditional nautical usage strongly distinguishes officers from crew, though the two groups combined form the ship's company. Members of a crew are often referred to by the title "
Crewman
Crewman
Crewman is a generic term for a crew member of an aircraft, naval vessel, military unit, or team of professionals attempting to accomplish a goal. In some science fiction , Crewman is the lowest military rank on board a spacecraft.The term "Crewman" may also be related in the non-gender specific...
".
"Crew" also refers to the sport of
rowing
Rowing (sport)
Rowing is a sport in which athletes race against each other on rivers, on lakes or on the ocean, depending upon the type of race and the discipline. The boats are propelled by the reaction forces on the oar blades as they are pushed against the water...
, where teams row competitively in racing shells.
"Crew" is used colloquially to refer to a small, tight-knit group of friends or associates engaged in criminal activity. Also used in reference to the traditional "unit" of criminals under the supervision of a
caporegime
Caporegime
A caporegime or capodecina, usually shortened to just a capo, is a term used in the Mafia for a high ranking made member of a crime family who heads a "crew" of soldiers and has major social status and influence in the organization...
in the American Mafia. However, the term is not specific to (Mafia-affiliated)
organized crime
Organized crime
Organized crime or criminal organizations are transnational, national, or local groupings of highly centralized enterprises run by criminals for the purpose of engaging in illegal activity, most commonly for monetary profit. Some criminal organizations, such as terrorist organizations, are...
.
Crew can refer simply to a group of friends, unrelated to crime or violence.
See also