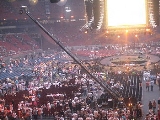 Crane shot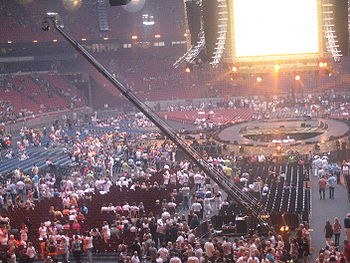 In
filmmaking
Filmmaking
Filmmaking is the process of making a film, from an initial story, idea, or commission, through scriptwriting, casting, shooting, directing, editing, and screening the finished product before an audience that may result in a theatrical release or television program...
and
video production
Video production
Video production is videography, the process of capturing moving images on electronic media even streaming media. The term includes methods of production and post-production...
a
crane shot
is a shot taken by a camera on a crane. The most obvious uses are to view the actors from above or to move up and away from them, a common way of ending a movie. Some filmmakers like to have the camera on a boom arm just to make it easier to move around between ordinary set-ups. Most cranes accommodate both the camera and an operator, but some can be operated by remote control. They are usually, but not always, found in what are supposed to be emotional or suspenseful scenes. One example of this technique is the shots taken by remote cranes in the car-chase sequence of
To Live and Die in L.A.
.
During the last few years, camera cranes have been miniaturized and costs have dropped so dramatically that most aspiring film makers have access to these tools. What was once a "Hollywood" effect is now available for under $400.
Types of crane shots
Rise Up. The camera rises vertically.
Fall Down. The camera moves vertically downward.
Famous crane camera shots