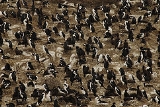 Cormorant
noun
(1) Large voracious dark-colored long-necked seabird with a distensible pouch for holding fish; used in Asia to catch fish
Etymology
From Old French
cormaran
(modern
cormoran
), from mediaeval Latin
corvus marinus
'sea-raven'.
Noun
Any of various medium-large black seabirds of the family Phalacrocoracidae, especially the great cormorant, Phalacrocorax carbo.
Adjective
Ravenous, greedy.

William Shakespeare, Love's Labour's Lost, Act I, Scene 1

Let fame, that all hunt after in their lives,
Live regist'red upon our brazen tombs,
And then grace us in the disgrace of death;
When, spite of cormorant devouring Time,
The endeavour of this present breath may buy
That honour which shall bate his scythe's keen edge,
And make us heirs of all eternity.