 Copenhagen Stock Exchange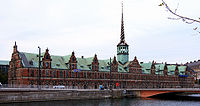 The
Copenhagen Stock Exchange
or
CSE
is an international marketplace for
Danish
Denmark
Denmark is a Scandinavian country in Northern Europe. The countries of Denmark and Greenland, as well as the Faroe Islands, constitute the Kingdom of Denmark . It is the southernmost of the Nordic countries, southwest of Sweden and south of Norway, and bordered to the south by Germany. Denmark...
securities, including shares,
bonds
Bond (finance)
In finance, a bond is a debt security, in which the authorized issuer owes the holders a debt and, depending on the terms of the bond, is obliged to pay interest to use and/or to repay the principal at a later date, termed maturity...
, treasury bills and notes, and financial
futures
Futures contract
In finance, a futures contract is a standardized contract between two parties to exchange a specified asset of standardized quantity and quality for a price agreed today with delivery occurring at a specified future date, the delivery date. The contracts are traded on a futures exchange...
and
options
Option (finance)
In finance, an option is a derivative financial instrument that specifies a contract between two parties for a future transaction on an asset at a reference price. The buyer of the option gains the right, but not the obligation, to engage in that transaction, while the seller incurs the...
. CSE is one of the
OMX
OMX
OMX AB is a Swedish-Finnish financial services company, formed in 2003 through a merger between OM AB and HEX plc and is now a part of the NASDAQ OMX Group since February 2008.It has two divisions, OMX Exchanges, which operates eight stock exchanges mainly in the Nordic and Baltic...
Exchanges, which was founded in 2003 and since February of 2008, is part of the
NASDAQ OMX Group
NASDAQ OMX Group
NASDAQ OMX Group, Inc. is a United States public company that owns and operates the NASDAQ stock market and eight European stock exchanges in Armenia plus the Nordic and Baltic regions under the OMX banner...
.
Background and structure
The exchange was converted to a
limited company
Limited company
A limited company is a company in which the liability of the members or subscribers of the company is limited to what they have invested or guaranteed to the company. Limited companies may be limited by shares or by guarantee. And the former of these, a limited company limited by shares, may be...
in 1996 with share capital issued in a ratio of 60-20-20 to members, issuers of shares, and issuers of bonds. In 1997 the
FUTOP
FUTOP
FUTOP Clearing Center A/S, is the screen-traded, Danish derivatives market that merged with the Copenhagen Stock Exchange in 1997, becoming a wholly owned subsidiary of the exchange. In 2003 CSE merged with the OMX exchanges. FUTOP issues, clears, and guarantees futures and options on shares,...
Clearing Center A/S, the Danish
derivatives
Derivative (finance)
A derivative instrument is a contract between two parties that specifies conditions—in particular, dates and the resulting values of the underlying variables—under which payments, or payoffs, are to be made between the parties.Under U.S...
market, became a wholly owned
subsidiary
Subsidiary
A subsidiary company, subsidiary, or daughter company is a company that is completely or partly owned and wholly controlled by another company that owns more than half of the subsidiary's stock. The subsidiary can be a company, corporation, or limited liability company. In some cases it is a...
. FUTOP issues, clears, and guarantees futures and options on shares,
indices
Index (economics)
In economics and finance, an index is a statistical measure of changes in a representative group of individual data points. These data may be derived from any number of sources, including company performance, prices, productivity, and employment. Economic indices track economic health from...
, and
interest rate
Interest rate
An interest rate is the rate at which interest is paid by a borrower for the use of money that they borrow from a lender. For example, a small company borrows capital from a bank to buy new assets for their business, and in return the lender receives interest at a predetermined interest rate for...
products. FUTOP products can be traded electronically. In 1998, the CSE and the Stockholmsbörsen formed the
NOREX
NOREX
In 1997, the Copenhagen Stock Exchange and the Stockholm Stock Exchange initiated formalized cooperation through NOREX, with the purpose of establishing a joint Nordic securities market...
Alliance, a step toward developing a
Nordic
Nordic countries
The Nordic countries make up a region in Northern Europe and the North Atlantic which consists of Denmark, Finland, Iceland, Norway and Sweden and their associated territories, the Faroe Islands, Greenland and Åland...
securities market. Normal trading sessions are from 09:00am to 05:00pm on all days of the week except Saturdays, Sundays and holidays declared by the exchange in advance.
CSE indices
The
C20
OMX Copenhagen 20
The OMX Copenhagen 20 , formerly KFX) is the top-tier stock market index for the Copenhagen Stock Exchange, which is part of the OMX group...
Index, a weighted,
market value
Market value
Market value is the price at which an asset would trade in a competitive auction setting. Market value is often used interchangeably with open market value, fair value or fair market value, although these terms have distinct definitions in different standards, and may differ in some...
index comprising 20 Danish blue chips, launched for futures and options trading (members include the
A.P. Moller-Maersk Group
A.P. Moller-Maersk Group
A.P. Moller – Maersk Group , also known as Maersk , is a Danish business conglomerate. A.P. Moller – Maersk Group has activities in a variety of business sectors, primarily within the transportation and energy sectors. It is the largest container ship operator and supply vessel operator in the...
). The KFX Index comprises growth companies in the medical, telecommunications,
biotechnology
Biotechnology
Biotechnology is a field of applied biology that involves the use of living organisms and bioprocesses in engineering, technology, medicine and other fields requiring bioproducts. Biotechnology also utilizes these products for manufacturing purpose...
, and
information technology
Information technology
Information technology is the acquisition, processing, storage and dissemination of vocal, pictorial, textual and numerical information by a microelectronics-based combination of computing and telecommunications...
sectors on the exchanges KVX Growth Market. The KAX Index is the exchange's all-share index, introduced in 2001 to replace the previous all-share index. It conforms to the Global Industry Classification Standard developed by
Morgan Stanley
Morgan Stanley
Morgan Stanley is a global financial services firm headquartered in New York City serving a diversified group of corporations, governments, financial institutions, and individuals. Morgan Stanley also operates in 36 countries around the world, with over 600 offices and a workforce of over 60,000....
Dean Witter and
Standard & Poor's
Standard & Poor's
Standard & Poor's is a United States-based financial services company. It is a division of The McGraw-Hill Companies that publishes financial research and analysis on stocks and bonds. It is well known for its stock-market indices, the US-based S&P 500, the Australian S&P/ASX 200, the Canadian...
.
External links