 Consent (BDSM)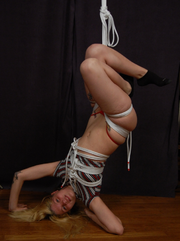 Consent within BDSM

BDSM

BDSM is an erotic preference and a form of sexual expression involving the consensual use of restraint, intense sensory stimulation, and fantasy power role-play. The compound acronym BDSM is derived from the terms bondage and discipline , dominance and submission , and sadism and masochism...



is an issue that attracts much attention in the field. Practitioners' interests are in ensuring appropriate consent for personal, ethical, and legal reasons. The
law
Law
Law is a system of rules and guidelines which are enforced through social institutions to govern behavior, wherever possible. It shapes politics, economics and society in numerous ways and serves as a social mediator of relations between people. Contract law regulates everything from buying a bus...
also has its own approach to consent in deeming certain acts legal or illegal (see
consent (criminal)
Consent (criminal)
In criminal law, consent may be used as an excuse and prevent the defendant from incurring liability for what was done. For a more general discussion, see Dennis J. Baker, "The Moral Limits of Consent as a Defense in the Criminal Law," 12 New Criminal Law Review ; Dennis J...
).
Non-consensual play is considered abuse and not accepted by the BDSM community.
Types of consent
Consent is a vital element in all psychological play, and consent can be granted in many ways. Some employ a written form known as a "Dungeon negotiation form"; for others a simple verbal commitment is sufficient. Consent can be limited both in duration and content.
Consensual non-consensuality
is a mutual agreement to be able to act as if consent has been
waived
Waiver
A waiver is the voluntary relinquishment or surrender of some known right or privilege.While a waiver is often in writing, sometimes a person's actions can act as a waiver. An example of a written waiver is a disclaimer, which becomes a waiver when accepted...
. In essence it is an agreement that, subject to a
safeword
Safeword
A safeword is a code word or series of code words that are sometimes used in BDSM for a submissive to unambiguously communicate their physical or emotional state to a dominant , typically when approaching, or crossing, a physical, emotional, or moral boundary...
or other restrictions and reasonable care and common sense, consent (within defined limits) will be given in advance and with the intent of being irrevocable under normal circumstances, at times without foreknowledge of the exact actions planned. As such, it is a show of extreme trust and understanding and usually undertaken only by partners who know each other well or otherwise agree to set clear safe limits on their activities.
It is not unusual to grant consent only for an hour or for an evening. When a scene lasts for more than a few hours, some might decide to draft a "scene contract" that defines what will happen and who is responsible for what. Some "contracts" can become quite detailed and run for many pages, especially if a scene is to last a weekend or more.
For long term consent, a "Slave Contract" is sometimes used. BDSM "contracts" are
only
agreements between consenting adults and are not legally binding; in fact, the possession of one may be considered illegal in some areas. Slave contracts are simply a way of defining the nature and limits of the relationship. Other couples know each others likes and dislikes and play accordingly. Such arrangements typically use a safeword, a signal by one or more of the participants that the action in question should either stop or that the session should end completely.
Legal aspects
Several of the activities in sexual BDSM play would be considered illegal and fall under the definitions of
rape
Rape
Rape is a type of sexual assault usually involving sexual intercourse, which is initiated by one or more persons against another person without that person's consent. The act may be carried out by physical force, coercion, abuse of authority or with a person who is incapable of valid consent. The...
,
assault
Assault
In law, assault is a crime causing a victim to fear violence. The term is often confused with battery, which involves physical contact. The specific meaning of assault varies between countries, but can refer to an act that causes another to apprehend immediate and personal violence, or in the more...
or similar crimes or
tort
Tort
A tort, in common law jurisdictions, is a wrong that involves a breach of a civil duty owed to someone else. It is differentiated from a crime, which involves a breach of a duty owed to society in general...
s, if performed without consent. However, most legal systems include a general defense that activities performed with the victim's consent shall not be considered a crime or a tort. This raises some legal and
ethical
Ethics
Ethics, also known as moral philosophy, is a branch of philosophy that addresses questions about morality—that is, concepts such as good and evil, right and wrong, virtue and vice, justice and crime, etc.Major branches of ethics include:...
issues, such as:
What is consent?
Who can express consent? (For example: children are typically not considered to be able to give consent to sex.)
When do we define consent as given?
When is given consent invalidated?
And are there activities that we still cannot allow, even with the victim's consent?
These concerns apply not only to BDSM but to every kind of interaction between persons. See
Consent (criminal)
Consent (criminal)
In criminal law, consent may be used as an excuse and prevent the defendant from incurring liability for what was done. For a more general discussion, see Dennis J. Baker, "The Moral Limits of Consent as a Defense in the Criminal Law," 12 New Criminal Law Review ; Dennis J...
for the general discussion.
The issue of consent in BDSM has caused a controversy in some countries since certain activities, (including some kinds of
edgeplay
Edgeplay
In BDSM, edgeplay is a subjective term for types of sexual play that are considered to be pushing on the edge of the traditional S.S.C. creed. They would be considered more R.A.C.K...
) remains unlawful even when consent has been freely given. In such countries, these activities will always be viewed by law enforcement as unlawful when discovered, even though the activities have been entirely private. The Spanner case in
England
England
England is a country that is part of the United Kingdom. It shares land borders with Scotland to the north and Wales to the west; the Irish Sea is to the north west, the Celtic Sea to the south west, with the North Sea to the east and the English Channel to the south separating it from continental...
demonstrates the point, where participants in a consensual mutual BDSM
play party
Play party (BDSM)
In BDSM, a play party is also a social event in which people practice BDSM and socialize with like-minded people. The organizers often provide some large pieces equipment to which people can be tied while the party goers usually bring their own whips, canes, restraints etc....
were arrested. At all stages, the national and European Court ruled against them on the basis that a person under
English law
English law
English law is the legal system of England and Wales, and is the basis of common law legal systems used in most Commonwealth countries and the United States except Louisiana...
may not give consent to anything more than minor injury. Interested people may think that private mutual activities should not be the subject of law as a matter of public policy, a view which has some legal backing in the
United States
United States
The United States of America is a federal constitutional republic comprising fifty states and a federal district...
from the case of
Lawrence v. Texas
Lawrence v. Texas
Lawrence v. Texas, 539 U.S. 558 , is a landmark United States Supreme Court case. In the 6-3 ruling, the Court struck down the sodomy law in Texas and, by proxy, invalidated sodomy laws in the thirteen other states where they remained in existence, thereby making same-sex sexual activity legal in...
where it was effectively ruled that the state lacked the power to declare an activity illegal purely on the basis of moral opinion.
The March 5th 2007 conviction of Glenn Marcus on counts of sex trafficking & forced labor renewed much debate on this issue. Likewise in April 2007, two UK men were convicted of false imprisonment in a case where a third party who had been
treated like a dog
Human animal roleplay
Animal roleplay may be either a non-sexual or an erotic sexual role-play...
asserted the matter had not been consensual.
See also