 Conrad Celtes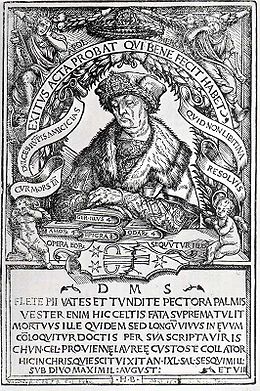 Conrad Celtes
also
Konrad Celtis
and
Latin
Latin
Latin is an Italic language originally spoken in Latium and Ancient Rome. It, along with most European languages, is a descendant of the ancient Proto-Indo-European language. Although it is considered a dead language, a number of scholars and members of the Christian clergy speak it fluently, and...
Conradus Celtis
(February 1, 1459 – February 4, 1508), was a
German
Germany
Germany , officially the Federal Republic of Germany , is a federal parliamentary republic in Europe. The country consists of 16 states while the capital and largest city is Berlin. Germany covers an area of 357,021 km2 and has a largely temperate seasonal climate...
Renaissance humanist scholar and Neo-Latin
poet
Poet
A poet is a person who writes poetry. A poet's work can be literal, meaning that his work is derived from a specific event, or metaphorical, meaning that his work can take on many meanings and forms. Poets have existed since antiquity, in nearly all languages, and have produced works that vary...
.
Life
Born at
Wipfeld
Wipfeld
Wipfeld is a municipality in the district of Schweinfurt in Bavaria, Germany.-Twin towns:Wipfeld is twinned with: Follina, Italy...
, near
Schweinfurt
Schweinfurt
Schweinfurt is a city in the Lower Franconia region of Bavaria in Germany on the right bank of the canalized Main, which is here spanned by several bridges, 27 km northeast of Würzburg.- History :...
in Lower
Franconia
Franconia
Franconia is a region of Germany comprising the northern parts of the modern state of Bavaria, a small part of southern Thuringia, and a region in northeastern Baden-Württemberg called Tauberfranken...
under his original name Konrad Bickel, Celtes pursued his studies at
Cologne
Cologne
Cologne is Germany's fourth-largest city , and is the largest city both in the Germany Federal State of North Rhine-Westphalia and within the Rhine-Ruhr Metropolitan Area, one of the major European metropolitan areas with more than ten million inhabitants.Cologne is located on both sides of the...
and the Heidelberg. While at Heidelberg, he received instruction from
Dalberg
Dalberg
Dalberg is the name of an ancient and distinguished German noble family, derived from the hamlet and castle of Dalberg or Dalburg near Kreuznach in Rhineland-Palatinate...
and
Agricola
Rodolphus Agricola
Rodolphus Agricola was a pre-Erasmian humanist of the northern Low Countries, famous for his supple Latin and one of the first north of the Alps to know Greek well...
. As customary in those days for humanists, he Latinized his name, to Conradus Celtis. For some time he delivered humanist lectures during his travels to
Erfurt
Erfurt
Erfurt is the capital city of Thuringia and the main city nearest to the geographical centre of Germany, located 100 km SW of Leipzig, 150 km N of Nuremberg and 180 km SE of Hannover. Erfurt Airport can be reached by plane via Munich. It lies in the southern part of the Thuringian...
,
Rostock
Rostock
Rostock -Early history:In the 11th century Polabian Slavs founded a settlement at the Warnow river called Roztoc ; the name Rostock is derived from that designation. The Danish king Valdemar I set the town aflame in 1161.Afterwards the place was settled by German traders...
and
Leipzig
Leipzig
Leipzig Leipzig has always been a trade city, situated during the time of the Holy Roman Empire at the intersection of the Via Regia and Via Imperii, two important trade routes. At one time, Leipzig was one of the major European centres of learning and culture in fields such as music and publishing...
. His first work was titled
Ars versificandi et carminum
(The Art of Writing Verses and Poems, 1486). He further undertook lecture tours to Rome, Florence,
Bologna
Bologna
Bologna is the capital city of Emilia-Romagna, in the Po Valley of Northern Italy. The city lies between the Po River and the Apennine Mountains, more specifically, between the Reno River and the Savena River. Bologna is a lively and cosmopolitan Italian college city, with spectacular history,...
and Venice.
The elector
Frederick of Saxony
Frederick III, Elector of Saxony
Frederick III of Saxony , also known as Frederick the Wise , was Elector of Saxony from 1486 to his death. Frederick was the son of Ernest, Elector of Saxony and his wife Elisabeth, daughter of Albert III, Duke of Bavaria...
approached the emperor
Frederick III
Frederick III, Holy Roman Emperor
Frederick the Peaceful KG was Duke of Austria as Frederick V from 1424, the successor of Albert II as German King as Frederick IV from 1440, and Holy Roman Emperor as Frederick III from 1452...
, who named Conrad Celtes
Poet Laureate
Poet Laureate
A poet laureate is a poet officially appointed by a government and is often expected to compose poems for state occasions and other government events...
(Honored Poet) upon his return. At this great imperial ceremonial gathering in
Nuremberg
Nuremberg
Nuremberg[p] is a city in the German state of Bavaria, in the administrative region of Middle Franconia. Situated on the Pegnitz river and the Rhine–Main–Danube Canal, it is located about north of Munich and is Franconia's largest city. The population is 505,664...
, Celtes was at the same time presented with a doctoral degree. Celtes again made a lecturing tour throughout the empire. Later he traveled to
Kraków
Kraków
Kraków also Krakow, or Cracow , is the second largest and one of the oldest cities in Poland. Situated on the Vistula River in the Lesser Poland region, the city dates back to the 7th century. Kraków has traditionally been one of the leading centres of Polish academic, cultural, and artistic life...
where, in 1488, he applied himself to mathematics, astronomy and the natural sciences and befriended many other humanists such as Lorenz Rabe and Bonacursius. He also founded a learned society, based on the
Roman academies
Roman Academies
Roman academies includes a description of Papal academies in Rome including historical and bibliographical notes concerning the more important of these. Roman Academies were associations of learned men and not institutes for instruction....
. The local branch of the society was called
Sodalitas Litterarum Vistulana
Sodalitas Litterarum Vistulana
Sodalitas Litterarum Vistulana was an international academic society modelled after the Roman Academy, founded around 1488 in Cracow by Conrad Celtes, a German humanist scholar who in other areas founded several similar societies.The society was active in the fields of mathematics, astronomy and...
(the "Literary Society at the Vistula River").
In 1490 he once again went through Breslau (Wrocław) to
Prague
Prague
Prague is the capital and largest city of the Czech Republic. Situated in the north-west of the country on the Vltava river, the city is home to about 1.3 million people, while its metropolitan area is estimated to have a population of over 2.3 million...
, capital of the
Kingdom of Bohemia
Kingdom of Bohemia
The Kingdom of Bohemia was a country located in the region of Bohemia in Central Europe, most of whose territory is currently located in the modern-day Czech Republic. The King was Elector of Holy Roman Empire until its dissolution in 1806, whereupon it became part of the Austrian Empire, and...
.
Hartmann Schedel
Hartmann Schedel
Hartmann Schedel was a German physician, humanist, historian, and one of the first cartographers to use the printing press. He was born in Nuremberg...
used Celtis' descriptions of Breslau in the
Schedelsche Weltchronik
(
Nuremberg Chronicle
Nuremberg Chronicle
right|thumbnail|240px|Fifth dayThe Nuremberg Chronicle is an illustrated Biblical paraphrase and world history that follows the story of human history related in the Bible; it includes the histories of a number of important Western cities. Written in Latin by Hartmann Schedel, with a version in...
). In Hungary, Celtis formed the
Sodalitas Litterarum Hungaria
("Hungarian Literary Society"), later as
Sodalitas Litterarum Danubiana
to be based in
Vienna
Vienna
Vienna is the capital and largest city of the Republic of Austria and one of the nine states of Austria. Vienna is Austria's primary city, with a population of about 1.723 million , and is by far the largest city in Austria, as well as its cultural, economic, and political centre...
. He made stops at
Regensburg
Regensburg
Regensburg is a city in Bavaria, Germany, located at the confluence of the Danube and Regen rivers, at the northernmost bend in the Danube. To the east lies the Bavarian Forest. Regensburg is the capital of the Bavarian administrative region Upper Palatinate...
,
Passau
Passau
Passau is a town in Lower Bavaria, Germany. It is also known as the Dreiflüssestadt or "City of Three Rivers," because the Danube is joined at Passau by the Inn from the south and the Ilz from the north....
and
Nuremberg
Nuremberg
Nuremberg[p] is a city in the German state of Bavaria, in the administrative region of Middle Franconia. Situated on the Pegnitz river and the Rhine–Main–Danube Canal, it is located about north of Munich and is Franconia's largest city. The population is 505,664...
(and probably
Mainz
Mainz
Mainz under the Holy Roman Empire, and previously was a Roman fort city which commanded the west bank of the Rhine and formed part of the northernmost frontier of the Roman Empire...
). At Heidelberg he founded the
Sodalitas Litterarum Rhenana
("Rhineland Literary Society"). Later he went to
Lübeck
Lübeck
The Hanseatic City of Lübeck is the second-largest city in Schleswig-Holstein, in northern Germany, and one of the major ports of Germany. It was for several centuries the "capital" of the Hanseatic League and, because of its Brick Gothic architectural heritage, is listed by UNESCO as a World...
and
Ingolstadt
Ingolstadt
Ingolstadt is a city in the Free State of Bavaria, in the Federal Republic of Germany. It is located along the banks of the Danube River, in the center of Bavaria. As at 31 March 2011, Ingolstadt had 125.407 residents...
. At Ingolstadt, in 1492 he delivered his famous speech to the students there, in which he called on Germans to rival Italians in learning and letters. This would later become an extremely popular address in sixteenth century German nationalistic sentiment.
While the plague ravaged Ingolstadt, Celtes taught at Heidelberg. By now he was a professor. In 1497 Celtes was called to Vienna by the emperor
Maximilian I
Maximilian I, Holy Roman Emperor
Maximilian I , the son of Frederick III, Holy Roman Emperor and Eleanor of Portugal, was King of the Romans from 1486 and Holy Roman Emperor from 1493 until his death, though he was never in fact crowned by the Pope, the journey to Rome always being too risky...
, who honored him as
teacher of the art of poetry and conversation
with an imperial
Privilegium
, the first of its kind. There he lectured on the works of classical writers and in 1502 founded the
Collegium Poetarum
, a college for poets. Celtes died at Vienna a few years later of
syphilis
Syphilis
Syphilis is a sexually transmitted infection caused by the spirochete bacterium Treponema pallidum subspecies pallidum. The primary route of transmission is through sexual contact; however, it may also be transmitted from mother to fetus during pregnancy or at birth, resulting in congenital syphilis...
.
Overview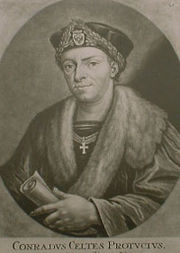 Conrad Celtes' teachings had lasting effects, particularly in the field of
history
History
History is the discovery, collection, organization, and presentation of information about past events. History can also mean the period of time after writing was invented. Scholars who write about history are called historians...
. He was the first to teach the history of the world as a whole. He started work on the
Germania Illustrata
with
Germania generalis
and
De rigine situ, moribus et institutis Norimbergae libellus
("Booklet of structure, habits and institutions of Nuremberg"). He discovered and published the writings of Hroswitha of Gandersheim. Celtes also discovered a map of the military roads of the Roman Empire, the
Tabula Peutingeriana
, or Peutinger Table. He collected numerous Greek and Latin manuscripts in his function as librarian of the imperial library that was founded by Maximilian.
Conrad Celtes was more of a free-thinking humanist and placed a higher value on the ancient pagan, rather than the Christian ideal. His friend
Willibald Pirckheimer
Willibald Pirckheimer
Willibald Pirckheimer was a German Renaissance lawyer, author and Renaissance humanist, a wealthy and prominent figure in Nuremberg in the 16th century, and a member of the governing City Council for two periods...
had blunt discussions with him on that subject.
The Celtis-Gymnasium in Schweinfurt was named after Conrad Celtis.
Sources and further reading
Pierre Laurens (ed.) Anthologie de la poésie lyrique latine de la Renaissance (Gallimard, 2004)
Christopher B. Krebs: Negotiatio Germaniae. Tacitus' Germania und Enea Silvio Piccolomini, Giannantonio Campano, Conrad Celtis und Heinrich Bebel, Vandenhoeck & Ruprecht, Göttingen 2005. (Hypomnemata, Bd. 158) Pp. 284. ISBN 3-525-25257-9.
Jörg Robert: Konrad Celtis und das Projekt der deutschen Dichtung. Studien zur humanistischen Konstitution von Poetik, Philosophie, Nation und Ich, Tübingen 2003. ISBN 3-484-36576-5
Hans Rupprich: Neue Deutsche Biographie

Neue Deutsche Biographie

Neue Deutsche Biographie is a biographical reference work published in German by the Historical Committee at the Bavarian Academy of Sciences and Humanities and printed by Duncker & Humblot in Berlin. It is the successor to the Allgemeine Deutsche Biographie...


, Band 3 Seite 181siehe auch Band 20, Seite 50 und 474, Band 22, Seite 601
Walther Killy (Hrsg.): Literaturlexikon: Autoren und Werke deutscher Sprache, Bd. 2, S. 395, Bertelsmann-Lexikon-Verlag, Gütersloh u. München 1988–1991 (CD-ROM Berlin 1998 ISBN 3-932544-13-7)
Pierer's Lexikon, Kluepfel, Aschbach.
Catholic Encyclopedia.http://www.newadvent.org/cathen/03492a.htm
Schäfer, Eckart (ed., trans.), Conrad Celtis: Oden/Epoden/Jahrhundertlied: libri odarum quattuor, cum epodo et saeculari carmine (1513). (Tübingen: Gunter Narr Verlag, 2008) (NeoLatina, 16).
External links