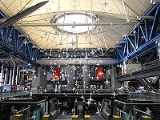 Cité des Sciences et de l'Industrie
The
Cité des Sciences et de l'Industrie
is the biggest
science museum
Science museum
A science museum or a science centre is a museum devoted primarily to science. Older science museums tended to concentrate on static displays of objects related to natural history, paleontology, geology, industry and industrial machinery, etc. Modern trends in museology have broadened the range of...
in
Europe
Europe
Europe is, by convention, one of the world's seven continents. Comprising the westernmost peninsula of Eurasia, Europe is generally 'divided' from Asia to its east by the watershed divides of the Ural and Caucasus Mountains, the Ural River, the Caspian and Black Seas, and the waterways connecting...
. Located in
Parc de la Villette
Parc de la Villette
The Parc de la Villette is a park in Paris at the outer edge of the 19th arrondissement, bordering the Boulevard Périphérique, which is a ring road around Paris, and the suburban department of Seine-Saint-Denis.-History:...
in
Paris
Paris
Paris is the capital and largest city in France, situated on the river Seine, in northern France, at the heart of the Île-de-France region...
,
France
France
The French Republic , The French Republic , The French Republic , (commonly known as France , is a unitary semi-presidential republic in Western Europe with several overseas territories and islands located on other continents and in the Indian, Pacific, and Atlantic oceans. Metropolitan France...
, it is at the heart of the Cultural Center of Science, Technology and Industry (CCSTI), a center promoting science and science culture.
About five million people visit the Cité each year. Attractions include a
planetarium
Planetarium
A planetarium is a theatre built primarily for presenting educational and entertaining shows about astronomy and the night sky, or for training in celestial navigation...
, a
submarine
Submarine
A submarine is a watercraft capable of independent operation below the surface of the water. It differs from a submersible, which has more limited underwater capability...
(the
Argonaute (S636)
Argonaute (S636)
Argonaute is an Aréthuse-class submarine, and the fourth ship of the French Navy to bear the name.Launched on 23 October 1958, she served as flagship within the Toulon submarine squadron, and spent over 2,000 days at sea and over 32,000 hours underwater...
), an
IMAX
IMAX
IMAX is a motion picture film format and a set of proprietary cinema projection standards created by the Canadian company IMAX Corporation. IMAX has the capacity to record and display images of far greater size and resolution than conventional film systems...
theatre (
La Géode
La Géode
La Géode is an Omnimax theatre in the Parc de la Villette at the Cité des Sciences et de l'Industrie in Paris. It opened on May 6, 1985. It is fitted with the only 12.1 sound system in the world, designed by Cabasse...
) and special areas for children and teenagers.
The Cité is classified as a
public establishment of an industrial and commercial character
Établissements publics à caractère industriel et commercial
An établissement public à caractère industriel et commercial or EPIC is a category of public undertaking in France, including some research institutes and infrastructure operators...
, an establishment specializing in the fostering of scientific and technical culture. Created on the initiative of President Giscard d'Estaing, the goal of the Cité is to spread scientific and technical knowledge among the public, particularly for youth, and to promote public interest in science, research and industry.
The most notable features of the "bioclimatic facade" facing the park are Les Serres - three greenhouse spaces each 20 metres high and 8 metres wide and 20 metres deep. The facades of Les Serres were the first structural glass walls to be constructed without framing or supporting fins.
Between 30 May and 1 June 2008, the museum hosted the 3rd
International Salon for Peace Initiatives
International Salon for Peace Initiatives
The International Salon for Peace Initiatives is organized in the framework of the International Decade for the Promotion of a Culture of Peace and Non-Violence for the Children of the World declared by the United Nations in 1998....
.
Features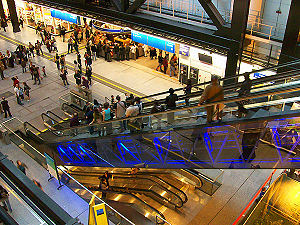 Explora (levels 1, 2, and 3)
The library of science and industry (Médiathèque, level -1)
City of children (level 0)
Auditorium (level 0)
Louis Lumière theater (level 0)
Planetarium (located between exhibits on level 2)
Numeric crossroads (level -1)
City of careers (level -1)
City of health (level -1)
Meeting place (level -1)
Aquarium (level -2)
Jean bertin hall (level 0)
Condorcet hall (level 0)
Picnic area (level 0)
Post office (level 0)
Store for scientific books and toys (level 0)
Restaurants (level -2)
History
The building is constructed around the vast steel trusses of an abattoir sales hall on which construction had halted in 1973. The transformation, commissioned on September 15, 1980, was designed by the architect Adrien Fainsilber and engineer
Peter Rice
Peter Rice
Peter Rice was an Irish structural engineer.Born in 52 Brigid Street, Dundalk in County Louth, he spent his childhood between the town of Dundalk, and the villages of Gyles' Quay and Inniskeen. He was educated at the Queen's University of Belfast where he received his primary degree, and spent a...
. It was opened on March 13, 1986, inaugurated by
François Mitterrand
François Mitterrand
François Maurice Adrien Marie Mitterrand was the 21st President of the French Republic and ex officio Co-Prince of Andorra, serving from 1981 until 1995. He is the longest-serving President of France and, as leader of the Socialist Party, the only figure from the left so far elected President...
upon the occasion of the encounter of the
Giotto
Giotto mission
Giotto was a European robotic spacecraft mission from the European Space Agency, intended to fly by and study Halley's Comet. On 13 March 1986, the mission succeeded in approaching Halley's nucleus at a distance of 596 kilometers....
space probe with
Halley's Comet
Comet Halley
Halley's Comet or Comet Halley is the best-known of the short-period comets, and is visible from Earth every 75 to 76 years. Halley is the only short-period comet that is clearly visible to the naked eye from Earth, and thus the only naked-eye comet that might appear twice in a human lifetime...
.
The presidents of the museum, listed chronologically:
Maurice Lévy : 1985
Christian Marbach : 1987
Roger Lesgards : 1988
Pierre David : 1993
Gérard Théry : 1995
Michel Demazure

Michel Demazure

Michel Demazure is a French mathematician. He made contributions in the fields of abstract algebra and algebraic geometry, was president of the French Mathematical Society and directed two French science museums.-Biography:...


: 1998
Jean-François Hébert : 2002
François d'Aubert

François d'Aubert

François d'Aubert is a French politician.He is, by profession, an auditor at the Cour des Comptes. Since 2002, he has been minister delegate to research in Jean-Pierre Raffarin's government....


: July 26, 2007
Claudie Haigneré

Claudie Haigneré

Claudie Haigneré is a French doctor, politician, and former astronaut with the Centre National d'Études Spatiales and the European Space Agency ....


: April 16, 2009
Floor Directory
Exhibitions
Shows
Resources
Facilities
Level 2
Two permanent + two temporary exhibitions

Activity points
Planetarium
Snack bar
Level 1
Six permanent + two temporary exhibitions + a greenhouse


Activity points
Snack bar
Level 0
Cité des Enfants, 2-7 year-olds
Cité des Enfants, 5-12 year-olds
Shadows and light
Argonaute submarine
Louis-Lumière cinema
Cinaxe cinema
Library (BSI) - children's section
Auditorium
Information desk, ticket desk
Café, Shop
Post office
Cloakroom
Cash machine
Level -1
Multimedia Library (BSI)
Vocal guidance
Health Information
Digital Forum
La Villette Conference Centre
Group Cloakroom
Level -2
Géode
Aquarium
Restaurant
Cafeteria
Café
Car Parks
Access
It is accessible by
Métro
Paris Métro
The Paris Métro or Métropolitain is the rapid transit metro system in Paris, France. It has become a symbol of the city, noted for its density within the city limits and its uniform architecture influenced by Art Nouveau. The network's sixteen lines are mostly underground and run to 214 km ...
line 7
Paris Metro Line 7
Paris Métro Line 7 is one of sixteen lines of the Paris Métro system. Crossing the capital from its north-eastern to south-eastern sections via a moderately curved path, it links La Courneuve – 8 Mai 1945 in the north with Mairie d'Ivry and Villejuif – Louis Aragon in the south, while passing...
at the
Porte de la Villette
Porte de la Villette (Paris Metro)
Porte de la Villette is a station of the Paris Métro. The origin of the commune of the Villette was a Gallo-Roman village, which grew up on the Roman road that led to east Flanders. About 1198, it became Ville Neuve Saint-Ladre and by 1426 it was called Villette-Saint-Miser-lez-Paris. The commune...
station and by
bus lines
Bus (RATP)
RATP operates the majority of buses in Paris, and a significant number of lines in its suburbs. Other suburban lines are operated by private operators grouped in a consortium known as Optile ....
PC2, 139, 150, 151, 249, and 75.
See also
External links