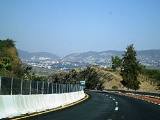 Chilpancingo
Chilpancingo de los Bravo
(tʃilpanˈsiŋɡo ðe loz ˈβɾaβo) (also known as
Chilpancingo
) is the capital and second-largest city of the
state
States of Mexico
The United Mexican States is a federal republic formed by 32 federal entities .According to the Constitution of 1917, the states of the federation are free and sovereign. Each state has their own congress and constitution, while the Federal District has only limited autonomy with a local Congress...
of
Guerrero
Guerrero
Guerrero officially Estado Libre y Soberano de Guerrero is one of the 31 states which, with the Federal District, comprise the 32 Federal Entities of Mexico. It is divided in 81 municipalities and its capital city is Chilpancingo....
,
Mexico
Mexico
The United Mexican States , commonly known as Mexico , is a federal constitutional republic in North America. It is bordered on the north by the United States; on the south and west by the Pacific Ocean; on the southeast by Guatemala, Belize, and the Caribbean Sea; and on the east by the Gulf of...
. It is located at 17°33′0"N 99°30′0"W. In the 2005 census the population of the city was 166,796. Its surrounding
municipality
Municipalities of Mexico
Municipalities are the second-level administrative division in Mexico . There are 2,438 municipalities in Mexico, making the average municipality population 45,616...
, of which it is municipal seat, had a population of 214,219 persons. The municipality has an area of 2338.4 km² (902.9 sq mi) in the south-central part of the state.
The city is on
Mexican Federal Highway 95
Mexican Federal Highway 95
Mexican Federal Highway 95 connects Mexico City to Acapulco, Guerrero.The highway is the main road that leads to the Lagunas de Zempoala National Park...
which connects
Acapulco
Acapulco
Acapulco is a city, municipality and major sea port in the state of Guerrero on the Pacific coast of Mexico, southwest from Mexico City. Acapulco is located on a deep, semi-circular bay and has been a port since the early colonial period of Mexico's history...
to
Mexico City
Mexico City
Mexico City is the Federal District , capital of Mexico and seat of the federal powers of the Mexican Union. It is a federal entity within Mexico which is not part of any one of the 31 Mexican states but belongs to the federation as a whole...
.
Chilpancingo is where the
National Congress
Congress of Chilpancingo
The Congress of Chilpancingo was a meeting held in Chilpancingo, in what is the modern-day Mexican state of Guerrero, from September to November 1813. The result of this meeting was that Mexico formally declared itself to be independent of Spain and what was later to become the first national...
met in 1813 to discuss Mexico's future as an independent nation.
On April 27, 2009 an earthquake with a magnitude of 5.6 was centered near Chilpancingo.
External links