 Chastity belt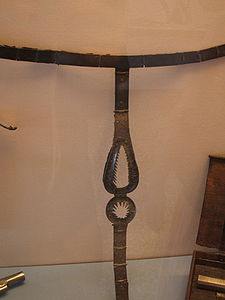 A
chastity belt
is a locking item of clothing designed to prevent sexual intercourse. They may be used to protect the wearer from rape or temptation. Some devices have been designed with additional features to prevent
masturbation
Masturbation
Masturbation refers to sexual stimulation of a person's own genitals, usually to the point of orgasm. The stimulation can be performed manually, by use of objects or tools, or by some combination of these methods. Masturbation is a common form of autoeroticism...
. Chastity belts have been created for males and females, ostensibly for the purpose of
chastity
Chastity
Chastity refers to the sexual behavior of a man or woman acceptable to the moral standards and guidelines of a culture, civilization, or religion....
.
The term "chastity belt" is also used as a metaphor in modern English to imply overprotectiveness. The term carries a derisive connotation and may also imply that the subject is antiquated, or is cumbersome, or provides unnecessary or unwanted protection.
According to modern myths the chastity belt was used as an anti-temptation device during the
Crusades
Crusades
The Crusades were a series of religious wars, blessed by the Pope and the Catholic Church with the main goal of restoring Christian access to the holy places in and near Jerusalem...
. When the
knight
Knight
A knight was a member of a class of lower nobility in the High Middle Ages.By the Late Middle Ages, the rank had become associated with the ideals of chivalry, a code of conduct for the perfect courtly Christian warrior....
left for the Holy Lands on the Crusades, his Lady would wear a chastity belt to preserve her
faithfulness
Monogamy
Monogamy /Gr. μονός+γάμος - one+marriage/ a form of marriage in which an individual has only one spouse at any one time. In current usage monogamy often refers to having one sexual partner irrespective of marriage or reproduction...
to him. However, there is no credible evidence that chastity belts existed before the 15th century (more than one hundred years after the last Crusade), and their main period of apparent use falls within the
Renaissance
Renaissance
The Renaissance was a cultural movement that spanned roughly the 14th to the 17th century, beginning in Italy in the Late Middle Ages and later spreading to the rest of Europe. The term is also used more loosely to refer to the historical era, but since the changes of the Renaissance were not...
rather than the Middle Ages.
In any case, Renaissance chastity belts were said to have had padded linings (to prevent large areas of metal from coming into direct prolonged contact with the skin), and these had to be changed fairly frequently, so that such belts were not practical for uninterrupted long-term wear. Uninterrupted long-term wear could have caused genitourinary infection, abrasive wounds,
sepsis
Sepsis
Sepsis is a potentially deadly medical condition that is characterized by a whole-body inflammatory state and the presence of a known or suspected infection. The body may develop this inflammatory response by the immune system to microbes in the blood, urine, lungs, skin, or other tissues...
and eventual death.
Historical usage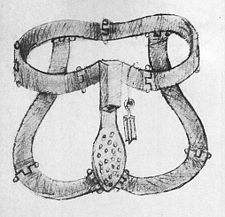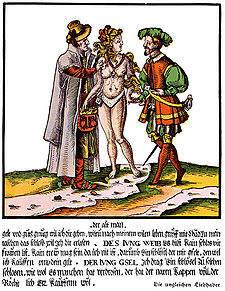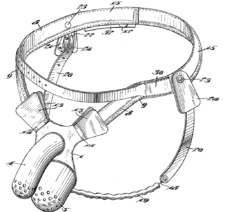 According to one fictional account,
Semiramis
Semiramis
The real and historical Shammuramat , was the Assyrian queen of Shamshi-Adad V , King of Assyria and ruler of the Neo Assyrian Empire, and its regent for four years until her son Adad-nirari III came of age....
, a mythical Assyrian queen, was afraid that the women of the household would seduce her son, so she forced them to wear locked chastity belts.
Gregory the Great, Alcuin of York,
Bernard of Clairvaux
Bernard of Clairvaux
Bernard of Clairvaux, O.Cist was a French abbot and the primary builder of the reforming Cistercian order.After the death of his mother, Bernard sought admission into the Cistercian order. Three years later, he was sent to found a new abbey at an isolated clearing in a glen known as the Val...
and Nicholas Gorranus all made passing references to 'chastity belts' within their exhortatory and public discourses, but meant this in a figurative or metaphorical sense within their historical context.
The first detailed actual mention of what could be interpreted as "chastity belts" in the West is in Konrad Kyeser von Eichstätt's
Bellifortis
Bellifortis
Bellifortis is the first fully illustrated manual of military technology, dating from the start of the 15th century...
(1405), which describes the military technology of the era. The book includes a drawing that is accompanied by the
Latin
Latin
Latin is an Italic language originally spoken in Latium and Ancient Rome. It, along with most European languages, is a descendant of the ancient Proto-Indo-European language. Although it is considered a dead language, a number of scholars and members of the Christian clergy speak it fluently, and...
text: "Est florentinarum hoc bracile dominarum ferreum et durum ab antea sic reseratum." ("These are hard iron breeches of
Florentine
Florence
Florence is the capital city of the Italian region of Tuscany and of the province of Florence. It is the most populous city in Tuscany, with approximately 370,000 inhabitants, expanding to over 1.5 million in the metropolitan area....
women which are closed at the front.") The belt in this drawing is described by Dingwall as "both clumsy and heavy", having "little in common with the later models which served the same use". The
Bellifortis
account is not supported by any additional concrete evidence or corroborating documents. Polidoro argues that Keyser's references are meant to be humorous or ironic, and that Dingwall's accounts of the use of chastity belts by a few rich men in the 16th and 16th centuries to ensure the faithfulness of their often much younger wives should be treated critically, due to the absence of actual artefacts of this nature from the historical period in question, and his lack of access to more detailed contemporary historical records.
In 1889, a leather-and-iron belt was found by Anton Pachinger—a German collector of antiquities—in
Linz
Linz
Linz is the third-largest city of Austria and capital of the state of Upper Austria . It is located in the north centre of Austria, approximately south of the Czech border, on both sides of the river Danube. The population of the city is , and that of the Greater Linz conurbation is about...
, Austria in a grave on a skeleton of a young woman. The woman was reportedly buried sometime in the 16th century. Pachinger, however, could not find any record of the woman's burial in the town archives. The belt itself, along with most of the rest of Pachinger's collection, has been lost.
Two belts have been exhibited at the
Musée de Cluny
Musée de Cluny
The Musée de Cluny , officially known as Musée National du Moyen Âge , is a museum in Paris, France...
in Paris. The first, a simple velvet-covered hoop and plate of iron, was supposedly worn by
Catherine de' Medici
Catherine de' Medici
Catherine de' Medici was an Italian noblewoman who was Queen consort of France from 1547 until 1559, as the wife of King Henry II of France....
. The other—said to have been worn by Anna of Austria—is a hinged pair of plates held about the waist by metal straps, featuring intricately etched figures of
Adam and Eve
Adam and Eve
Adam and Eve were, according to the Genesis creation narratives, the first human couple to inhabit Earth, created by YHWH, the God of the ancient Hebrews...
. There are other such belts at the Germanisches National museum in
Nuremberg
Nuremberg
Nuremberg[p] is a city in the German state of Bavaria, in the administrative region of Middle Franconia. Situated on the Pegnitz river and the Rhine–Main–Danube Canal, it is located about north of Munich and is Franconia's largest city. The population is 505,664...
and the
British Museum
British Museum
The British Museum is a museum of human history and culture in London. Its collections, which number more than seven million objects, are amongst the largest and most comprehensive in the world and originate from all continents, illustrating and documenting the story of human culture from its...
in London. Most have been removed from display to avoid any further embarrassment because the authenticity of these belts as medieval devices has since been called into question. Many contemporary historians accept that these alleged "artifacts" date from the nineteenth century, and are thus inauthentic.
From the eighteenth century and until the thirties, masturbation was widely regarded as harmful in Western medicine. Numerous mentions can be found in medical journals of the time of the use of chastity belt-like devices to prevent
masturbation
Masturbation
Masturbation refers to sexual stimulation of a person's own genitals, usually to the point of orgasm. The stimulation can be performed manually, by use of objects or tools, or by some combination of these methods. Masturbation is a common form of autoeroticism...
in children and adolescents. Many designs for anti-masturbation devices were filed in the US
Patent Office
Patent
A patent is a form of intellectual property. It consists of a set of exclusive rights granted by a sovereign state to an inventor or their assignee for a limited period of time in exchange for the public disclosure of an invention....
until the early 1930s, when masturbation was deemed not to be the cause of mental health problems.
Furthermore, some nineteenth century working women may have used them for protective reasons, as a 'rape shield" to obstruct sexual assault from predatory bosses or male work colleagues. They were not worn for a long time uninterruptedly, however, since sanitary and hygiene reasons prevented this before the modern invention of stainless-steel belts.
Use in BDSM
Today, chastity belts are sometimes used in
BDSM
BDSM
BDSM is an erotic preference and a form of sexual expression involving the consensual use of restraint, intense sensory stimulation, and fantasy power role-play. The compound acronym BDSM is derived from the terms bondage and discipline , dominance and submission , and sadism and masochism...
play and in consensual relationships. They are a means for the wearer to surrender control over their sexual behavior either for sexual play, or as a long-term method of preventing infidelity or masturbation. They range from simple leather or plastic toys commonly sold by adult stores to expensive high-security stainless steel devices made by a handful of specialist firms.
Recent developments
In 1998, racial riots against the ethnic Chinese in
West Java
West Java
West Java , with a population of over 43 million, is the most populous and most densely populated province of Indonesia. Located on the island of Java, it is slightly smaller in area than densely populated Taiwan, but with nearly double the population...
prompted the production and sale of "anti-rape corsets". These were Florentine-type belts of imitation leather-covered plastic, fastened with a combination lock. The belts had a solid crotch strap without holes, and were intended only for brief outings.
In April, 2002, the Uwe Koetter Jewellers company of
Cape Town
Cape Town
Cape Town is the second-most populous city in South Africa, and the provincial capital and primate city of the Western Cape. As the seat of the National Parliament, it is also the legislative capital of the country. It forms part of the City of Cape Town metropolitan municipality...
, South Africa completed and delivered a spectacular diamond and pearl-encrusted chastity belt made of gold to a British customer. The belt reportedly cost R160,000 and was a wedding gift from a husband-to-be for his bride to wear at their wedding.
On February 6, 2004,
USA Today
USA Today
USA Today is a national American daily newspaper published by the Gannett Company. It was founded by Al Neuharth. The newspaper vies with The Wall Street Journal for the position of having the widest circulation of any newspaper in the United States, something it previously held since 2003...
reported that at Athens airport in Greece, a woman's steel chastity belt had triggered a security alarm at the metal detector. The woman explained that her husband had forced her to wear the device to prevent an extramarital affair while she was on vacation in Greece. She was allowed to continue her flight to London on the pilot's authority. The incident was said to have happened just before Christmas in 2003. The incident was also reported by
Weekly World News
Weekly World News
The Weekly World News was a supermarket tabloid published in the United States from 1979 to 2007, renowned for its outlandish cover stories often based on supernatural or paranormal themes and an approach to news that verged on the satirical. Its characteristic black-and-white covers have become...
.
In November 2006, photographs of Lucio Gubbio's hand-wrought iron chastity belts were published in newspapers including the Seoul Times, and CRI Online. Although Gubbio's company, MedioEvo, claims that their chastity belts' designs are from the Middle Ages on their website, a company spokesperson acknowledged that there is no proof that devices such as these were actually used.
In 2007, the Asian Human Rights Commission reported that women were being forced to wear chastity belts in the
India
India
India , officially the Republic of India , is a country in South Asia. It is the seventh-largest country by geographical area, the second-most populous country with over 1.2 billion people, and the most populous democracy in the world...
n state of
Rajasthan
Rajasthan
Rājasthān the land of Rajasthanis, , is the largest state of the Republic of India by area. It is located in the northwest of India. It encompasses most of the area of the large, inhospitable Great Indian Desert , which has an edge paralleling the Sutlej-Indus river valley along its border with...
.
In 2008, masseuses in
Batu
Batu (city)
Batu is a city located in East Java, Indonesia. Formerly, It was a part of Malang regency; but in 2001, Batu became an independent city legalized by Act of 11, 2001, when it became a municipal town with its own city mayor and council....
, Indonesia were required to wear belts with a lock and key during working hours, to prevent prostitution.
On February 8, 2010, AOL News reported that Dexter Blanch, a dog breeder from
Louisiana
Louisiana
Louisiana is a state located in the southern region of the United States of America. Its capital is Baton Rouge and largest city is New Orleans. Louisiana is the only state in the U.S. with political subdivisions termed parishes, which are local governments equivalent to counties...
, introduced a chastity belt for dogs, called PABS (Pet Anti-Breeding System). It is made of
polypropylene
Polypropylene
Polypropylene , also known as polypropene, is a thermoplastic polymer used in a wide variety of applications including packaging, textiles , stationery, plastic parts and reusable containers of various types, laboratory equipment, loudspeakers, automotive components, and polymer banknotes...
and uses an eight-buckle locking system and a washable mesh pad to prevent intercourse in female dogs. Dr. Kathleen Makolinski, director of veterinary outreach at the ASPCA, commented that "For the majority of animals, spaying and neutering remains the most beneficial option".
See also
Anti-rape device
Chastity belt (BDSM)
Chastity piercing

Chastity piercing

-Females:A ring or other device is used to hold the labia closed, preventing the wearer from having vaginal sexual intercourse. When denial of direct stimulation of the clitoris is the goal, a rigid shield can be fastened over the clitoral area with labial piercings.-Males:In males, chastity...



Erotic sexual denial

Erotic sexual denial

Erotic sexual denial, also known as orgasm denial, is a sexual practice in which a heightened state of sexual arousal is maintained for an extended length of time without orgasm, and is commonly practiced in association with BDSM and sexual bondage. Erotic sexual denial can be another name for or...



Purity ring

Purity ring

Purity rings are worn as a sign of chastity. The practice originated in the United States in the 1990s among Christian-affiliated sexual abstinence groups....



Sexual abstinence

Sexual abstinence

Sexual abstinence is the practice of refraining from some or all aspects of sexual activity for medical, psychological, legal, social, philosophical or religious reasons.Common reasons for practicing sexual abstinence include:*poor health - medical celibacy...



Further reading
Eric John Dingwall: The Girdle of Chastity: A Medico-Historical Study: London: Routledge and Sons: 1931.
Massimo Polidoro: "The Myth of Chastity Belts": Skeptical Inquirer: 35: 5: September/October 2011: 27-28.
External links