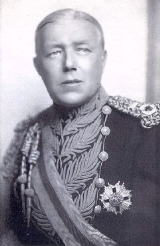 Charles Vyner Brooke
Vyner, Rajah of Sarawak
,
GCMG
Order of St Michael and St George
The Most Distinguished Order of Saint Michael and Saint George is an order of chivalry founded on 28 April 1818 by George, Prince Regent, later George IV of the United Kingdom, while he was acting as Prince Regent for his father, George III....
(
Charles Vyner deWindt Brooke
; 26 September 1874–9 May 1963) was the third and final
White Rajah
White Rajahs
White Rajahs refers to a dynasty that founded and ruled the Kingdom of Sarawak from 1841 to 1946, namely the Brookes, who came originally from England. A Rajah is a monarch in the Indian subcontinent and Southeast Asia.-Rulers:...
of
Sarawak
Sarawak
Sarawak is one of two Malaysian states on the island of Borneo. Known as Bumi Kenyalang , Sarawak is situated on the north-west of the island. It is the largest state in Malaysia followed by Sabah, the second largest state located to the North- East.The administrative capital is Kuching, which...
.
The son of Charles of Sarawak and his wife
Margaret de Windt
Margaret Brooke
Margaret, Lady Brooke, The Ranee of Sarawak was queen-consort of the second White Rajah of Sarawak, Charles Anthony Johnson Brooke...
(
Ranee
Queen consort
A queen consort is the wife of a reigning king. A queen consort usually shares her husband's rank and holds the feminine equivalent of the king's monarchical titles. Historically, queens consort do not share the king regnant's political and military powers. Most queens in history were queens consort...
Margaret of Sarawak), Vyner was born in
London
London
London is the capital city of :England and the :United Kingdom, the largest metropolitan area in the United Kingdom, and the largest urban zone in the European Union by most measures. Located on the River Thames, London has been a major settlement for two millennia, its history going back to its...
and spent his youth there, being educated at
Clevedon
Clevedon
Clevedon is a town and civil parish in the unitary authority of North Somerset, which covers part of the ceremonial county of Somerset, England...
,
Winchester College
Winchester College
Winchester College is an independent school for boys in the British public school tradition, situated in Winchester, Hampshire, the former capital of England. It has existed in its present location for over 600 years and claims the longest unbroken history of any school in England...
, and
Magdalene College, Cambridge
Magdalene College, Cambridge
Magdalene College is a constituent college of the University of Cambridge, England.The college was founded in 1428 as a Benedictine hostel, in time coming to be known as Buckingham College, before being refounded in 1542 as the College of St Mary Magdalene...
. He then entered the Sarawak public service.
Vyner served as
aide-de-camp
Aide-de-camp
An aide-de-camp is a personal assistant, secretary, or adjutant to a person of high rank, usually a senior military officer or a head of state...
to his father 1897-1898, district officer of Simanggang 1898-1901,
Resident
Resident (title)
A Resident, or in full Resident Minister, is a government official required to take up permanent residence in another country. A representative of his government, he officially has diplomatic functions which are often seen as a form of indirect rule....
of
Mukah
Mukah
Mukah, Sarawak, Malaysia, is a coastal town which serves as the administrative center of the Mukah District in Mukah Division, Sarawak. It is located by the South China Sea, about 2.5 hours by road from the town of Sibu. Mukah is also accessible by air by MASwings from Kuching and Miri. The...
and
Oya
Oya
In Yoruba mythology, Oya , is the Undergoddess of the Niger River. Oya has been syncretized in Santería with the Catholic images of the Virgin of Candelaria.-Aspects:...
, 1902–1903, Resident of the Third Division 1903-1904, President of the Law Courts 1904-1911, Vice-President of the Supreme and General Councils 1904-1911.
In his military career he was 2nd Lieutenant 3rd County of London (Sharpshooters) Yeomanry (12 May 1911), resigning on 21 May 1913.