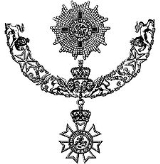 Order of St Michael and St George
The Most Distinguished Order of Saint Michael and Saint George
is an order of chivalry founded on 28 April 1818 by George, Prince Regent, later
George IV of the United Kingdom
George IV of the United Kingdom
George IV was the King of the United Kingdom of Great Britain and Ireland and also of Hanover from the death of his father, George III, on 29 January 1820 until his own death ten years later...
, while he was acting as Prince Regent for his father,
George III
George III of the United Kingdom
George III was King of Great Britain and King of Ireland from 25 October 1760 until the union of these two countries on 1 January 1801, after which he was King of the United Kingdom of Great Britain and Ireland until his death...
.
It is named in honour of two military saints,
St. Michael
Michael (archangel)
Michael , Micha'el or Mîkhā'ēl; , Mikhaḗl; or Míchaël; , Mīkhā'īl) is an archangel in Jewish, Christian, and Islamic teachings. Roman Catholics, Anglicans, and Lutherans refer to him as Saint Michael the Archangel and also simply as Saint Michael...
and
St. George
Saint George
Saint George was, according to tradition, a Roman soldier from Syria Palaestina and a priest in the Guard of Diocletian, who is venerated as a Christian martyr. In hagiography Saint George is one of the most venerated saints in the Catholic , Anglican, Eastern Orthodox, and the Oriental Orthodox...
.
The Order of St Michael and St George is awarded to men and women who render extraordinary or important non-military service in a foreign country.