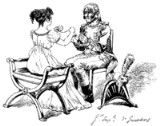 Aide-de-camp
An
aide-de-camp
is a personal assistant, secretary, or
adjutant
Adjutant
Adjutant is a military rank or appointment. In some armies, including most English-speaking ones, it is an officer who assists a more senior officer, while in other armies, especially Francophone ones, it is an NCO , normally corresponding roughly to a Staff Sergeant or Warrant Officer.An Adjutant...
to a person of high rank, usually a senior military officer or a
head of state
Head of State
A head of state is the individual that serves as the chief public representative of a monarchy, republic, federation, commonwealth or other kind of state. His or her role generally includes legitimizing the state and exercising the political powers, functions, and duties granted to the head of...
. The first
aide-de-camp
is typically the foremost personal aide.
In some countries, the
aide-de-camp
is considered to be a title of honor (which confers the
post-nominal letters
Post-nominal letters
Post-nominal letters, also called post-nominal initials, post-nominal titles or designatory letters, are letters placed after the name of a person to indicate that the individual holds a position, educational degree, accreditation, office, or honour. An individual may use several different sets of...
ADC or A de C), and participates at ceremonial functions.
The badge of office for an
aide-de-camp
is usually the
aiguillette
Aiguillette
An aiguillette is an ornamental braided cord most often worn on uniforms, but may also be observed on other costumes such as academic dress, where it will denote an honour. Originally, the word "aiguillette" referred to the lacing used to fasten plate armor together...
, a braided cord in gold or other colors, worn with a uniform on the left (or sometimes right) shoulder.
In Argentina, three officers (one from each armed service, of the rank of lieutenant colonel or its equivalent), are appointed as aide-de-camp to the President of the Republic and three others to the Minister of Defense, these six being the only ones to be called "edecán", which is one Spanish translation for aide-de-camp ("ayudante de campo" is another – "edecán" is a phonetic imitation of the French term; "ayudante de campo" is a word-for-word translation of it).
A controversy was raised in 2006, when president Néstor Kirchner decided to promote his Army aide-de-camp, Lt.