 Carlo Gozzi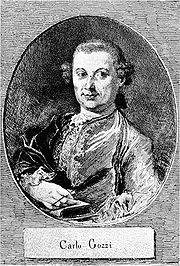 Carlo, Count Gozzi
was an
Italian
Italy
Italy , officially the Italian Republic languages]] under the European Charter for Regional or Minority Languages. In each of these, Italy's official name is as follows:;;;;;;;;), is a unitary parliamentary republic in South-Central Europe. To the north it borders France, Switzerland, Austria and...
playwright
Playwright
A playwright, also called a dramatist, is a person who writes plays.The term is not a variant spelling of "playwrite", but something quite distinct: the word wright is an archaic English term for a craftsman or builder...
.
Born in
Venice
Venice
Venice is a city in northern Italy which is renowned for the beauty of its setting, its architecture and its artworks. It is the capital of the Veneto region...
, he came from an old
Venetian
Venice
Venice is a city in northern Italy which is renowned for the beauty of its setting, its architecture and its artworks. It is the capital of the Veneto region...
family from the
Republic of Ragusa
Republic of Ragusa
The Republic of Ragusa or Republic of Dubrovnik was a maritime republic centered on the city of Dubrovnik in Dalmatia , that existed from 1358 to 1808...
. His father's debts forced him to look for a means of supporting himself, and at the age of sixteen, he joined the army in
Dalmatia
Dalmatia
Dalmatia is a historical region on the eastern coast of the Adriatic Sea. It stretches from the island of Rab in the northwest to the Bay of Kotor in the southeast. The hinterland, the Dalmatian Zagora, ranges from fifty kilometers in width in the north to just a few kilometers in the south....
; three years later he returned to Venice, where he soon made a reputation for himself as the wittiest member of the Granelleschi society, to which the publication of several satirical pieces had gained him admission. This society, nominally devoted to conviviality and wit, had serious literary aims, and was especially zealous to preserve
Tuscan
Tuscany
Tuscany is a region in Italy. It has an area of about 23,000 square kilometres and a population of about 3.75 million inhabitants. The regional capital is Florence ....
literature from foreign influence.
The displacement of the old Italian comedy by the dramas of
Pietro Chiari
Pietro Chiari
Abbot Pietro Chiari was an Italian playwright, novelist and librettist.-Life:He was a Jesuit until leaving the order in 1747. From 1747 to 1762 he was court poet of Duke Francis III of Modena, in Venice, although not at the public cost...
and
Carlo Goldoni
Carlo Goldoni
Carlo Osvaldo Goldoni was an Italian playwright and librettist from the Republic of Venice. His works include some of Italy's most famous and best-loved plays. Audiences have admired the plays of Goldoni for their ingenious mix of wit and honesty...
's works, modelled on French examples, threatened to defeat the society's efforts; in 1757 Gozzi came to the rescue by publishing a satirical poem, La tartana degli influssi per l'anno 1756, and in 1761 by his comedy, The Love of Three Oranges or Analisi riflessiva della fiaba L'amore delle tre melarance, a
parody
Parody
A parody , in current usage, is an imitative work created to mock, comment on, or trivialise an original work, its subject, author, style, or some other target, by means of humorous, satiric or ironic imitation...
of the manner of the other two poets, founded on a fairy tale. To perform it, he obtained the services of the Sacchi company of players, who, thanks to the popularity of the comedies of Chiari and Goldoni—which offered no scope for the display of their peculiar talents—had been left without employment. Their satirical powers thus sharpened by personal enmity, the play was an extraordinary success.
Struck by the effect produced on the audience by the introduction of the supernatural or mythical element, which he had merely used as a convenient medium for his satirical purposes, Gozzi produced a series of dramatic pieces based on
fairy tale
Fairy tale
A fairy tale is a type of short story that typically features such folkloric characters, such as fairies, goblins, elves, trolls, dwarves, giants or gnomes, and usually magic or enchantments. However, only a small number of the stories refer to fairies...
s, which were briefly popular, but after the breaking up of the Sacchi company were completely disregarded. They were much praised by
Goethe
Johann Wolfgang von Goethe
Johann Wolfgang von Goethe was a German writer, pictorial artist, biologist, theoretical physicist, and polymath. He is considered the supreme genius of modern German literature. His works span the fields of poetry, drama, prose, philosophy, and science. His Faust has been called the greatest long...
,
Schlegel
August Wilhelm von Schlegel
August Wilhelm Schlegel was a German poet, translator, critic, and a foremost leader of German Romanticism. His translations of Shakespeare made the English dramatist's works into German classics.-Life and work:Schlegel was born at Hanover, where his father, Johann Adolf Schlegel, was a Lutheran...
,
Madame de Staël
Anne Louise Germaine de Staël
Anne Louise Germaine de Staël-Holstein , commonly known as Madame de Staël, was a French-speaking Swiss author living in Paris and abroad. She influenced literary tastes in Europe at the turn of the 19th century.- Childhood :...
and
Sismondi
Jean Charles Léonard de Sismondi
Jean Charles Léonard de Sismondi , whose real name was Simonde, was a writer born at Geneva. He is best known for his works on French and Italian history, and his economic ideas.-Early life:...
; and one of them,
Turandot
Turandot (play and character)
Turandot is a commedia dell'arte play by Carlo Gozzi after a supposedly Persian story from the collection Les Mille et un jours by François Pétis de la Croix...
or Re Turandote, was translated by
Friedrich Schiller
Friedrich Schiller
Johann Christoph Friedrich von Schiller was a German poet, philosopher, historian, and playwright. During the last seventeen years of his life , Schiller struck up a productive, if complicated, friendship with already famous and influential Johann Wolfgang von Goethe...
.
In his later years Gozzi began to produce tragedies in which the comic element was largely introduced; as this innovation proved unacceptable to the critics he turned to the Spanish drama, from which he obtained models for various pieces; these had minor success.
His brother,
Gasparo Gozzi
Gasparo Gozzi
Gasparo, count Gozzi was an Italian critic and dramatist.The brother of Carlo Gozzi, he was born in Venice. In 1739, he married the poet Luise Bergalli, and she undertook the management of the theatre of Sant'Angelo, Venice. Her husband supplied the performers with dramas chiefly translated from...
, was also a well-known writer of the time.
His collected works were published under his own superintendence, at Venice, in 1792, in 10 volumes.
A number of twentieth-century stage works were inspired by Gozzi's plays. These include treatments of Turandot by
Karl Vollmöller
Karl Vollmöller
Karl Gustav Vollmöller, usually written Vollmoeller was a German playwright and screenwriter.He is most famous for two works, the screenplay for the celebrated 1930 German film Der Blaue Engel , which made a star of Marlene Dietrich, and the elaborate religious spectacle-pantomime Das Mirakel ,...
and
Bertolt Brecht
Turandot (Brecht)
Turandot or the Whitewashers' Congress is an epic comedy by the German modernist playwright Bertolt Brecht. It was written during the summer of 1953 in Buckow and substantially revised in light of a brief period of rehearsals in 1954, though it did not receive its first production until several...
, operas based on the same story by
Busoni
Turandot (Busoni)
Turandot is a 1917 opera with spoken dialogue and in two acts by Ferruccio Busoni. Busoni prepared his own libretto, in German, based on the play by Count Carlo Gozzi. The music for Busoni's opera is based on incidental music, and the associated Turandot Suite , which Busoni had written in 1905...
and most famously
Puccini
Turandot
Turandot is an opera in three acts by Giacomo Puccini, set to a libretto in Italian by Giuseppe Adami and Renato Simoni.Though Puccini's first interest in the subject was based on his reading of Friedrich Schiller's adaptation of the play, his work is most nearly based on the earlier text Turandot...
and Prokofiev's The Love of Three Oranges.
Plays
L'amore delle tre melarance (1761)
The Crow (1762)
The Stag-King (1762)
Turandot (1762)
The Serpent Woman (1763)
Zobeda (1763)
The Fortunate Beggars (1764)
Il mostro turchino (1764)
The Green Bird

The Green Bird

The Green Bird is an 18th century commedia dell'arte play by Carlo Gozzi. It has been translated into English by Albert Bermel and Ted Emery and also by John D. Mitchell. The most famous production, directed by Julie Taymor, was first performed on Broadway in 2000.-Plot:The play is set in the...


(1765)
Zeim, King of Genies (1765)
Marfisa bizzarra (1766)
The Elixir of Love (1775/1776)
External links