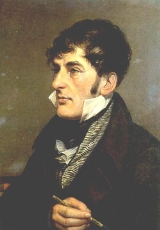 Charles Alexandre Lesueur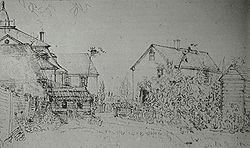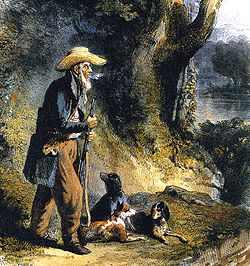 Charles Alexandre Lesueur
(
Le Havre
Le Havre
Le Havre is a city in the Seine-Maritime department of the Haute-Normandie region in France. It is situated in north-western France, on the right bank of the mouth of the river Seine on the English Channel. Le Havre is the most populous commune in the Haute-Normandie region, although the total...
, January 1, 1778 - Le Havre, December 12, 1846) was a French
naturalist
Natural history
Natural history is the scientific research of plants or animals, leaning more towards observational rather than experimental methods of study, and encompasses more research published in magazines than in academic journals. Grouped among the natural sciences, natural history is the systematic study...
, artist and explorer.
Pictured here is the
oil
Oil painting
Oil painting is the process of painting with pigments that are bound with a medium of drying oil—especially in early modern Europe, linseed oil. Often an oil such as linseed was boiled with a resin such as pine resin or even frankincense; these were called 'varnishes' and were prized for their body...
portrait
Portrait
thumb|250px|right|Portrait of [[Thomas Jefferson]] by [[Rembrandt Peale]], 1805. [[New-York Historical Society]].A portrait is a painting, photograph, sculpture, or other artistic representation of a person, in which the face and its expression is predominant. The intent is to display the likeness,...
by
Charles Willson Peale
Charles Willson Peale
Charles Willson Peale was an American painter, soldier and naturalist. He is best remembered for his portrait paintings of leading figures of the American Revolution, as well as establishing one of the first museums....
of Charles-Alexandre Lesueur. The original hangs in the reading room of the of Ewell Sale Stewart Library in the Academy of Natural Sciences of Philadelphia.
In 1801 he traveled to Australia as artist on the expedition of
Nicolas Baudin
Nicolas Baudin
Nicolas-Thomas Baudin was a French explorer, cartographer, naturalist and hydrographer.Baudin was born a commoner in Saint-Martin-de-Ré on the Île de Ré. At the age of fifteen he joined the merchant navy, and at twenty joined the French East India Company...
. With
François Péron
François Péron
François Auguste Péron was a French naturalist and explorer. He is credited with the first use of the term anthropology.-Explorations:...
he took over the duties as naturalist after the death of the expedition's zoologist
René Maugé
René Maugé
René Maugé was a French zoologist.Maugé sailed with his friend Nicolas Baudin to the West Indies between 1796 and 1798. He subsequently travelled to the Pacific with Baudin in 1800. Maugé was taken ill at Timor and died when the expedition arrived in Tasmania...
. Together they collected over 100,000 zoological specimens.
Between 1815 and 1837 he lived in the United States. In 1833, he visited
Vincennes, Indiana
Vincennes, Indiana
Vincennes is a city in and the county seat of Knox County, Indiana, United States. It is located on the Wabash River in the southwestern part of the state. The population was 18,701 at the 2000 census...
where he sketched the first known drawing of
Grouseland
Grouseland
Grouseland, the William Henry Harrison Mansion and Museum, is a National Historic Landmark in architectural and historical fields. Grouseland is a large, two-story red brick home built for William Henry Harrison in Vincennes, Indiana, during his term as Governor of the Indiana Territory...
, the mansion of
William Henry Harrison
William Henry Harrison
William Henry Harrison was the ninth President of the United States , an American military officer and politician, and the first president to die in office. He was 68 years, 23 days old when elected, the oldest president elected until Ronald Reagan in 1980, and last President to be born before the...
. The mansion is today a National Historic Landmark.
In the years 1825–1837 Lesueur lived in
New Harmony
New Harmony, Indiana
New Harmony is a historic town on the Wabash River in Harmony Township, Posey County, Indiana, United States. It lies north of Mount Vernon, the county seat. The population was 916 at the 2000 census. It is part of the Evansville metropolitan area. Many of the old Harmonist buildings still stand...
,
Indiana
Indiana
Indiana is a US state, admitted to the United States as the 19th on December 11, 1816. It is located in the Midwestern United States and Great Lakes Region. With 6,483,802 residents, the state is ranked 15th in population and 16th in population density. Indiana is ranked 38th in land area and is...
, where he filled sketchbooks full of the finds discovered during the utopian adventure funded by his friend
William Maclure
William Maclure
William Maclure, American - British social experimenter on new types of community life together with British social reformer Robert Owen, , in Indiana State, U. S. A....
. He drew the boat "Philanthropist", which arrived full of intellectuals who came to live in the small town of New Harmony, on the Wabash River. He took research trips and sketched the people and the small towns in the area. He was in New Harmony when Prince Maximilian, Prince of Wied-Neuweid, Germany, and artist
Karl Bodmer
Karl Bodmer
Karl Bodmer was a Swiss painter of the American West. He accompanied German explorer Maximilian zu Wied-Neuwied from 1832 through 1834 on his Missouri River expedition...
came to spend five months there in 1832-1833. Prince Maximilian said of Lesueur "He had explored the country in many directions, was acquainted with everything remarkable, collected and prepared all interesting objects and had already sent considerable collections to France" (Elliott & Johansen, p. 6) Indeed, Lesueur sent specimens of unique fish, animals and fossils, as well as artifacts he had dug from the Indian Mounds in New Harmony back to France, where they remain.
Lesueur returned to France in 1837, only after his friends
Thomas Say
Thomas Say
Thomas Say was an American naturalist, entomologist, malacologist, herpetologist and carcinologist. A taxonomist, he is often considered to be the father of descriptive entomology in the United States. He described more than 1,000 new species of beetles and over 400 species of insects of other...
and Joseph Barabino had died and William MacClure had returned to Philadelphia, accompanied by many of his fine books. He had spent 21 years in the United States, but continued his scholarly studies and activities in France, where he resumed his occupation of artist-naturalist and began to catalogue his extensive research and artwork. At last, he was awarded the honor of Chevalier de l'Ordre Royal de la
Légion d'honneur
Légion d'honneur
The Legion of Honour, or in full the National Order of the Legion of Honour is a French order established by Napoleon Bonaparte, First Consul of the Consulat which succeeded to the First Republic, on 19 May 1802...
for his long years of work in the sciences (Elliott & Johansen, p. 7).
In March 1846 Lesueur was appointed curator of the Musée d'Histoire Naturelle du Havre. Nine months later, he died suddenly (December 12, 1846) and was buried at Le Havre. In the 1900s, his work was finally published by the Museum, totaling over 60 books, including studies of his life, his zoological, geological, historical and archeological research (Elliott & Johansen (Elliott & Johansen, p. 7).
Further reading
Josephine Mirabella Elliott and Jane Thompson Johansen, Charles-Alexandre Lesueur: Premier Naturalist and Artist, New Harmony, Indiana, 1999.
Claus Nissen: Die zoologische Buchillustration. Ihre Bibliographie und Geschichte. Vol. I: Bibliographie. Anton Hiersemann, Verlag 1969. Page 252.
R. W. G. Vail, The American Sketchbooks of Charles Alexandre Lesueur, 1816-1837, American Antiquarian Society, 1938.
Cédric Crémière et Gabrielle Baglione, Lesueur, Peintre voyageur, Un trésor oublié, coll. Très Grande Bibliothèque Thalassa, Éditions de Conti, Paris, 2009 ( isbn : 13 978-2-35103-011-0)
External links