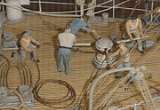 Capstan (nautical)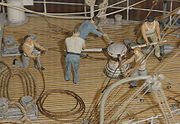 A
capstan
is a vertical-
axle
Axle
An axle is a central shaft for a rotating wheel or gear. On wheeled vehicles, the axle may be fixed to the wheels, rotating with them, or fixed to its surroundings, with the wheels rotating around the axle. In the former case, bearings or bushings are provided at the mounting points where the axle...
d rotating machine developed for use on sailing ships to apply
force
Force
In physics, a force is any influence that causes an object to undergo a change in speed, a change in direction, or a change in shape. In other words, a force is that which can cause an object with mass to change its velocity , i.e., to accelerate, or which can cause a flexible object to deform...
to ropes, cables, and hawsers. The principle is similar to that of the
windlass
Windlass
The windlass is an apparatus for moving heavy weights. Typically, a windlass consists of a horizontal cylinder , which is rotated by the turn of a crank or belt...
, which has a horizontal axle.
History
The word, connected with the
Old French
Old French
Old French was the Romance dialect continuum spoken in territories that span roughly the northern half of modern France and parts of modern Belgium and Switzerland from the 9th century to the 14th century...
capestan
or
cabestan(t)
, from Old Provençal
cabestan
, from
capestre
"pulley cord," from Latin
capistrum
, -a halter, from
capere
, to take hold of, seems to have come into English (14th century) from Portuguese or Spanish shipmen at the time of the Crusades. Both device and word are considered Spanish inventions.
Early form

In its earliest form, the capstan consisted of a timber mounted vertically through a vessel's structure which was free to rotate. Levers, known as bars, were inserted through holes at the top of the timber and used to turn the capstan. A rope wrapped several turns around the drum was thus hauled upon. A rudimentary
ratchet
Ratchet (device)
A ratchet is a device that allows continuous linear or rotary motion in only one direction while preventing motion in the opposite direction. Because most socket wrenches today use ratcheting handles, the term "ratchet" alone is often used to refer to a ratcheting wrench, and the terms "ratchet"...
was provided to hold the tension. The ropes were always wound in a clockwise direction (seen from above).
Later form
Capstans evolved to consist of a wooden drum or barrel mounted on an iron axle. Two barrels on a common axle were used frequently to allow men on two decks to apply force to the bars. Later capstans were made entirely of iron, with gearing in the head providing a mechanical advantage when the bars were pushed counterclockwise. One form of capstan was connected by a shaft and gears to an anchor windlass on the deck below.
Modern form
Modern capstans are powered electrically, hydraulically, pneumatically, or via an internal combustion engine. Typically, a gearbox is used which trades reduced speed, relative to the prime mover, for increased
torque
Torque
Torque, moment or moment of force , is the tendency of a force to rotate an object about an axis, fulcrum, or pivot. Just as a force is a push or a pull, a torque can be thought of as a twist....
.
Similar machines

A capstan differs from a
windlass
Windlass
The windlass is an apparatus for moving heavy weights. Typically, a windlass consists of a horizontal cylinder , which is rotated by the turn of a crank or belt...
, which is used for similar purposes, in having the axis on which the rope is wound vertical instead of horizontal. In
yachting
Yachting
Yachting refers to recreational sailing or boating, the specific act of sailing or using other water vessels for sporting purposes.-Competitive sailing:...
terminology, winches function on the same principle as capstans, though in industrial applications, the term
winch
Winch
A winch is a mechanical device that is used to pull in or let out or otherwise adjust the "tension" of a rope or wire rope . In its simplest form it consists of a spool and attached hand crank. In larger forms, winches stand at the heart of machines as diverse as tow trucks, steam shovels and...
generally implies a machine which stores the rope on a drum.
Use on land
Hydraulically-powered
Hydraulic motor
A hydraulic motor is a mechanical actuator that converts hydraulic pressure and flow into torque and angular displacement . The hydraulic motor is the rotary counterpart of the hydraulic cylinder....
capstans were sometimes used in
railway goods yards
Classification yard
A classification yard or marshalling yard is a railroad yard found at some freight train stations, used to separate railroad cars on to one of several tracks. First the cars are taken to a track, sometimes called a lead or a drill...
for
shunting
Shunt (railway operations)
Shunting, in railway operations, involves the process of sorting items of rolling stock into complete train sets or consists. The United States terminology is "switching"....
, or shifting railcars short distances. One example was Broad Street goods station in
London
London
London is the capital city of :England and the :United Kingdom, the largest metropolitan area in the United Kingdom, and the largest urban zone in the European Union by most measures. Located on the River Thames, London has been a major settlement for two millennia, its history going back to its...
. The yard was on a deck above some warehouses, and the deck was not strong enough to carry a locomotive, so ropes and capstans were used instead.