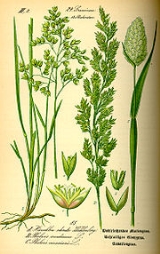 Canary grass
Canary Grass
is a plant,
Phalaris canariensis
, belonging to the family
Poaceae
Poaceae
The Poaceae is a large and nearly ubiquitous family of flowering plants. Members of this family are commonly called grasses, although the term "grass" is also applied to plants that are not in the Poaceae lineage, including the rushes and sedges...
. Originally a native of the Mediterranean region, it is now grown commercially in several parts of the world for birdseed, hence the name. This large, coarse grass has erect, hairless stems, usually from 2 to 6 feet (0.6- 1.8 metres) tall. The
ligule
Ligule
A ligule — is a thin outgrowth at the junction of leaf and leafstalk of many grasses and sedges or a strap-shaped corolla, such as that of a ray floret in plants in the daisy family....
is prominent and membranous, ¼ inch (0.6 cm) long and rounded at the apex. The gradually tapering leaf blades are 3½–10 inches (8.9–25.4 cm) long, ¼–¾ inch (0.6–1.9 cm) wide, flat, and often harsh on both surfaces. The compact panicles are erect or sometimes slightly spreading and range from 3–16 inches (7.6–40.6 cm) long with branches ½–1½ inches (1.2–3.8 cm) long. Single flowers occur in dense clusters in May to mid-June or August.
Inflorescence
Inflorescence
An inflorescence is a group or cluster of flowers arranged on a stem that is composed of a main branch or a complicated arrangement of branches. Strictly, it is the part of the shoot of seed plants where flowers are formed and which is accordingly modified...
s are green or slightly purple at first, then become tan.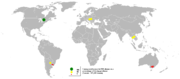 The seeds are shiny brown. The seed is used as bird food and is generally mixed with
rapeseed
Rapeseed
Rapeseed , also known as rape, oilseed rape, rapa, rappi, rapaseed is a bright yellow flowering member of the family Brassicaceae...
and other seeds that cheapen it. It should be kept in a dry place and away from vermin. Industrially, a flour made from seed is employed in the manufacture of fine cotton goods and silk stuffs.
Reed canary grass
Reed canary grass
Reed canarygrass, Phalaris arundinacea, is a tall, perennial bunchgrass that commonly forms extensive single-species stands along the margins of lakes and streams and in wet open areas, with a wide distribution in Europe, Asia, northern Africa and North America.-Description:The stems can reach 2.5...
(
Phalaris arundinacea
L.) is a perennial forage crop and a wild grass. Although heads of both crops are panicles, annual canary grass (
Phalaris canariensis
) heads resemble club wheat.
In the
Canary Islands
Canary Islands
The Canary Islands , also known as the Canaries , is a Spanish archipelago located just off the northwest coast of mainland Africa, 100 km west of the border between Morocco and the Western Sahara. The Canaries are a Spanish autonomous community and an outermost region of the European Union...
,
Italy
Italy
Italy , officially the Italian Republic languages]] under the European Charter for Regional or Minority Languages. In each of these, Italy's official name is as follows:;;;;;;;;), is a unitary parliamentary republic in South-Central Europe. To the north it borders France, Switzerland, Austria and...
and
North Africa
North Africa
North Africa or Northern Africa is the northernmost region of the African continent, linked by the Sahara to Sub-Saharan Africa. Geopolitically, the United Nations definition of Northern Africa includes eight countries or territories; Algeria, Egypt, Libya, Morocco, South Sudan, Sudan, Tunisia, and...
, it is used as food.
In certain parts of
Mexico
Mexico
The United Mexican States , commonly known as Mexico , is a federal constitutional republic in North America. It is bordered on the north by the United States; on the south and west by the Pacific Ocean; on the southeast by Guatemala, Belize, and the Caribbean Sea; and on the east by the Gulf of...
, such as
Valle de Bravo
Valle de Bravo
Valle de Bravo is a town and municipality located in Mexico State, Mexico. It is located on the shore of Lake Avándaro, approximately 156 km southwest of Mexico City and west of Toluca on highways 15, 134 or 1...
, it is prepared and sold by
street food
Street food
Street food is ready-to-eat food or drink sold in a street or other public place, such as a market or fair, by a hawker or vendor, often from a portable stall. While some street foods are regional, many are not, having spread beyond their region of origin. Most street food are both finger and fast...
vendors as a much appreciated form of
atole
Atole
Atole is a traditional masa-based Mexican and Central American hot drink. Chocolate atole is known as champurrado or atole...
.
External links
See also
Lesser Canary Grass, Phalaris minor
Proso millet

Proso millet

Proso millet is also known as common millet, hog millet or white millet. Both the wild ancestor and the location of domestication of proso millet are unknown, but it first appears as a crop in both Transcaucasia and China about 7,000 years ago, suggesting that it may have been domesticated...


, Panicum miliaceum, used as birdseed in the United States.