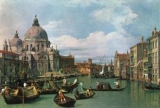 Canaletto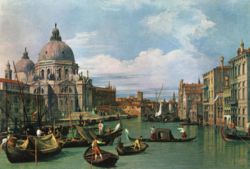 Giovanni Antonio Canal
(28 October 1697 – 19 April 1768) better known as
Canaletto
(kanaˈletto), was a
Venetian
Republic of Venice
The Republic of Venice or Venetian Republic was a state originating from the city of Venice in Northeastern Italy. It existed for over a millennium, from the late 7th century until 1797. It was formally known as the Most Serene Republic of Venice and is often referred to as La Serenissima, in...
painter famous for his landscapes, or
vedute
, of Venice. He was also an important printmaker in
etching
Etching
Etching is the process of using strong acid or mordant to cut into the unprotected parts of a metal surface to create a design in intaglio in the metal...
.
Early career
He was born in Venice as the son of the painter Bernardo Canal, hence his mononym
Canaletto
("little Canal"), and Artemisia Barbieri. His nephew and pupil
Bernardo Bellotto
Bernardo Bellotto
Bernardo Bellotto was a Venitian urban landscape painter or vedutista, and printmaker in etching famous for his vedutes of European cities . He was the pupil and nephew of Canaletto and sometimes used the latter's illustrious name, signing himself as Bernardo Canaletto...
was also an accomplished landscape painter, with a similar painting style, and sometimes used the name "Canaletto" to advance his own career, particularly in countries—
Germany
Germany
Germany , officially the Federal Republic of Germany , is a federal parliamentary republic in Europe. The country consists of 16 states while the capital and largest city is Berlin. Germany covers an area of 357,021 km2 and has a largely temperate seasonal climate...
and
Poland
Poland
Poland , officially the Republic of Poland , is a country in Central Europe bordered by Germany to the west; the Czech Republic and Slovakia to the south; Ukraine, Belarus and Lithuania to the east; and the Baltic Sea and Kaliningrad Oblast, a Russian exclave, to the north...
—where his uncle was not active.
Canaletto served his apprenticeship with his father and his brother. He began in his father's occupation, that of a theatrical scene painter. Canaletto was inspired by the Roman
vedutista
Giovanni Paolo Pannini
Giovanni Paolo Pannini
Giovanni Paolo Panini or Pannini was a painter and architect, who worked in Rome and is mainly known as one of the vedutisti ....
, and started painting the daily life of the city and its people.
After returning from Rome in 1719, he began painting in his famous topographical style. His first known signed and dated work is
Architectural Capriccio
(1723, Milan, in a private collection). Studying with the older
Luca Carlevarijs
Luca Carlevarijs
Luca Carlevarijs or Carlevaris was an Italian painter and engraver of landscapes .Carlevarijs was born in Udine, but worked mostly in Venice. His vedute of Venice are among the earliest Baroque depictions of the city. He was influenced by the Dutch painter active in Rome, Caspar van Wittel...
, a moderately-talented painter of urban
cityscape
Cityscape
A cityscape is the urban equivalent of a landscape. Townscape is roughly synonymous with cityscape, though it implies the same difference in urban size and density implicit in the difference between the words city and town. In urban design the terms refer to the configuration of built forms and...
s, he rapidly became his master's equal.
In 1725, the painter
Alessandro Marchesini
Alessandro Marchesini
Alessandro Marchesini was an Italian painter and art merchant of the late-Baroque and Rococo, active in Northern Italy and Venice. He first trained in Verona with Biagio Falcieri and then with Calza. He then moved to Bologna, to work in the studio of Carlo Cignani. He is described as gaining fame...
, who was also the buyer for the Lucchese art collector
Stefano Conti
Stefano Conti
Stefano Conti was an Italian 18th century merchant from Lucca, known for his expansive collection and patronage of contemporary Italian artists. He began his collection at age 50 in 1705, and utilized Alessandro Marchesini as his agent in Venice....
had inquired about buying two more 'views of Venice', when the agent informed him to consider instead the work of "Antonio Canale... it is like Carlevaris, but you can see the sun shining in it."
Outdoor painting
Much of Canaletto's early artwork was painted 'from nature', differing from the then customary practice of completing paintings in the studio. Some of his later works do revert to this custom, as suggested by the tendency of distant figures to be painted as blobs of colour - an effect produced by using a
camera obscura
Camera obscura
The camera obscura is an optical device that projects an image of its surroundings on a screen. It is used in drawing and for entertainment, and was one of the inventions that led to photography. The device consists of a box or room with a hole in one side...
, which blurs farther-away objects.
However, his paintings are always notable for their accuracy: he recorded the seasonal submerging of Venice in water and ice.
Early and late work
Canaletto's early works remain his most coveted and, according to many authorities, his best. One of his finest early pieces is
The Stonemason's Yard
The Stonemason's Yard
The Stonemason's Yard is an early oil painting by Giovanni Antonio Canal, better known as Canaletto...
(1729, London, the National Gallery) which depicts a humble working area of the city.
Later Canaletto became known for his grand scenes of the canals of Venice and the Doge's Palace. His large-scale landscapes portrayed the city's famed pageantry and waning traditions, making innovative use of atmospheric effects and strong
local colors
Local color (visual art)
In painting, the term Local color refers to the natural color of an object unmodified by adding light and shadow or any other distortion. Local color is best seen on a matte surface, due to it not being reflected, and therefore distorted....
. For these qualities, his works may be said to have anticipated
Impressionism
Impressionism
Impressionism was a 19th-century art movement that originated with a group of Paris-based artists whose independent exhibitions brought them to prominence during the 1870s and 1880s...
.
Work in England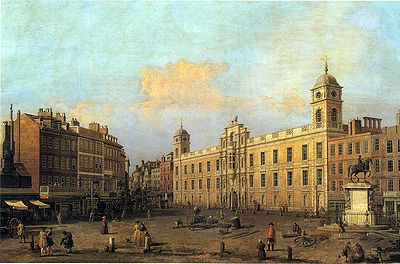 Many of his pictures were sold to Englishmen on their
Grand Tour
Grand Tour
The Grand Tour was the traditional trip of Europe undertaken by mainly upper-class European young men of means. The custom flourished from about 1660 until the advent of large-scale rail transit in the 1840s, and was associated with a standard itinerary. It served as an educational rite of passage...
, often through the agency of the merchant Joseph Smith (who was later appointed British Consul in Venice in 1744).
It was Smith who acted as an agent for Canaletto, first in requesting paintings of Venice from the painter in the early 1720s and helping him to sell his paintings to other Englishmen.
In the 1740s Canaletto's market was disrupted when the
War of the Austrian Succession
War of the Austrian Succession
The War of the Austrian Succession – including King George's War in North America, the Anglo-Spanish War of Jenkins' Ear, and two of the three Silesian wars – involved most of the powers of Europe over the question of Maria Theresa's succession to the realms of the House of Habsburg.The...
led to a reduction in the number of British visitors to Venice. Smith also arranged for the publication of a series of etchings of "capricci" (or architectural phantasies) (
capriccio
Capriccio (painting)
In painting, a capriccio , means especially an architectural fantasy, placing together buildings, archaeological remains and other architectural elements in fictional and often fantastical combinations, perhaps with staffage of figures. It fits under the more general term of landscape painting...
Italian for fancy) in his
vedute ideale
, but the returns were not high enough, and in 1746 Canaletto moved to London, to be closer to his market.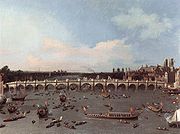 He remained in England until 1755, producing views of London (including the new
Westminster Bridge
Westminster Bridge
Westminster Bridge is a road and foot traffic bridge over the River Thames between Westminster on the north side and Lambeth on the south side, in London, England....
) and of his patrons' castles and houses. His 1754 painting of
Old Walton Bridge
Old Walton Bridge
Old Walton Bridge is the name given to the first Walton Bridge built across the River Thames at Walton-on-Thames in Surrey, England. The wooden bridge was completed in 1750 and stood until 1783 when it was dismantled to make way for a brickwork replacement....
includes an image of Canaletto himself.
He was often expected to paint England in the fashion with which he had painted his native city. Overall this period was not satisfactory, owing mostly to the declining quality of Canaletto's work. Canaletto's painting began to suffer from repetitiveness, losing its fluidity, and becoming mechanical to the point that the English art critic
George Vertue
George Vertue
George Vertue was an English engraver and antiquary, whose notebooks on British art of the first half of the 18th century are a valuable source for the period.-Life:...
suggested that the man painting under the name 'Canaletto' was an impostor.
The artist was compelled to give public painting demonstrations in order to refute this claim; however, his reputation never fully recovered in his lifetime.
After his return to Venice, Canaletto was elected to the Venetian Academy in 1763. He continued to paint until his death in 1768. In his later years he often worked from old sketches, but he sometimes produced surprising new compositions. He was willing to make subtle alternations to topography for artistic effect.
Popularity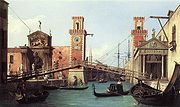 His pupils included his nephew
Bernardo Bellotto
Bernardo Bellotto
Bernardo Bellotto was a Venitian urban landscape painter or vedutista, and printmaker in etching famous for his vedutes of European cities . He was the pupil and nephew of Canaletto and sometimes used the latter's illustrious name, signing himself as Bernardo Canaletto...
,
Francesco Guardi
Francesco Guardi
Francesco Lazzaro Guardi was a Venetian painter of veduta, a member of the Venetian School. He is considered to be among the last practitioners, along with his brothers, of the classic Venetian school of painting....
,
Michele Marieschi
Michele Marieschi
Michele Marieschi , also known as Michiel, was a Venetian painter of landscapes and cityscapes who painted his vedute, or views, mostly in Venice....
, Gabriele Bella, and Giuseppe Moretti. The painter,
Giuseppe Bernardino Bison
Giuseppe Bernardino Bison
Giuseppe Bernardino Bison was an Italian painter, known mainly for his history pieces, genre depictions, and whimsical and imaginary landscapes, including veduta di fantasia or capprici....
was a follower of his style.
Joseph Smith sold much of his collection to
George III
George III of the United Kingdom
George III was King of Great Britain and King of Ireland from 25 October 1760 until the union of these two countries on 1 January 1801, after which he was King of the United Kingdom of Great Britain and Ireland until his death...
, creating the bulk of the large collection of Canalettos owned by the
Royal Collection
Royal Collection
The Royal Collection is the art collection of the British Royal Family. It is property of the monarch as sovereign, but is held in trust for her successors and the nation. It contains over 7,000 paintings, 40,000 watercolours and drawings, and about 150,000 old master prints, as well as historical...
. There are many examples of his work in other British collections, including several at the
Wallace Collection
Wallace Collection
The Wallace Collection is a museum in London, with a world-famous range of fine and decorative arts from the 15th to the 19th centuries with large holdings of French 18th-century paintings, furniture, arms & armour, porcelain and Old Master paintings arranged into 25 galleries.It was established in...
and a set of 24 in the dining room at
Woburn Abbey
Woburn Abbey
Woburn Abbey , near Woburn, Bedfordshire, England, is a country house, the seat of the Duke of Bedford and the location of the Woburn Safari Park.- Pre-20th century :...
.
Canaletto's views always fetched high prices, and as early as the 18th century Catherine the Great and other European monarchs vied for his grandest paintings. The record price paid at auction for a Canaletto is £18.6 million for
View of the Grand Canal from Palazzo Balbi

Palazzo Balbi

Palazzo Balbi is a palace on the Canal Grande, Venice, northern Italy. It is included in the sestiere of Dorsoduro, to the right of Ca' Foscari. Currently it is the seat of the President of the Veneto region and of the regional council....


to the Rialto
, set at
Sotheby's
Sotheby's
Sotheby's is the world's fourth oldest auction house in continuous operation.-History:The oldest auction house in operation is the Stockholms Auktionsverk founded in 1674, the second oldest is Göteborgs Auktionsverk founded in 1681 and third oldest being founded in 1731, all Swedish...
in London in July 2005.
Works
The Stonemason's Yard

The Stonemason's Yard

The Stonemason's Yard is an early oil painting by Giovanni Antonio Canal, better known as Canaletto...



S. Francesco Della Vigna: Church and Campo
Venice Viewed from the San Giorgio Maggiore
Palazzo Ducale and the Piazza di San Marco
The Piazzetta (1733–1735)
The Grand Canal at the Salute Church (1738–1742)
View of the Grand Canal and Santa Maria della Salute with Boats And Figures in the Foreground, Venice
View of the Grand Walk, vauxhall Gardens, with the Orchestra Pavilion, The Organ House, The Turkish Dining Tent And The Statue Of Aurora
Grand Canal, Looking East from the Campo San Vio (1723–1724)
Grand Canal, Looking Northeast from Palazo Balbi toward the Rialto Bridge (1723–1724)
Piazza San Marco (1723–1724)
Rio dei Mendicanti (1723–1724)
The Grand Canal with the Rialto Bridge in the Background (1724–1725)
Doge Palace (1725)
Entrance to the Grand Canal: Looking East (1725)
Rio dei Mendicanti: Looking South (1725)
San Giacomo di Rialto (1725–1726)
Santi Giovanni e Paolo and the Scuola di San Marco (1725)
The Grand Canal from Rialto toward the North (1725)
The Grand Canal near the Ponte di Rialto (1725)
The Betrothal of the Venetian Doge to the Adriatic Sea (c. 1739)
Ruins of the Forum, Looking towards the Capitol (1742)
London: The Thames and the City of London From Richmond House
St Mark's Square
External links