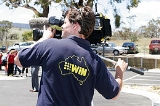 Camera operator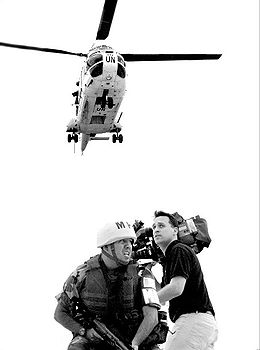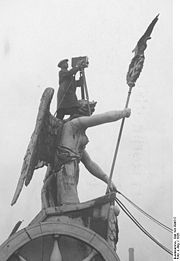 A
camera operator
or
cameraman
is a professional
operator
Operator (profession)
An operator is a professional designation used in various industries, including broadcasting , computing, customer service, physics, and construction. Operators are day-to-day end users of systems, that may or may not be mission-critical, but are typically managed and maintained by technicians or...
of a film or
video camera
Video camera
A video camera is a camera used for electronic motion picture acquisition, initially developed by the television industry but now common in other applications as well. The earliest video cameras were those of John Logie Baird, based on the electromechanical Nipkow disk and used by the BBC in...
. In
filmmaking
Filmmaking
Filmmaking is the process of making a film, from an initial story, idea, or commission, through scriptwriting, casting, shooting, directing, editing, and screening the finished product before an audience that may result in a theatrical release or television program...
, the leading cameraman is usually called a
cinematographer
Cinematographer
A cinematographer is one photographing with a motion picture camera . The title is generally equivalent to director of photography , used to designate a chief over the camera and lighting crews working on a film, responsible for achieving artistic and technical decisions related to the image...
, while a cameraman in a
video production
Video production
Video production is videography, the process of capturing moving images on electronic media even streaming media. The term includes methods of production and post-production...
may be known as a
television camera operator
,
video camera operator
, or
videographer
Videographer
Strictly speaking, a videographer is a person who works in the field of videography, video production — recording moving images and sound on video tape, disk, other electro-mechanical device. News broadcasting relies heavily on live television where videographers engage in electronic news...
, depending on the context and technology involved, usually operating a
professional video camera
Professional video camera
A professional video camera is a high-end device for creating electronic moving images...
.
The cameraman is responsible for physically operating the camera and maintaining
composition
Composition (visual arts)
In the visual arts – in particular painting, graphic design, photography and sculpture – composition is the placement or arrangement of visual elements or ingredients in a work of art or a photograph, as distinct from the subject of a work...
and
camera angle
Camera angle
The camera angle marks the specific location at which a camera is placed to take a shot. A scene may be shot from several camera angles. This will give different experience and sometimes emotion. the different camera angles will have different effects on the viewer and how they perceive the scene...
s throughout a given scene or shot. In narrative filmmaking, the camera operator will collaborate with the director, director of photography, actors and crew to make technical and creative decisions. In this setting, a camera operator is part of a
film crew
Film crew
Television crew positions are derived from those of film crew positions.A film crew is a group of people hired by a production company for the purpose of producing a film or motion picture. Crew are distinguished from cast, the Actors who appear in front of the camera or provide voices for...
consisting of the director of photography and one or more camera assistants. In documentary filmmaking and news, the camera is often called on to film unfolding, unscripted events. In 2006, there were approximately 27,000 television, video, and motion picture camera operators employed in the United States.
Important camera operator skills include choreographing and framing shots knowledge of and the ability to select appropriate camera lenses, and other equipment (
dollies
Camera dolly
A camera dolly is a specialized piece of filmmaking and television production equipment designed to create smooth camera movements . The camera is mounted to the dolly and the camera operator and focus puller or camera assistant, usually ride on the dolly to operate the camera...
, camera cranes, etc.) to portray dramatic scenes. The principles of dramatic story telling and
film editing
Film editing
Film editing is part of the creative post-production process of filmmaking. It involves the selection and combining of shots into sequences, and ultimately creating a finished motion picture. It is an art of storytelling...
fundamentals are important skills as well. The camera operator is required to communicate clearly and concisely on sets where time and film budget constraints are ever present.