 Cachaça
Cachaça
is a liquor made from
fermented
Fermentation (food)
Fermentation in food processing typically is the conversion of carbohydrates to alcohols and carbon dioxide or organic acids using yeasts, bacteria, or a combination thereof, under anaerobic conditions. Fermentation in simple terms is the chemical conversion of sugars into ethanol...
sugarcane
Sugarcane
Sugarcane refers to any of six to 37 species of tall perennial grasses of the genus Saccharum . Native to the warm temperate to tropical regions of South Asia, they have stout, jointed, fibrous stalks that are rich in sugar, and measure two to six metres tall...
.
It is the most popular
distilled
Distillation
Distillation is a method of separating mixtures based on differences in volatilities of components in a boiling liquid mixture. Distillation is a unit operation, or a physical separation process, and not a chemical reaction....
alcoholic beverage
Alcoholic beverage
An alcoholic beverage is a drink containing ethanol, commonly known as alcohol. Alcoholic beverages are divided into three general classes: beers, wines, and spirits. They are legally consumed in most countries, and over 100 countries have laws regulating their production, sale, and consumption...
in
Brazil
Brazil
Brazil , officially the Federative Republic of Brazil , is the largest country in South America. It is the world's fifth largest country, both by geographical area and by population with over 192 million people...
. It is also known as
aguardente
,
pinga
,
caninha
and many other names.
Cachaça
is mostly produced in Brazil, where, according to 2007 figures, 1.5 billion litres (390 million gallons) are consumed annually, compared with 15 million litres (4.0 million gallons) outside the country. It is typically between 38% and 54%
alcohol by volume
Alcohol by volume
Alcohol by volume is a standard measure of how much alcohol is contained in an alcoholic beverage .The ABV standard is used worldwide....
. When it is homemade it can be as strong as the distiller wants. Up to six grams per litre of
sugar
Sugar
Sugar is a class of edible crystalline carbohydrates, mainly sucrose, lactose, and fructose, characterized by a sweet flavor.Sucrose in its refined form primarily comes from sugar cane and sugar beet...
may be added." The major difference between cachaça and rum is that rum is usually made from
molasses
Molasses
Molasses is a viscous by-product of the processing of sugar cane, grapes or sugar beets into sugar. The word molasses comes from the Portuguese word melaço, which ultimately comes from mel, the Latin word for "honey". The quality of molasses depends on the maturity of the sugar cane or sugar beet,...
, a by-product from refineries that boil the cane juice to extract as much sugar crystal as possible, while cachaça is made from fresh sugarcane juice that is fermented and distilled.
While many rums are made from molasses, "cachaça rum" is made from "cachaça", a by-product quite different from molasses. Cachaça is prior to crystallisation of sugar. Molasses is produced after crystallisation. The
Dicionário da Lingua Portuguesa 2008
gives to the entry "cachaça" two meanings: one refers to the by-product, the other to the beverage
metonymically
Metonymy
Metonymy is a figure of speech used in rhetoric in which a thing or concept is not called by its own name, but by the name of something intimately associated with that thing or concept...
called also "cachaça". The
Diccionario de la Real Academia Española
also gives to the entry "cachaza" the same double meaning.
Figures from 2003 indicate 1.3 billion litres of cachaça are produced each year though only 1% of this production is exported (mainly to
Germany
Germany
Germany , officially the Federal Republic of Germany , is a federal parliamentary republic in Europe. The country consists of 16 states while the capital and largest city is Berlin. Germany covers an area of 357,021 km2 and has a largely temperate seasonal climate...
). Outside Brazil, cachaça is used almost exclusively as an ingredient in tropical drinks, with the
caipirinha
Caipirinha
Caipirinha is Brazil's national cocktail, made with cachaça , sugar and lime. Cachaça is Brazil's most common distilled alcoholic beverage . Both rum and cachaça are made from sugarcane-derived products...
being the most famous cocktail.
Production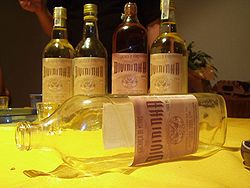 There are two types of cachaça:
artisan
Artisan
An artisan is a skilled manual worker who makes items that may be functional or strictly decorative, including furniture, clothing, jewellery, household items, and tools...
al and industrial.
Cachaça, like rum, has two varieties: unaged (white) and aged (gold). White cachaça is usually bottled immediately after distillation and tends to be cheaper (some producers age it for up to 12 months wooden barrels to achieve a smoother blend). It is often used to prepare caipirinha and other beverages in which cachaça is an ingredient. Dark cachaça, usually seen as the "premium" variety, is aged in wood barrels and is meant to be drunk straight (it is usually aged for up to 3 years though some "ultra premium" cachaças have been aged for up to 15 years). Its flavour is influenced by the type of wood the barrel is made from.
Cachaça's synonyms
For more than four centuries of history, cachaça got several synonyms and creative nicknames coined by the creative Brazilian people. Some of these words were created for the purpose of deceiving the supervision of the metropolis in the days when cachaça was banned in Brazil because the beverage was competing with a European distillate called
grapa
.
There are more than seven hundred words to refer to the Brazilian national distillate.
abre, abre-bondade, abre-coração, abrideira, abridora, aca, ácido, aço, acuicui, a-do-ó, água, água-benta, água-bórica, água-branca, água-bruta, água-de-briga, água-de-cana, água-de-setembro, água-lisa, água-pé, água-pra-tudo, água-que-gato-não-bebe, água-que-passarinho-não-bebe, aguardente, aguarrás, agundu, alicate, alpista, alpiste, amarelinha, amorosa, anacuíta, angico, aninha, apaga-tristeza, a-que-incha, aquela-que-matou-o-guarda, a-que-matou-o-guarda, aquiqui, arapari, ardosa, ardose, ariranha, arrebenta-peito, assina-ponto, assovio-de-cobra, azeite, azougue, azulada, azuladinha, azulina, azulzinha…
bafo-de-tigre, baga, bagaceira, baronesa, bataclã, bicarbonato-de-soda, bicha, bichinha, bicho, bico, birinaite, birinata, birita, birrada, bitruca, boa, boa-pra-tudo, bom-pra-tudo, borbulhante, boresca, braba, branca, brande, branquinha, brasa, braseira, braseiro, brasileira, brasileirinha, brava, briba…
cachorro-de-engenheiro, caeba, café-branco, caiana, caianarana, caianinha, calibrina, camarada, cambraia, cambrainha, camulaia, cana, cana-capim, cândida, canguara, canha, canicilina, caninha, caninha-verde, canjebrina, canjica, capote-de-pobre, cascabulho, cascarobil, cascavel, catinguenta, catrau, catrau-campeche, catuta, cauim, caúna, caxaramba, caxiri, caxirim, caxixi, cem-virtudes, chá-de-cana, chambirra, champanha-da-terra, chatô, chica, chica-boa, chora-menina, chorinho, choro, chuchu, cidrão, cipinhinha, cipó, cobertor-de-pobre, cobreia, cobreira, coco, concentrada, congonha, conguruti, corta-bainha, cotréia, crislotique, crua, cruaca, cumbe, cumbeca, cumbica, cumulaia, cura-tudo…
danada, danadinha, danadona, danguá, delas-frias, delegado-de-laranjeiras, dengosa, desmanchada, desmanchadeira, desmancha-samba, dindinha, doidinha, dona-branca, dormideira…
ela, elixir, engenhoca, engasga-gato, espanta-moleque, espiridina, espridina, espírito, esquenta-aqui-dentro, esquenta-corpo, esquenta-dentro, esquenta-por-dentro, estricnina, extrato-hepático…
faz-xodó, ferro, filha-de-senhor-de-engenho, filha-do-engenho, filha-do-senhor-do-engenho, fogo, fogosa, forra-peito, fragadô, friinha, fruta…
garapa-doida, gás, gasolina, gaspa, gengibirra, girgolina, girumba, glostora, goró, gororoba, gororobinha, gramática, granzosa, gravanji, grogue, guampa, guarupada…
homeopatia…
iaiá-me-sacode, igarapé-mirim, imaculada, imbiriba, incha, insquento, isbelique, isca…
já-começa, jamaica, januária, jeriba, jeribita, jinjibirra, juçara, junça, jura, jurubita, jurupinga…
lágrima-de-virgem, lamparina, lanterneta, lapinga, laprinja, lebrea, lebréia, legume, levanta-velho, limpa, limpa-goela, limpa-olho, limpinha, linda, lindinha, linha-branca, lisa, lisinha…
maçangana, maçaranduba, maciça, malafa, malafo, malavo, malunga, malvada, mamadeira, mamãe-de-aluana, mamãe-sacode, manduraba, mandureba, mangaba, mangabinha, marafa, marafo, maria-branca, maria-meu-bem, maria-teimosa, mariquinhas, martelo, marumbis, marvada, marvadinha, mata-bicho, mata-paixão, mateus, mé, melé, meleira, meropéia, meu-consolo, mezinha, miana, mijo-de-cão, mindorra, minduba, mindubinha, miscorete, mistria, moça-branca, moça-loura, molhadura, monjopina, montuava, morrão, morretiana, muamba, mulata, mulatinha, muncadinho, mundureba, mungango…
não-sei-quê, negrita, nó-cego, nordígena, número-um…
óleo, óleo-de-cana, omim-fum-fum, oranganje, oroganje, orontanje, oti, otim, otim-fifum, otim-fim-fim…
panete, parati, parda, parnaíba, patrícia, pau-de-urubu, pau-no-burro, pau-selado, pé-de-briga, péla-goela, pelecopá, penicilina, perigosa, petróleo, pevide, pílcia, pilóia, pilora, pindaíba, pindaíva, pindonga, pinga, pingada, pinga-mansa, pinguinha, piraçununga, piribita, pirita, pitianga, pitula, porco, porongo, preciosa, prego, presepe, pringoméia, pura, purinha, purona…
quebra-goela, quebra-jejum, quebra-munheca, quindim…
rama, remédio, restilo, retrós, rija, ripa, roxo-forte…
salsaparrilha-de-brístol, samba, santa-branca, santamarense, santa-maria, santinha, santo-onofre-de-bodega, semente-de-arrenga, sete-virtudes, sinhaninha, sinhazinha, sipia, siúba, sorna, sumo-da-cana, sumo-de-cana-torta, suor-de-alambique, suor-de-cana-torta, supupara, suruca…
tafiá, talagada, tanguara, teimosa, teimosinha, tempero, terebintina, tiguara, tindola, tíner, tinguaciba, tiguara, tiquara, tira-calor, tira-juízo, tira-teima, tira-vergonha, titara, tiúba, tome-juízo, três-martelos, três-tombos…
uca, uma-aí, unganjo, upa, urina-de-santo…
vela, veneno, venenosa, virge, virgem…
xarope-de-grindélia, xarope-dos-bebos, xarope-galeno, ximbica, ximbira, xinabre, xinapre…
zuninga…
See also
Caipirinha

Caipirinha

Caipirinha is Brazil's national cocktail, made with cachaça , sugar and lime. Cachaça is Brazil's most common distilled alcoholic beverage . Both rum and cachaça are made from sugarcane-derived products...



Cocktails with cachaça

Cocktails with cachaça

-Caipirinha:The Caipirinha is Brazil's national cocktail made with cachaça, ice, sugar, and lime. It is the drink most commonly associated with cachaça....



List of brands of Cachaça
List of cocktails with cachaça
Rhum Agricole

Rhum Agricole

Rhum Agricole is a type of rum distilled in one of the French West Indies islands from freshly squeezed sugar cane juice rather than from molasses. Most rum is made from molasses, a byproduct of sugar refining but when France began to make sugar from sugar beets, sugar prices plunged heavily. The...



External links