 Ca' Pesaro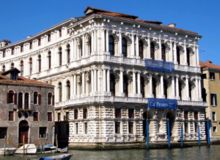 The
Ca' Pesaro
is a
baroque
Baroque
The Baroque is a period and the style that used exaggerated motion and clear, easily interpreted detail to produce drama, tension, exuberance, and grandeur in sculpture, painting, literature, dance, and music...
marble palace facing the
Grand Canal
Grand Canal of Venice
The Grand Canal is a canal in Venice, Italy. It forms one of the major water-traffic corridors in the city...
of
Venice
Venice
Venice is a city in northern Italy which is renowned for the beauty of its setting, its architecture and its artworks. It is the capital of the Veneto region...
.
Originally designed by
Baldassarre Longhena
Baldassarre Longhena
thumb|250px|Tower of the church [[Santa Maria del Soccorso]], [[Rovigo]].Baldassarre Longhena was an Italian architect, who worked mainly in Venice, where he was one of the greatest exponents of Baroque architecture of the period....
in mid-17th century, the construction was completed by Gian Antonio Gaspari in 1710. As at his
Ca' Rezzonico
Ca' Rezzonico
Ca' Rezzonico is a palazzo on the Grand Canal in Venice. Today it is a public museum dedicated to 18th century Venice. - Design :Ca' Rezzonico stands on the right bank of the canal, at the point where it is joined by the Rio di San Barnaba. The site was previously occupied by two houses...
, a double order of colossal columns and colonnettes flanking arch-headed windows, reinterpreting a motif of
Jacopo Sansovino
Jacopo Sansovino
Jacopo d'Antonio Sansovino was an Italian sculptor and architect, known best for his works around the Piazza San Marco in Venice. Andrea Palladio, in the Preface to his Quattro Libri was of the opinion that Sansovino's Biblioteca Marciana was the best building erected since Antiquity...
, Longhena creates the impression of double
loggia
Loggia
Loggia is the name given to an architectural feature, originally of Minoan design. They are often a gallery or corridor at ground level, sometimes higher, on the facade of a building and open to the air on one side, where it is supported by columns or pierced openings in the wall...
s extending across the main Grand Canal frontage, above a boldly
rusticated
Rustication (architecture)
thumb|upright|Two different styles of rustication in the [[Palazzo Medici-Riccardi]] in [[Florence]].In classical architecture rustication is an architectural feature that contrasts in texture with the smoothly finished, squared block masonry surfaces called ashlar...
basement.
Museum of Modern Art
It is today the city of Venice's museum of Modern Art, containing paintings or works by
Klimt
Gustav Klimt
Gustav Klimt was an Austrian Symbolist painter and one of the most prominent members of the Vienna Secession movement. His major works include paintings, murals, sketches, and other art objects...
,
Bonnard
Pierre Bonnard
Pierre Bonnard was a French painter and printmaker, as well as a founding member of Les Nabis.-Biography:...
,
Chagall
Marc Chagall
Marc Chagall Art critic Robert Hughes referred to Chagall as "the quintessential Jewish artist of the twentieth century."According to art historian Michael J...
,
Kandinsky
Wassily Kandinsky
Wassily Wassilyevich Kandinsky was an influential Russian painter and art theorist. He is credited with painting the first purely-abstract works. Born in Moscow, Kandinsky spent his childhood in Odessa. He enrolled at the University of Moscow, studying law and economics...
,
Klee
Paul Klee
Paul Klee was born in Münchenbuchsee, Switzerland, and is considered both a German and a Swiss painter. His highly individual style was influenced by movements in art that included expressionism, cubism, and surrealism. He was, as well, a student of orientalism...
,
Rouault
Georges Rouault
Georges Henri Rouault[p] was a French Fauvist and Expressionist painter, and printmaker in lithography and etching.-Childhood and education:Rouault was born in Paris into a poor family...
, Matisse,
Moore
Henry Moore
Henry Spencer Moore OM CH FBA was an English sculptor and artist. He was best known for his semi-abstract monumental bronze sculptures which are located around the world as public works of art....
,
Morandi
Giorgio Morandi
Giorgio Morandi was an Italian painter and printmaker who specialized in still life. His paintings are noted for their tonal subtlety in depicting apparently simple subjects, which were limited mainly to vases, bottles, bowls, flowers, and landscapes.-Biography:Giorgio Morandi was born in Bologna...
,
De Chirico
Giorgio de Chirico
Giorgio de Chirico was a pre-Surrealist and then Surrealist Italian painter born in Volos, Greece, to a Genovese mother and a Sicilian father. He founded the scuola metafisica art movement...
,
Boccioni
Umberto Boccioni
Umberto Boccioni was an Italian painter and sculptor. Like other Futurists, his work centered on the portrayal of movement , speed, and technology. He was born in Reggio Calabria, Italy.-Biography:...
and others.
Museum of Oriental Art
The upper floor is dedicated to the Museo d'Arte Orientale, containing some 30,000 objects, mainly from Japan (armoury, inros, netsukes, paintings by
Koryusai
Koryusai
Isoda Koryusai was a Japanese printmaker and painter active from approximately 1764 to 1788.The details of his life are under some dispute. He apparently came from a samurai background. One theory stated he became a ronin and was forced to turn to art, but another says he voluntarily gave up the...
, Harunobu,
Hokusai
Hokusai
was a Japanese artist, ukiyo-e painter and printmaker of the Edo period. He was influenced by such painters as Sesshu, and other styles of Chinese painting...
, etc.), but also from China and Indonesia. This collection of oriental objects was brought back from a stay in Asia by
Prince Henry of Bourbon-Parma, Count of Bardi
Prince Henry, Count of Bardi
Prince Henry of Bourbon-Parma, Count of Bardi was the youngest son and child of Charles III, Duke of Parma and his wife Princess Louise Marie Thérèse of France, the eldest daughter of Charles Ferdinand, Duke of Berry and Princess Caroline Ferdinande Louise of the Two Sicilies.Henry was thus a...
, at the end of the 19th century, and bequeathed to the Italian state.
External links