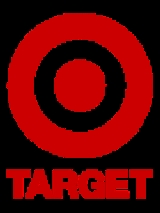 Target Corporation
Target Corporation,
doing business as
Doing business as
The phrase "doing business as" is a legal term used in the United States, meaning that the trade name, or fictitious business name, under which the business or operation is conducted and presented to the world is not the legal name of the legal person who actually own it and are responsible for it...
Target, is an American retailing company headquartered in Minneapolis,
Minnesota
Minnesota
Minnesota is a U.S. state located in the Midwestern United States. The twelfth largest state of the U.S., it is the twenty-first most populous, with 5.3 million residents. Minnesota was carved out of the eastern half of the Minnesota Territory and admitted to the Union as the thirty-second state...
. It is the second-largest discount retailer in the United States, behind Walmart. The company is ranked at number 33 on the
Fortune 500
Fortune 500
The Fortune 500 is an annual list compiled and published by Fortune magazine that ranks the top 500 U.S. closely held and public corporations as ranked by their gross revenue after adjustments made by Fortune to exclude the impact of excise taxes companies collect. The list includes publicly and...
and is a component of the
Standard & Poor's 500
S&P 500
The S&P 500 is a free-float capitalization-weighted index published since 1957 of the prices of 500 large-cap common stocks actively traded in the United States. The stocks included in the S&P 500 are those of large publicly held companies that trade on either of the two largest American stock...
index. Its bullseye trademark is licensed to
Wesfarmers
Wesfarmers
Wesfarmers Limited is one of Australia's largest public companies and one of Australia's largest retailers. Its headquarters are in Perth, Western Australia....
, owners of the separate Target Australia chain.
The company was founded in 1902 as the Dayton Dry Goods Company, though its first Target store was opened in 1962 in nearby
Roseville, Minnesota
Roseville, Minnesota
As of the census of 2000, there were 33,690 people, 14,598 households, and 8,598 families residing in the city. The population density was 2,543.9 people per square mile . There were 14,917 housing units at an average density of 1,126.4 per square mile...
.