Bulkhead (partition)
A
bulkhead
is an upright wall within the
hull
Hull (watercraft)
A hull is the watertight body of a ship or boat. Above the hull is the superstructure and/or deckhouse, where present. The line where the hull meets the water surface is called the waterline.The structure of the hull varies depending on the vessel type...
of a ship or within the
fuselage
Fuselage
The fuselage is an aircraft's main body section that holds crew and passengers or cargo. In single-engine aircraft it will usually contain an engine, although in some amphibious aircraft the single engine is mounted on a pylon attached to the fuselage which in turn is used as a floating hull...
of an airplane. Other kinds of partition elements within a ship are
decks
Deck (ship)
A deck is a permanent covering over a compartment or a hull of a ship. On a boat or ship, the primary deck is the horizontal structure which forms the 'roof' for the hull, which both strengthens the hull and serves as the primary working surface...
and
deckhead
Deckhead
A deckhead is the underside of a deck in a ship. It bears the same relationship to a compartment on the deck below as does the ceiling to the room of a house....
s.
Etymology
The word
bulki
meant "cargo" in
Old Norse
Old Norse
Old Norse is a North Germanic language that was spoken by inhabitants of Scandinavia and inhabitants of their overseas settlements during the Viking Age, until about 1300....
. Sometime in the 15th century sailors and builders in Europe realized that walls within a vessel would prevent cargo from shifting during passage. In shipbuilding, any vertical panel was called a "head". So walls installed abeam (side-to-side) in a vessel's hull were called "bulkheads." Now, the term
bulkhead
applies to every vertical panel aboard a ship, except for the hull itself.
Purpose
Bulkheads in a ship serve several purposes:
increase the structural rigidity of the vessel,
divide functional areas into rooms and
create watertight compartments that can contain water

Ship floodability

Floodability is a characteristic of the construction of a ship to resist flooding.Floodability is achieved by dividing the volume of the hull into watertight compartments with decks and bulkheads , use of double bottom, and by other means.Watertight bulkhead compartments were written of by the Song...


in the case of a hull breach or other leak.
some bulkheads and deck

Deck (ship)

A deck is a permanent covering over a compartment or a hull of a ship. On a boat or ship, the primary deck is the horizontal structure which forms the 'roof' for the hull, which both strengthens the hull and serves as the primary working surface...


s are fire-resistance rated

Fire-resistance rating

A fire-resistance rating typically means the duration for which a passive fire protection system can withstand a standard fire resistance test. This can be quantified simply as a measure of time, or it may entail a host of other criteria, involving other evidence of functionality or fitness for...


to achieve compartmentalisation, a passive fire protection

Passive fire protection

Passive fire protection is an integral component of the three components of structural fire protection and fire safety in a building. PFP attempts to contain fires or slow the spread, through use of fire-resistant walls, floors, and doors...


measure; see firewall (construction)

Firewall (construction)

A firewall is a fireproof barrier used to prevent the spread of fire between or through buildings, structures, electrical substation transformers, or within an aircraft or vehicle.- Applications :...


.
Fire-resistance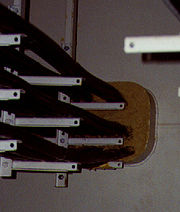 Openings in fire-resistance rated bulkheads and decks must be
firestop
Firestop
A firestop is a passive fire protection system of various components used to seal openings and joints in fire-resistance rated wall and/or floor assemblies, based on fire testing and certification listings....
ped to restore the fire-resistance ratings that would otherwise be compromised, if the openings were left unsealed. The authority having jurisdiction for such measures varies depending upon the flag of the ship. Merchant vessels are typically subject to the regulations and inspections of the Coast Guards of the flag country. Combat ships are subject to the regulations set out by the navy of the country that owns the ship.
Prevention of damage from EMI and EMP
Bulkheads and decks of warships may be fully
grounded
Ground (electricity)
In electrical engineering, ground or earth may be the reference point in an electrical circuit from which other voltages are measured, or a common return path for electric current, or a direct physical connection to the Earth....
(electrically) as a
countermeasure
Countermeasure
A countermeasure is a measure or action taken to counter or offset another one. As a general concept it implies precision, and is any technological or tactical solution or system designed to prevent an undesirable outcome in the process...
against damage from
EMI
Electromagnetic interference
Electromagnetic interference is disturbance that affects an electrical circuit due to either electromagnetic induction or electromagnetic radiation emitted from an external source. The disturbance may interrupt, obstruct, or otherwise degrade or limit the effective performance of the circuit...
and
EMP
Electromagnetic pulse
An electromagnetic pulse is a burst of electromagnetic radiation. The abrupt pulse of electromagnetic radiation usually results from certain types of high energy explosions, especially a nuclear explosion, or from a suddenly fluctuating magnetic field...
due to nuclear or electromagnetic bomb detonations near the ship, which could severely damage the vital electronic
system
System
System is a set of interacting or interdependent components forming an integrated whole....
s on a ship.
In the case of firestops, cable jacketing is usually removed within the seal and firestop rubber modules are internally fitted with copper shields, which contact the cables' armour in order to ground the seal.
Other uses of the term
The term was later applied to other vehicles, such as
railroad car
Railroad car
A railroad car or railway vehicle , also known as a bogie in Indian English, is a vehicle on a rail transport system that is used for the carrying of cargo or passengers. Cars can be coupled together into a train and hauled by one or more locomotives...
s,
hopper car
Hopper car
A hopper car is a type of railroad freight car used to transport loose bulk commodities such as coal, ore, grain, track ballast, and the like. The name originated from the coke manufacturing industry which is part of the steel industry ....
s
tram
Tram
A tram is a passenger rail vehicle which runs on tracks along public urban streets and also sometimes on separate rights of way. It may also run between cities and/or towns , and/or partially grade separated even in the cities...
s,
automobile
Automobile
An automobile, autocar, motor car or car is a wheeled motor vehicle used for transporting passengers, which also carries its own engine or motor...
s,
aircraft
Aircraft
An aircraft is a vehicle that is able to fly by gaining support from the air, or, in general, the atmosphere of a planet. An aircraft counters the force of gravity by using either static lift or by using the dynamic lift of an airfoil, or in a few cases the downward thrust from jet engines.Although...
or
spacecraft
Spacecraft
A spacecraft or spaceship is a craft or machine designed for spaceflight. Spacecraft are used for a variety of purposes, including communications, earth observation, meteorology, navigation, planetary exploration and transportation of humans and cargo....
, as well as to
containers
Containerization
Containerization is a system of freight transport based on a range of steel intermodal containers...
,
intermediate bulk container
Intermediate bulk container
An Intermediate bulk container is a container used for transport and storage of fluids and bulk materials. The construction of the IBC container and the materials used are chosen depending on the application, i.e...
s and
fuel tank
Fuel tank
A fuel tank is safe container for flammable fluids. Though any storage tank for fuel may be so called, the term is typically applied to part of an engine system in which the fuel is stored and propelled or released into an engine...
s. In some of these cases bulkheads are airtight to prevent air leakage or the spread of a fire. The term may also be used for the "end walls" of bulkhead flatcars.
Mechanically, a partition or panel through which connectors pass, or a connector designed to pass through a partition.
Architecture
Architecture
Architecture is both the process and product of planning, designing and construction. Architectural works, in the material form of buildings, are often perceived as cultural and political symbols and as works of art...
The term is frequently used to denote any boxed in beam or other downstand from a ceiling and by extension even the vertical downstand face of an area of lower ceiling beyond. This usage presumably derives from experience on boats where to maintain the structural function personnel openings through bulkheads always retain a portion of the bulkhead crossing the head of the opening. Head strikes on these downstand elements are commonplace hence in architecture any overhead downstand element comes to be referred to as a bulkhead.
See also
compartmentalization (fire protection)

Compartmentalization (fire protection)

Compartmentalization in structures, such as land-based buildings, traffic tunnels, ships, aerospace vehicles, or submarines, is the fundamental basis and aim of passive fire protection....



fire protection

Fire protection

Fire protection is the study and practice of mitigating the unwanted effects of fires. It involves the study of the behaviour, compartmentalisation, suppression and investigation of fire and its related emergencies, as well as the research and development, production, testing and application of...



fireproofing

Fireproofing

Fireproofing, a passive fire protection measure, refers to the act of making materials or structures more resistant to fire, or to those materials themselves, or the act of applying such materials. Applying a certification listed fireproofing system to certain structures allows these to have a...



intumescent

Intumescent

An intumescent is a substance which swells as a result of heat exposure, thus increasing in volume, and decreasing in density. Intumescents are typically used in passive fire protection and, in America, require listing and approval use and compliance in their installed configurations in order to...



rear pressure bulkhead

Rear pressure bulkhead

The aft pressure bulkhead is a component of all large commercial aircraft. It is an airtight bulkhead located between the cabin and the tail of the aircraft. Its purpose is to seal the rear of the plane and thus maintain cabin pressure, and as such it is a vital part of the aircraft.Japan...



structural steel

Structural steel

Structural steel is steel construction material, a profile, formed with a specific shape or cross section and certain standards of chemical composition and mechanical properties...



External links