 Countermeasure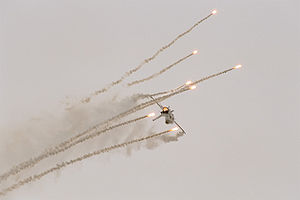 A
countermeasure
is a measure or action taken to counter or offset another one. As a general concept it implies precision, and is any technological or tactical solution or system (often for a
military
Military
A military is an organization authorized by its greater society to use lethal force, usually including use of weapons, in defending its country by combating actual or perceived threats. The military may have additional functions of use to its greater society, such as advancing a political agenda e.g...
application) designed to prevent an undesirable outcome in the process. The first known use of the term is in 1923.
Countermeasures can refer to the following disciplinary spectrum:
defense
medicine
materials engineering
electro-magnetic engineering
policing
Information technology
Law
Diplomatic security
Pollution prevention
Defense countermeasures are often subdivided into "active" and "passive" countermeasures.
"Active" countermeasures that alter the electromagnetic, acoustic or other signature(s) of a target thereby altering the tracking and sensing behavior of an incoming threat (e.g.,
guided missile
Guided Missile
Guided Missile is a London based independent record label set up by Paul Kearney in 1994.Guided Missile has always focused on 'the underground', preferring to put out a steady flow of releases and developing the numerous GM events around London and beyond....
) are designated
softkill
measures. Measures that physically counterattack an incoming threat thereby destroying/altering its payload/warhead in such a way that the intended effect on the target is majorly impeded are designated
hardkill
measures. Both are further described in
active protection system
Active protection system
An active protection system is a system designed to prevent sensor-based weapons from acquiring and/or destroying a target....
s.
"Passive" countermeasures include:
Armor
Camouflage

Camouflage

Camouflage is a method of concealment that allows an otherwise visible animal, military vehicle, or other object to remain unnoticed, by blending with its environment. Examples include a leopard's spotted coat, the battledress of a modern soldier and a leaf-mimic butterfly...



Fortification

Fortification

Fortifications are military constructions and buildings designed for defence in warfare and military bases. Humans have constructed defensive works for many thousands of years, in a variety of increasingly complex designs...



Self-sealing fuel tank

Self-sealing fuel tank

In aviation, self-sealing fuel tank is a fuel tank technology in wide use since World War II that prevents fuel tanks primarily on aircraft from leaking fuel and igniting after being damaged by enemy fire....



See also
Electronic countermeasures

Electronic countermeasures

An electronic countermeasure is an electrical or electronic device designed to trick or deceive radar, sonar or other detection systems, like infrared or lasers. It may be used both offensively and defensively to deny targeting information to an enemy...



Infrared countermeasures
Flare (countermeasure)

Flare (countermeasure)

A flare is an aerial infrared countermeasure to counter an infrared homing surface-to-air missile or air-to-air missile. Flares are commonly composed of a pyrotechnic composition based on magnesium or another hot-burning metal, with burning temperature equal to or hotter than engine exhaust...



Anti-aircraft
Anti-ballistic missile

Anti-ballistic missile

An anti-ballistic missile is a missile designed to counter ballistic missiles .A ballistic missile is used to deliver nuclear, chemical, biological or conventional warheads in a ballistic flight trajectory. The term "anti-ballistic missile" describes any antimissile system designed to counter...



National Missile Defense

National Missile Defense

National missile defense is a generic term for a type of missile defense intended to shield an entire country against incoming missiles, such as intercontinental ballistic missile or other ballistic missiles. Interception might be by anti-ballistic missiles or directed-energy weapons such as lasers...



Strategic Defense Initiative

Strategic Defense Initiative

The Strategic Defense Initiative was proposed by U.S. President Ronald Reagan on March 23, 1983 to use ground and space-based systems to protect the United States from attack by strategic nuclear ballistic missiles. The initiative focused on strategic defense rather than the prior strategic...



Mine countermeasures