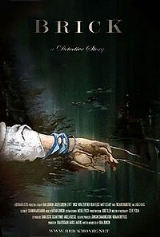 Brick (film)
Brick
is a 2005 American
neo-noir
Neo-noir
Neo-noir is a style often seen in modern motion pictures and other forms that prominently utilize elements of film noir, but with updated themes, content, style, visual elements or media that were absent in films noir of the 1940s and 1950s.-History:The term Film Noir was coined by...
film written and directed by
Rian Johnson
Rian Johnson
Rian Craig Johnson is an American writer and director, who won the Special Jury Prize for Originality of Vision at the 2005 Sundance Film Festival with his debut feature, Brick.-Background:...
. It was Johnson's directorial debut and won the Special Jury Prize for Originality of Vision at the 2005
Sundance Film Festival
Sundance Film Festival
The Sundance Film Festival is a film festival that takes place annually in Utah, in the United States. It is the largest independent cinema festival in the United States. Held in January in Park City, Salt Lake City, and Ogden, as well as at the Sundance Resort, the festival is a showcase for new...
.
Brick
was distributed by
Focus Features
Focus Features
Focus Features is the art house films division of NBC Universal's Universal Pictures, and acts as both a producer and distributor for its own films and a distributor for foreign films....
, opening in the United States on April 7, 2006, in New York and Los Angeles.
The film's narrative centers on a
hardboiled
Hardboiled
Hardboiled crime fiction is a literary style, most commonly associated with detective stories, distinguished by the unsentimental portrayal of violence and sex. The style was pioneered by Carroll John Daly in the mid-1920s, popularized by Dashiell Hammett over the course of the decade, and refined...
detective story
Detective fiction
Detective fiction is a sub-genre of crime fiction and mystery fiction in which an investigator , either professional or amateur, investigates a crime, often murder.-In ancient literature:...
that takes place in a Californian
suburbia
SubUrbia
subUrbia is a play by Eric Bogosian chronicling the nighttime activities of a group of aimless 20-somethings still living in their suburban Boston hometown and their reunion with a former high school classmate who has become a successful musician...
. Most of the main characters are high school students. The film draws heavily in plot, characterization, and dialogue from hardboiled classics, especially from
Dashiell Hammett
Dashiell Hammett
Samuel Dashiell Hammett was an American author of hard-boiled detective novels and short stories, and political activist. Among the enduring characters he created are Sam Spade , Nick and Nora Charles , and the Continental Op .In addition to the significant influence his novels and stories had on...
. The title refers to a block of
heroin
, compressed roughly to the size and shape of a brick.
Plot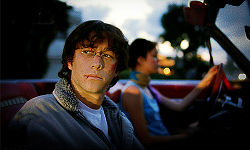 Brendan Frye (
Joseph Gordon-Levitt
Joseph Gordon-Levitt
Joseph Leonard Gordon-Levitt is an American actor whose career as both a child and adult has included television series and theatrical films....
), a student of an unnamed
California
California
California is a state located on the West Coast of the United States. It is by far the most populous U.S. state, and the third-largest by land area...
high school
High school
High school is a term used in parts of the English speaking world to describe institutions which provide all or part of secondary education. The term is often incorporated into the name of such institutions....
, stares silently at the body of ex-girlfriend Emily Kostich (
Emilie de Ravin
Emilie de Ravin
Emilie de Ravin born 27 December 1981)is an Australian actress. She is commonly associated with her roles as Tess Harding on Roswell and Claire Littleton on the ABC drama Lost....
) lying in a
storm drain
Storm drain
A storm drain, storm sewer , stormwater drain or drainage well system or simply a drain or drain system is designed to drain excess rain and ground water from paved streets, parking lots, sidewalks, and roofs. Storm drains vary in design from small residential dry wells to large municipal systems...
. Days earlier Brendan, who is in the know of the intricacies of the "upper crust" of drug-addicted socialites he is choosing to live outside of, receives a terrified phone call over a pay phone from Emily. She tearfully tells him, "I didn't know that the brick was bad," and that "the Pin's on it now." She begs him to help her before abruptly ending the conversation, when a red car quickly drives along the road close to the public phone booth where Brendan is talking.
This leads Brendan to realize that Emily is hiding somewhere on the other side of the road and has watched him throughout their conversation. Brendan inspects a
cigarette
Cigarette
A cigarette is a small roll of finely cut tobacco leaves wrapped in a cylinder of thin paper for smoking. The cigarette is ignited at one end and allowed to smoulder; its smoke is inhaled from the other end, which is held in or to the mouth and in some cases a cigarette holder may be used as well...
thrown on the road by someone in the red car and notices a blue arrow above the filter. Brendan proceeds to break into Emily's school locker and takes her notebook in search for clues of her location. The notebook eventually lead him to Dode (
Noah Segan
Noah Segan
-Acting career:He has appeared in Brick, Adam & Steve, What We Do Is Secret , The Picture of Dorian Gray, Cabin Fever 2, All About Evil, an award-winning performance in Deadgirl, Chain Letter and others...
); leader of a stoner clique that Emily had joined after being unable to fit in with the upper crust. Dode tells him she does not want to see him, to which Brendan replies he needs to hear it from her. Later that day, a pale and distant Emily finally meets Brendan and pleads for him to leave her alone during an emotional embrace. Brendan manages to steal her notepad during the encounter, where he finds the clue (a note Brendan saw Dode give her containing a symbol) that would eventually lead him to her dead body.
After her death, Brendan takes it upon himself to solve her murder. He enlists the aid of fellow loner the Brain (
Matt O'Leary
Matt O'Leary
-Life and career:O'Leary was born in Chicago, Illinois. He has two older half-sisters and an older half-brother. O'Leary auditioned for the lead in Home Alone 3. He made his acting debut in the lead role of the 2000 made-for-television film Mom's Got a Date with a Vampire...
) to track information. It is revealed through a flashback that in order to protect Emily from the world of drugs Brendan had previously "ratted out" a drug dealer named Jerr which led to her breaking up with Brendan. Brendan returns to the storm drain and hides the body to avoid police intrusion - assuming the cops would find the murderer and not the mastermind behind it.
After meeting with Brain, Brendan discovers that "The Pin" mentioned by Emily during their phone conversation is a local drug baron. (Pin, as in
kingpin
Crime boss
A crime boss or boss is a person in charge of a criminal organization. A boss typically has absolute or near-absolute control over his subordinates, is greatly feared by his subordinates for his ruthlessness and willingness to take lives in order to exert his influence, and profits come from the...
) Brendan sets about catching The Pin's attention by beating up Brad Bramish (
Brian J. White
Brian J. White
Brian Joseph White is an American actor, dancer, football player, lacrosse player, stock broker and youth activist.-Personal life:...
), an athlete from his school who is a very regular drug buyer. Brendan catches the eye of Brad's girlfriend Laura Dannon (
Nora Zehetner
), a popular socialite with connections to the Pin, but decides not to respond to her help offers because of her manipulative ways. After confirming with Brain that his plan was working Brendan is attacked by an unknown man. (
Noah Fleiss
Noah Fleiss
Noah Fleiss is an American film and television actor. He was born in White Plains, New York.Fleiss made his screen debut as a young runaway who drives cross-country with his brother in Josh and S.A.M. , perhaps his best-known film...
) Brendan is taken to his assistant vice-principal (
Richard Roundtree
Richard Roundtree
Richard Roundtree is an American actor and former fashion model. He is best known for his portrayal of private detective John Shaft in the 1971 film Shaft and in its two sequels, Shaft's Big Score and Shaft in Africa .-Personal life:Born in New Rochelle, New York, Richard Roundtree graduated from...
) whom he had helped in order to convict Jerr three months before which ends in a terse conversation attempting to enlist Brendan's help in the investigation over Emily.
While walking home, Brendan sees the black car that had frightened Emily during their phone conversation and finds out that it belongs to the man that had attacked him previously. When Brendan tells him he wants to see the Pin, the man proceeds to beat up Brendan and then drives away, but returns and pretends to try to run Brendan over. When Brendan doesn't flinch the man obliges to take him. When Brendan meets the Pin (
Lukas Haas
Lukas Haas
Lukas Daniel Haas is an American actor, known for roles both as a child and as an adult. His career has spanned more than 25 years during which time he has appeared in more than 36 feature films, as well as a number of television shows and theater productions.-Early life and career:Haas was born...
) in his home (he lives with his mother), it is revealed the unknown man was called the Tugger (Tug) and he was sent as a message for breaking Brad Bramish's nose. Brendan manages to convince the Pin to consider him for a spot in his operation (with help from Laura, who was also in the Pin's house) by telling him of his position as an informant of the vice principal and the possibility of using it to feed the VP bad information; the pin tells him he'd have an answer by the end of the next day and lets him know he'll have him killed if he's not accepted. Laura drives Brendan to school and tells him Emily tried to join the Pin, but was rejected, and in her state of addiction, stole a brick from him. After talking to Laura, Brendan searched for Dode to hear his side of the story and asks Kara (
Meagan Good
Meagan Good
Meagan Monique Good is an American film and television actress and occasional film producer. Beginning her career at the age of four, Good has appeared in numerous commercials, television shows, feature films, and music videos....
), an ex-girlfriend who was also Dode's connection to the upper crust, but gets no information and tells her to tell Dode he's looking for him.
The next day, Brendan finds a note that tells him to be in the same phone booth he talked to Emily to at 12:30. Immediately after he receives the letter, a large figure attacks him with a knife, landing a cut on Brendan's arm. Brendan subdues the assailant and ID's him, while finding various drug items and accessories on him. Later, the Pin picks Brendan up in a van and tells him he's been accepted and tells him to meet him at 6:00 to welcome him into the operation. When Brendan gets off the van, he realizes he's late for his meeting in the phone booth and rushes to it; when he reaches it, he answers the ringing phone and discovers Dode was calling. Dode tells him he saw him hide Emily's body and believes him to be the murderer, and threatens to tell people. Brendan meets with the Pin at 6:00 and he reveals that Tug's violent behavior had been getting out of control lately, and to thus be careful and not take orders from him.
That night, Brendan is awakened by a call from Brain, who tells him the VP has been looking for him, and that he should therefore avoid school; after meeting with him, Brain also reveals one of the people Emily had mentioned to Brendan (Frisco Farr) was a student who had been found in a
coma
Coma
In medicine, a coma is a state of unconsciousness, lasting more than 6 hours in which a person cannot be awakened, fails to respond normally to painful stimuli, light or sound, lacks a normal sleep-wake cycle and does not initiate voluntary actions. A person in a state of coma is described as...
three weeks before due to chemicals in some heroin he had consumed (a bad brick). It is also revealed Emily had been reported missing (the reason the VP was looking for him) which is why he was no longer safe at school. Brendan goes to the Pin's house and finds Tugger, and he uses the bad blood between Tug and the Pin to get him to open up and reveal a brick was stolen from them, but later returned bad (the brick that put Frisco in a coma). The Pin interrupts the two to tell Tug about a note he got to meet someone who knows what happened to Emily (Dode), and the Pin reveals to Brendan that Emily was Tug's ex-girlfriend and tells him to join the meeting later that day. Laura gives Brendan a ride and he collapses in a coughing fit due to internal bleeding from earlier beatings. A weakened Brendan meets Dode before the meeting and discovers Emily was pregnant when she died (Dode believed the child to be his). Brendan goes to the spot of the meeting, where Dode tries to tell Tug and the Pin that Brendan had killed Emily, but Tug, who was the real killer of Emily, shoots Dode in the head thinking he was about to be revealed as the true killer. Tug then threatens the Pin, who walks away, as a shocked Brendan faints due to his ill state.
Brendan awakes in the bedroom of Tug, who reveals that he believes he's now at war with the Pin. He also reveals that he believed Emily's baby to be his, but that Laura told him not to trust her. Brendan acts as a go-between for Tug and the Pin, who also is preparing for war, and arranges a meeting between the two. That night Brendan sleeps with Laura in Tug's bedroom and discovers that her cigarettes have the same blue arrow over the filter as the one he saw dropped from Tug's car at the beginning of the film. Brendan convinces Tug to let him take his car to the meeting in case the Pin has an ambush ready. Brendan talks to Brain and tells him to call the cops during the meeting and to tell them that there are drugs in Tug's car outside the Pin's house. During the meeting while Brendan is acting as a mediator between Tug and the Pin, fighting breaks out between the two factions when it is discovered that another brick is missing. Brendan barely manages to escape, getting out of the house just as police arrive, and as he walks away, passes the trunk of Tug's car, where Emily's body is visible inside the trunk (presumably Brendan put it there while he had Tug's car).
The next day, Brendan meets with Laura and reveals that he knows that she was the mastermind behind Emily's murder. Brendan figured out that Laura made Emily take the fall for the bad brick which Laura had stolen, sold half of, and tried to refill with detergent (causing Frisco's coma when he tried it). Laura manipulated Emily into meeting Tug, who had intentions of killing her after learning of her pregnancy, and later stole the brick that was missing from the meeting in order to start a war which would wind up with both the Pin and Tug either dead or in jail. Brendan tells Laura that he has already revealed all this in a note to the Vice Principal, and told the VP to look for the brick in Laura's locker (where Brain had seen her hide it after receiving instructions to follow her after the meeting). When Brendan starts leaving, Laura stops him and tells him Emily was three months pregnant when she died, implying that her baby was his. The movie ends with Brendan, after staring at Laura as she walks away, turning around to leave as well.
Cast
Development
The origins of
Brick
were Rian Johnson's obsession with the writing of
Dashiell Hammett
Dashiell Hammett
Samuel Dashiell Hammett was an American author of hard-boiled detective novels and short stories, and political activist. Among the enduring characters he created are Sam Spade , Nick and Nora Charles , and the Continental Op .In addition to the significant influence his novels and stories had on...
(1894–1961), an author known for
hardboiled
Hardboiled
Hardboiled crime fiction is a literary style, most commonly associated with detective stories, distinguished by the unsentimental portrayal of violence and sex. The style was pioneered by Carroll John Daly in the mid-1920s, popularized by Dashiell Hammett over the course of the decade, and refined...
detective novels
Detective fiction
Detective fiction is a sub-genre of crime fiction and mystery fiction in which an investigator , either professional or amateur, investigates a crime, often murder.-In ancient literature:...
, and his desire to make a straightforward American detective story. He had discovered Hammett's work through an interview the
Coen brothers
Coen Brothers
Joel David Coen and Ethan Jesse Coen known together professionally as the Coen brothers, are American filmmakers...
did around the time of the release of their 1990 gangster film,
Miller's Crossing
Miller's Crossing
Miller's Crossing is a 1990 American gangster film by the Coen brothers and starring Gabriel Byrne, Albert Finney, Marcia Gay Harden, Jon Polito and John Turturro...
. He read
Red Harvest
Red Harvest
Red Harvest is a novel by Dashiell Hammett. The story is narrated by The Continental Op, a frequent character in Hammett's fiction. Hammett based the story on his own experiences in Butte, Montana as an operative of the Continental Detective Agency, San Francisco.Time included Red Harvest in its...
(1929) and then moved on to
The Maltese Falcon
(1930) and
The Glass Key
The Glass Key
The Glass Key is a novel by Dashiell Hammett, said to be his favorite among his works. It was first published in 1931, and tells the story of gambler and racketeer Ned Beaumont, whose devotion to crooked political boss Paul Madvig leads him to investigate the murder of a local senator's son as a...
(1931), the latter of which had been the main influence for the Coen's
Miller's Crossing
. Johnson had grown up watching detective films and film noir, and reading Hammett's novels inspired him to make a film that created the same kind of world. He realized that this would result in a mere imitation and came up with high school as the setting to keep things fresh. Of the initial writing process he remarked "it was really amazing how all the archetypes from that detective world slid perfectly over the high school types". He also wanted to disrupt the visual preconceptions that came from the film noir genre but once he started making
Brick
, he found it "very much about the experience of being a teenager to me". Despite this admission, Johnson maintained that the film was not autobiographical.
Johnson wrote the first draft of
Brick
in 1997 after graduating from
USC School of Cinematic Arts
USC School of Cinematic Arts
The USC School of Cinematic Arts, until 2006 named the School of Cinema-Television , is a film school within the University of Southern California in Los Angeles, California. It is the oldest and largest such school in the United States, established in 1929 as a joint venture with the Academy of...
a year earlier. He spent the next seven years pitching his script but none of the Hollywood studios or production companies were interested because the material was too unusual to make with a first-time director. Johnson estimated the minimal amount of money for which he could make the film, and asked friends and family for backing. His family were in the construction industry, and came into a significant amount of money which they devoted to the project, thereby encouraging others to contribute funds. After Johnson had acquired about $450,000 for the film's budget,
Brick
finally began production in 2003.
Filming
Although the film was shot in 20 days, Johnson spent a great deal of time beforehand refining the script and three months to rehearse with the cast. He had seen Joseph Gordon-Levitt in a film called
Manic
, met with him and knew that he wanted the young actor to be in his film. He encouraged the cast to read Hammett but not to watch any noir films because he did not want them influencing their performances. Instead, he had them watch
Billy Wilder
Billy Wilder
Billy Wilder was an Austro-Hungarian born American filmmaker, screenwriter, producer, artist, and journalist, whose career spanned more than 50 years and 60 films. He is regarded as one of the most brilliant and versatile filmmakers of Hollywood's golden age...
comedies like
The Apartment
The Apartment
The Apartment is a 1960 American comedy-drama film produced and directed by Billy Wilder, and starring Jack Lemmon, Shirley MacLaine, and Fred MacMurray. It was Wilder's follow-up to the enormously popular Some Like It Hot and, like its predecessor, was a commercial and critical hit, grossing $25...
and other comedies like
His Girl Friday
His Girl Friday
His Girl Friday is a 1940 American screwball comedy film directed by Howard Hawks, an adaptation by Charles Lederer, Ben Hecht and Charles MacArthur of the play The Front Page by Hecht and MacArthur...
. He was initially nervous working with a professional cast and crew for the first time but as soon as he started filming, this feeling went away and he had a good experience.
Johnson shot the film in his hometown of
San Clemente, California
San Clemente, California
San Clemente is a city in Orange County, California. The population was 63,522 at the 2010 census. Located on the California Coast, midway between Los Angeles and San Diego at the southern tip of the county, it is known for its ocean, hill, and mountain views, a pleasant climate and its Spanish...
on
35 mm film
35 mm film
35 mm film is the film gauge most commonly used for chemical still photography and motion pictures. The name of the gauge refers to the width of the photographic film, which consists of strips 35 millimeters in width...
stock. Much of the film takes place at San Clemente High School, which he attended. He enlisted current students to work on the film, shooting on weekends so as not to disrupt classes. The cinematographer was Steve Yedlin, a friend Johnson had met in film school who had been involved with the project since the script was written.
Johnson had difficulty finding a run-down house for the Pin's base of operations. The production found an appropriate house but only had a week before it was destroyed for a more upscale house. Johnson also had difficulty finding a mansion for the party scene until, with one day left to find the location, a former Telecom executive allowed them to shoot in his place which was still under construction.
Johnson cited
Sergio Leone
Sergio Leone
Sergio Leone was an Italian film director, producer and screenwriter most associated with the "Spaghetti Western" genre.Leone's film-making style includes juxtaposing extreme close-up shots with lengthy long shots...
Spaghetti Western
Spaghetti Western
Spaghetti Western, also known as Italo-Western, is a nickname for a broad sub-genre of Western films that emerged in the mid-1960s in the wake of Sergio Leone's unique and much copied film-making style and international box-office success, so named by American critics because most were produced and...
s and
Cowboy Bebop
Cowboy Bebop
is a critically acclaimed and award-winning 1998 Japanese anime series directed by Shinichirō Watanabe, written by Keiko Nobumoto, and produced by Sunrise. Its 26 episodes comprise a complete storyline: set in 2071, the series follows the adventures, misadventures and tragedies of five bounty...
as influences on his visualization of the movie. He used shoes as a design element for his characters and saw them as an "instant snapshot of the essence" of the characters. He has also stated that many of the film's visual cues were taken from the neo-noir
Chinatown
(1974) with its wide-open flat spaces.
Special effects
The majority of the film's special effects were cheaply and efficiently produced using
practical
Practical effect
A practical effect is a special effect in which a prop appears to work in a situation where it obviously could not in real life . They do not use trick photography or post-production artifice. This type of effect is normally found in live theatre.In film, practical effect denotes an effect produced...
and
in-camera
In-camera effect
An in-camera effect is any special effect in a video or movie that is created solely by using techniques in and on the camera and/or its parts. The in-camera effect is defined by the fact that the effect exists on the original camera negative or video recording before it is sent to a lab or modified...
effects. Early in the film, for example, Emilie de Ravin walks toward the camera out of a tunnel as a garbage bag floats downstream and engulfs the camera, transitioning over to Joseph Gordon-Levitt back in his character's bedroom. To achieve this, the desired effect was filmed in reverse order. The garbage bag began over the camera and was pulled away during filming, as de Ravin walked backwards into the tunnel. This footage was then cut to a scene in which a garbage bag was simply pulled over Gordon-Levitt's head.
Slowly filming a car driving in reverse, then playing the footage backwards at a higher speed gives the illusion of a car quickly approaching as the camera darts in front of it stylishly. Clever fades give the impression of time changes while quick
jump cut
Jump cut
A jump cut is a cut in film editing and vloging in which two sequential shots of the same subject are taken from camera positions that vary only slightly. This type of edit causes the subject of the shots to appear to "jump" position in a discontinuous way...
s add tension to a scene in which the protagonist wakes up after passing out. Certain edits were also introduced to the film to time footage to different dialogue, adding certain information and leaving other information out completely. These edits are noticeable, as the actors' mouths are not always moving in sync with their dialogue. One particular scene, in which de Ravin's character floated toward the camera, used a green screen, but it was edited out of the film far before its completion.
Post Production
The original cut of the film was over two hours long, although it was edited down to 117 minutes for the Sundance Film Festival. An additional 7 minutes were cut before the theatrical release, including a shot of Zehetner's naked back as she put her shirt back on after her and Gordon-Levitt's characters had sex. According to a post by Johnson on his own forums, he felt that the shot with nudity felt wrong in the context of the film, and that he preferred to leave the degree of intimacy ambiguous, although he occasionally finds himself second-guessing that decision.
Score and soundtrack
The
score
Film score
A film score is original music written specifically to accompany a film, forming part of the film's soundtrack, which also usually includes dialogue and sound effects...
to
Brick
was composed by Rian Johnson's cousin,
Nathan Johnson
Nathan Johnson (musician)
Nathan Tyler Johnson is a film composer, songwriter and music producer.He was born in Washington, DC in 1976 and grew up in Colorado. After living in England in the mid-2000s, Johnson relocated to the East coast of the U.S. where he launched a live touring project with his band, The Cinematic...
, with additional support and music from
The Cinematic Underground
The Cinematic Underground
The Cinematic Underground are an alternative rock group, with members from the UK and the U.S. . Their debut album, Annasthesia, is a "concept narrative" about risk and escape which follows two main characters through two days in an un-named city...
. The score harks back to the style, feel and overall texture of noir films. It features traditional instruments such as the piano, trumpet and violin, and also contains unique and invented instruments such as the wine-o-phone,
metallophone
Metallophone
A metallophone is any musical instrument consisting of tuned metal bars which are struck to make sound, usually with a mallet.Metallophones have been used in music for hundreds of years. There are several different types used in Balinese and Javanese gamelan ensembles, including the gendér, gangsa...
,
tack piano
Tack piano
In music, the tack piano is a permanently altered version of an ordinary piano, in which tacks or nails are placed on the hammers of the instrument at the point where the hammers hit the strings, giving the instrument a tinny, more percussive sound...
s,
filing cabinet
Filing cabinet
A filing cabinet is a piece of office furniture usually used to store paper documents in file folders. In the most simple sense, it is an enclosure for drawers in which items are stored. The two most common forms of filing cabinets are blocky files and diagonal files...
s, and kitchen utensils, all recorded with one microphone on an Apple
PowerBook
PowerBook
The PowerBook was a line of Macintosh laptop computers that was designed, manufactured and sold by Apple Computer, Inc. from 1991 to 2006. During its lifetime, the PowerBook went through several major revisions and redesigns, often being the first to incorporate features that would later become...
. Since Nathan Johnson was in
England
England
England is a country that is part of the United Kingdom. It shares land borders with Scotland to the north and Wales to the west; the Irish Sea is to the north west, the Celtic Sea to the south west, with the North Sea to the east and the English Channel to the south separating it from continental...
during most of the production process, the score was composed almost entirely over Apple
iChat
IChat
iChat is an instant messaging software application developed by Apple Inc. exclusively for its Mac OS X operating system. It has audio, video and screen-sharing capabilities as well as text messaging...
, with Rian Johnson playing clips of the movie to Nathan Johnson, who would then score them. The two later met in
New York
New York
New York is a state in the Northeastern region of the United States. It is the nation's third most populous state. New York is bordered by New Jersey and Pennsylvania to the south, and by Connecticut, Massachusetts and Vermont to the east...
to mix the soundtrack. The soundtrack CD of the movie was released on March 12, 2006 by Lakeshore Records. In addition to Johnson's score, it contains songs by
The Velvet Underground
The Velvet Underground
The Velvet Underground was an American rock band formed in New York City. First active from 1964 to 1973, their best-known members were Lou Reed and John Cale, who both went on to find success as solo artists. Although experiencing little commercial success while together, the band is often cited...
,
Anton Karas
Anton Karas
Anton Karas was a Viennese zither player, best known for his soundtrack to Carol Reed's The Third Man.-Early life:...
and Kay Armen as well as the big band version of "Frankie and Johnny" performed by
Bunny Berigan
Bunny Berigan
Rowland Bernard "Bunny" Berigan was an American jazz trumpeter who rose to fame during the swing era, but whose virtuosity and influence were shortened by a losing battle with alcoholism that ended in his early death at age 33. He composed the jazz instrumentals "Chicken and Waffles" and "Blues"...
and a full unedited performance of "The sun whose rays are all ablaze" by
Nora Zehetner
. Johnson has confirmed that various elements in the film are influenced by
Twin Peaks
Twin Peaks
Twin Peaks is an American television serial drama created by David Lynch and Mark Frost. The series follows the investigation headed by FBI Special Agent Dale Cooper , of the murder of a popular teenager and homecoming queen, Laura Palmer...
creator
David Lynch
David Lynch
David Keith Lynch is an American filmmaker, television director, visual artist, musician and occasional actor. Known for his surrealist films, he has developed his own unique cinematic style, which has been dubbed "Lynchian", and which is characterized by its dream imagery and meticulous sound...
.
Home media
The
Region 1
DVD region code
DVD region codes are a digital-rights management technique designed to allow film distributors to control aspects of a release, including content, release date, and price, according to the region...
DVD
DVD
A DVD is an optical disc storage media format, invented and developed by Philips, Sony, Toshiba, and Panasonic in 1995. DVDs offer higher storage capacity than Compact Discs while having the same dimensions....
release of
Brick
was released on August 8, 2006 as part of the
Focus Features
Focus Features
Focus Features is the art house films division of NBC Universal's Universal Pictures, and acts as both a producer and distributor for its own films and a distributor for foreign films....
Spotlight Series. Special features include: selection of
deleted and extended scenes
Deleted scene
In Entertainment, especially the film and television industry, Deleted scenes are parts of a film removed or censored from or replaced by another scene in the final "cut", or version, of a film...
with introductions by director
Rian Johnson
Rian Johnson
Rian Craig Johnson is an American writer and director, who won the Special Jury Prize for Originality of Vision at the 2005 Sundance Film Festival with his debut feature, Brick.-Background:...
; audition footage featuring Nora Zehetner and Noah Segan; and feature
audio commentary
Audio commentary
On disc-based video formats, an audio commentary is an additional audio track consisting of a lecture or comments by one or more speakers, that plays in real time with video...
with Rian Johnson, Nora Zehetner, Noah Segen, producer Ram Bergman, production designer Jodie Tillen, and costume designer Michele Posch.
The Region 2 DVD was released on September 18, 2006.
Reception
Brick
premiered in the
United States
United States
The United States of America is a federal constitutional republic comprising fifty states and a federal district...
on April 7, 2006 in two theaters. It opened to
United Kingdom
United Kingdom
The United Kingdom of Great Britain and Northern IrelandIn the United Kingdom and Dependencies, other languages have been officially recognised as legitimate autochthonous languages under the European Charter for Regional or Minority Languages...
audiences on May 12, 2006 on a limited number of screens. According to the DVD commentary track, the film was made for just under $500,000. The film grossed USD $2.07 million in North America and a total of $3.9 million worldwide.
Brick
was released to positive reviews. It currently has a 79% "Fresh" rating on
Rotten Tomatoes
Rotten Tomatoes
Rotten Tomatoes is a website devoted to reviews, information, and news of films—widely known as a film review aggregator. Its name derives from the cliché of audiences throwing tomatoes and other vegetables at a poor stage performance...
, derived from 134 reviews, and ranked #35 on
Entertainment Weekly's
Entertainment Weekly
Entertainment Weekly is an American magazine, published by the Time division of Time Warner, that covers film, television, music, broadway theatre, books and popular culture...
list of the "50 Best High School Movies". Based on 34 reviews,
Metacritic
Metacritic
Metacritic.com is a website that collates reviews of music albums, games, movies, TV shows and DVDs. For each product, a numerical score from each review is obtained and the total is averaged. An excerpt of each review is provided along with a hyperlink to the source. Three colour codes of Green,...
gave it an average score of 72 out of 100 ("Generally positive reviews").
Brick
ranks 489th on
Empire
magazine's 2008 list of the 500 greatest movies of all time.
Awards
Year
Award
Category
Recipient
Result
2005
Sundance Film Festival

Sundance Film Festival

The Sundance Film Festival is a film festival that takes place annually in Utah, in the United States. It is the largest independent cinema festival in the United States. Held in January in Park City, Salt Lake City, and Ogden, as well as at the Sundance Resort, the festival is a showcase for new...



Special Jury Prize: Dramatic, for Originality of Vision
Grand Jury Prize: Dramatic
2005
Deauville Film Festival
Grand Special Prize
2006
Chicago Film Critics Association Awards
Most Promising Director
Rian Johnson
2006
Independent Spirit Awards

Independent Spirit Awards

The Independent Spirit Awards , founded in 1984, are awards dedicated to independent filmmakers. Winners were typically presented with acrylic glass pyramids containing suspended shoestrings representing the paltry budgets of independent films. In 1986, the event was renamed the Independent Spirit...



John Cassavetes

John Cassavetes

John Nicholas Cassavetes was an American actor, screenwriter and filmmaker. He acted in many Hollywood films, notably Rosemary's Baby and The Dirty Dozen...


Award
(best film production with a budget under $500,000 USD

United States dollar

The United States dollar , also referred to as the American dollar, is the official currency of the United States of America. It is divided into 100 smaller units called cents or pennies....


)
2006
British Independent Film Awards

British Independent Film Awards

The Moët British Independent Film Awards is an annual award ceremony celebrating achievement in independently funded British film and cinema. Nominations and jury are announced at the beginning of November with the award ceremony taking place in late November or early December.-History:The British...



Best Foreign Independent Film
2006
San Francisco Film Critics Circle Awards

San Francisco Film Critics Circle Awards

San Francisco Film Critics Circle Awards are given annually to honor fine achievements in filmmaking by an organization of film reviewers from San Francisco-based publications....



Best Screenplay - Original
Rian Johnson
2006
Satellite Awards

Satellite Awards

The Satellite Awards are an annual award given by the International Press Academy. The awards were originally known as the Golden Satellite Awards.- Film :*Best Actor – Drama*Best Actor – Musical or Comedy*Best Actress – Drama...



Best Original Score
Nathan Johnson
2006
Festival de Cine de Sitges

Festival de Cine de Sitges

The Sitges Film Festival is a Spanish film festival that is one of the most recognizable ones held in Europe, considered the world's foremost international festival specializing in fantasy and horror movies...



Citizen Kane Award for Best Directorial Revelation
Rian Johnson
2007
Central Ohio Film Critics Association Awards
Best Overlooked Film
Best Screenplay - Original
Rian Johnson
2007
Online Film Critics Society

Online Film Critics Society

The Online Film Critics Society is a professional association for film critics who publish their reviews, interviews, and essays on the Internet.The OFCS was founded in 1997...


Awards
Best Breakthrough Filmmaker
Rian Johnson
Empire Awards

Empire (magazine)

Empire is a British film magazine published monthly by Bauer Consumer Media. From the first issue in July 1989, the magazine was edited by Barry McIlheney and published by Emap. Bauer purchased Emap Consumer Media in early 2008...



Best Male Newcomer
Rian Johnson
External links
Brick Forum run by director Rian Johnson

Rian Johnson

Rian Craig Johnson is an American writer and director, who won the Special Jury Prize for Originality of Vision at the 2005 Sundance Film Festival with his debut feature, Brick.-Background:...



In-depth analysis of Brick at Out of the Past: Investigating Film Noir
Brick Review from JoBlo