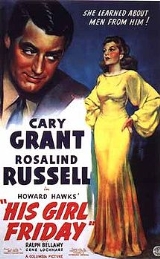 His Girl Friday
His Girl Friday
is a 1940 American
screwball comedy
Screwball Comedy
Screwball Comedy is an album by the Japanese band Soul Flower Union. The album found the band going into a simpler, harder-rocking direction, after several heavily world-music influenced albums.-Track listing:...
film directed by
Howard Hawks
Howard Hawks
Howard Winchester Hawks was an American film director, producer and screenwriter of the classic Hollywood era...
, an adaptation by
Charles Lederer
Charles Lederer
Charles Lederer was a prolific and well-connected American film writer and director of the 30s to the 60s, from a prominent theatrical family with close ties to the Hearst dynasty.-Early life:...
,
Ben Hecht
Ben Hecht
Ben Hecht was an American screenwriter, director, producer, playwright, and novelist. Called "the Shakespeare of Hollywood", he received screen credits, alone or in collaboration, for the stories or screenplays of some 70 films and as a prolific storyteller, authored 35 books and created some of...
and
Charles MacArthur
Charles MacArthur
Charles Gordon MacArthur was an American playwright and screenwriter.-Biography:Charles MacArthur was the second youngest of seven children born to stern evangelist William Telfer MacArthur and Georgiana Welsted MacArthur. He early developed a passion for reading...
of the play
The Front Page
The Front Page
The Front Page is a hit Broadway comedy about tabloid newspaper reporters on the police beat, written by one-time Chicago reporters Ben Hecht and Charles MacArthur which was first produced in 1928.-Synopsis:...
by Hecht and MacArthur. The change in this version is that the role of Hildy Johnson was converted from male to female.
The film stars
Cary Grant
Cary Grant
Archibald Alexander Leach , better known by his stage name Cary Grant, was an English actor who later took U.S. citizenship...
as Walter Burns and
Rosalind Russell
Rosalind Russell
Rosalind Russell was an American actress of stage and screen, perhaps best known for her role as a fast-talking newspaper reporter in the Howard Hawks screwball comedy His Girl Friday, as well as the role of Mame Dennis in the film Auntie Mame...
as Hildy Johnson and features
Ralph Bellamy
Ralph Bellamy
Ralph Bellamy was an American actor whose career spanned sixty-two years.-Early life:He was born Ralph Rexford Bellamy in Chicago, Illinois, the son of Lilla Louise , a native of Canada, and Charles Rexford Bellamy. He ran away from home when he was fifteen and managed to get into a road show...
as Bruce Baldwin. It is noted for its rapid-fire dialogue.
The film was #19 on
American Film Institute's
American Film Institute
The American Film Institute is an independent non-profit organization created by the National Endowment for the Arts, which was established in 1967 when President Lyndon B. Johnson signed the National Foundation on the Arts and the Humanities Act...
100 Years…100 Laughs and has been selected for preservation in the United States
National Film Registry
National Film Registry
The National Film Registry is the United States National Film Preservation Board's selection of films for preservation in the Library of Congress. The Board, established by the National Film Preservation Act of 1988, was reauthorized by acts of Congress in 1992, 1996, 2005, and again in October 2008...
.
Tell me. Is the Lord of the Universe in?

I'm going into business for myself...I'm getting married tomorrow...It's gonna be all right. I'm gonna settle down. I'm through with the newspaper business.

[in her story] And so, into this little tortured mind came the idea that that gun had been produced for use. And use it he did. But the state has a 'production-for-use' plan too. It has a gallows. And at seven a.m. unless a miracle occurs, that gallows will be used to separate the soul of Earl Williams from his body. And out of Mollie Malloy's life will go the one kindly soul she ever knew.

Next time you see me, I should be riding in a Rolls Royce giving interviews on success...So long you wage-slaves...When you're crawling up fire escapes and getting kicked out of front doors, and eating Christmas dinners in one-armed joints, don't forget your pal, Hildy Johnson!..And when the road beyond unfolds...

[to Walter] How you have messed up my life. What am I going to do?...I could be on that train right now. What a sap I am falling for your line: 'They're gonna name streets after me.' Johnson Street!

Tell him if he'll reprieve Earl Williams, we'll support him for senator. Tell him the Morning Post will be behind him hook, line, and sinker.

I wish you hadn't done that, Hildy...Divorce me. Makes a fellow lose all faith in himself...Almost gives him a feeling he wasn't wanted.

[to Bruce] You're getting a great little girl for yourself...You're getting something else too, Bruce, you're getting a great newspaperman ... One of the best I ever knew. Sorry to see her go. Darn sorry, Hildy.