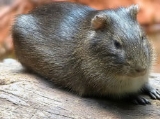 Brazilian Guinea Pig
The
Brazilian Guinea Pig
(
Cavia aperea
) (
preá
in
Portuguese
Portuguese language
Portuguese is a Romance language that arose in the medieval Kingdom of Galicia, nowadays Galicia and Northern Portugal. The southern part of the Kingdom of Galicia became independent as the County of Portugal in 1095...
) is a
guinea pig
Guinea pig
The guinea pig , also called the cavy, is a species of rodent belonging to the family Caviidae and the genus Cavia. Despite their common name, these animals are not in the pig family, nor are they from Guinea...
species
Species
In biology, a species is one of the basic units of biological classification and a taxonomic rank. A species is often defined as a group of organisms capable of interbreeding and producing fertile offspring. While in many cases this definition is adequate, more precise or differing measures are...
from
South America
South America
South America is a continent situated in the Western Hemisphere, mostly in the Southern Hemisphere, with a relatively small portion in the Northern Hemisphere. The continent is also considered a subcontinent of the Americas. It is bordered on the west by the Pacific Ocean and on the north and east...
. It is found in
Argentina
Argentina
Argentina , officially the Argentine Republic , is the second largest country in South America by land area, after Brazil. It is constituted as a federation of 23 provinces and an autonomous city, Buenos Aires...
,
Brazil
Brazil
Brazil , officially the Federative Republic of Brazil , is the largest country in South America. It is the world's fifth largest country, both by geographical area and by population with over 192 million people...
,
Colombia
Colombia
Colombia, officially the Republic of Colombia , is a unitary constitutional republic comprising thirty-two departments. The country is located in northwestern South America, bordered to the east by Venezuela and Brazil; to the south by Ecuador and Peru; to the north by the Caribbean Sea; to the...
,
Ecuador
Ecuador
Ecuador , officially the Republic of Ecuador is a representative democratic republic in South America, bordered by Colombia on the north, Peru on the east and south, and by the Pacific Ocean to the west. It is one of only two countries in South America, along with Chile, that do not have a border...
,
Paraguay
Paraguay
Paraguay , officially the Republic of Paraguay , is a landlocked country in South America. It is bordered by Argentina to the south and southwest, Brazil to the east and northeast, and Bolivia to the northwest. Paraguay lies on both banks of the Paraguay River, which runs through the center of the...
and
Uruguay
Uruguay
Uruguay ,officially the Oriental Republic of Uruguay,sometimes the Eastern Republic of Uruguay; ) is a country in the southeastern part of South America. It is home to some 3.5 million people, of whom 1.8 million live in the capital Montevideo and its metropolitan area...
.
Cavia aperea
has been successfully mated to the domestic guinea pig,
Cavia porcellus
, though many females become infertile in successive generations.
External links