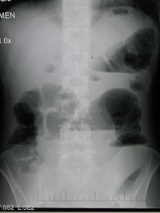 Bowel obstruction
Bowel obstruction
is a mechanical or functional obstruction of the intestines, preventing the normal transit of the products of digestion. It can occur at any level distal to the
duodenum
Duodenum
The duodenum is the first section of the small intestine in most higher vertebrates, including mammals, reptiles, and birds. In fish, the divisions of the small intestine are not as clear and the terms anterior intestine or proximal intestine may be used instead of duodenum...
of the
small intestine
Small intestine
The small intestine is the part of the gastrointestinal tract following the stomach and followed by the large intestine, and is where much of the digestion and absorption of food takes place. In invertebrates such as worms, the terms "gastrointestinal tract" and "large intestine" are often used to...
and is a
medical emergency
Medical emergency
A medical emergency is an injury or illness that is acute and poses an immediate risk to a person's life or long term health. These emergencies may require assistance from another person, who should ideally be suitably qualified to do so, although some of these emergencies can be dealt with by the...
. The condition is often treated conservatively over a period of 2-5 days with the patient's progress regularly monitored by an assigned physician. Surgical procedures are performed on occasion however in life-threatening cases, such as when the root cause is a fully lodged
foreign object
Foreign object
The term foreign object or foreign objects may refer to:*An object that intrudes where it should not be, as into a living body or machinery: see foreign body...
or malignant tumor.
Signs and symptoms
Depending on the level of obstruction, bowel obstruction can present with
abdominal pain
Abdominal pain
Abdominal pain can be one of the symptoms associated with transient disorders or serious disease. Making a definitive diagnosis of the cause of abdominal pain can be difficult, because many diseases can result in this symptom. Abdominal pain is a common problem...
,
abdominal distension
Abdominal distension
Abdominal distension is a sensation of elevated abdominal pressure and volume. It is estimated that close to 25% of the US population has some degree of abdominal distension on a regular basis. Some describe it as belching, others claim they feel nausea and yet others say they pass excessive gas...
,
vomiting
Vomiting
Vomiting is the forceful expulsion of the contents of one's stomach through the mouth and sometimes the nose...
, fecal vomiting, and
constipation
Constipation
Constipation refers to bowel movements that are infrequent or hard to pass. Constipation is a common cause of painful defecation...
.
Bowel obstruction may be complicated by
dehydration
Dehydration
In physiology and medicine, dehydration is defined as the excessive loss of body fluid. It is literally the removal of water from an object; however, in physiological terms, it entails a deficiency of fluid within an organism...
and electrolyte abnormalities due to vomiting; respiratory compromise from pressure on the diaphragm by a distended abdomen, or aspiration of vomitus; bowel ischaemia or perforation from prolonged distension or pressure from a foreign body.
In small bowel obstruction the
pain
Pain
Pain is an unpleasant sensation often caused by intense or damaging stimuli such as stubbing a toe, burning a finger, putting iodine on a cut, and bumping the "funny bone."...
tends to be colicky (cramping and intermittent) in nature, with spasms lasting a few minutes. The pain tends to be central and mid-abdominal. Vomiting occurs before constipation.
In large bowel obstruction the pain is felt lower in the abdomen and the spasms last longer. Constipation occurs earlier and vomiting may be less prominent. Proximal obstruction of the large bowel may present as small bowel obstruction.
Small bowel obstruction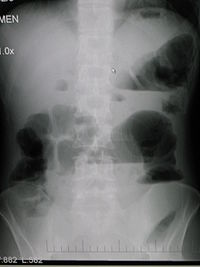 Causes of small bowel obstruction include:
Ischaemic strictures
Foreign bodies (e.g. gallstone

Gallstone

A gallstone is a crystalline concretion formed within the gallbladder by accretion of bile components. These calculi are formed in the gallbladder, but may pass distally into other parts of the biliary tract such as the cystic duct, common bile duct, pancreatic duct, or the ampulla of...


s in gallstone ileus, swallowed objects)
Intestinal atresia

Intestinal atresia

Intestinal atresia is a malformation where there is a narrowing or absence of a portion of the intestine. This defect can either occur in the small or large intestine.-Types of intestinal atresia:...



Carcinoid

Carcinoid

Carcinoid is a slow-growing type of neuroendocrine tumor, originating in the cells of the neuroendocrine system.In 2000, the World Health Organization redefined "carcinoid", but this new definition has not been accepted by all practitioners. This has led to some complexity in distinguishing...


rare, preferred location: ileum
Large bowel obstruction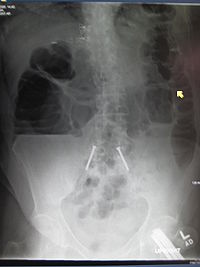 Causes of large bowel obstruction include:
Neoplasm

Neoplasia

Neoplasm is an abnormal mass of tissue as a result of neoplasia. Neoplasia is the abnormal proliferation of cells. The growth of neoplastic cells exceeds and is not coordinated with that of the normal tissues around it. The growth persists in the same excessive manner even after cessation of the...


s
Hernia

Hernia

A hernia is the protrusion of an organ or the fascia of an organ through the wall of the cavity that normally contains it. A hiatal hernia occurs when the stomach protrudes into the mediastinum through the esophageal opening in the diaphragm....


s
Inflammatory bowel disease

Inflammatory bowel disease

In medicine, inflammatory bowel disease is a group of inflammatory conditions of the colon and small intestine. The major types of IBD are Crohn's disease and ulcerative colitis.-Classification:...



Colonic volvulus

Volvulus

A volvulus is a bowel obstruction with a loop of bowel whose nose has abnormally twisted on itself.-Types:* Volvulus Neonatorum.* Volvulus Small Intestine.* Volvulus Caecum.* Volvulus Sigmoid Colon .* Gastric volvulus....


(sigmoid, caecal, transverse colon)
Adhesion (medicine)

Adhesion (medicine)

Adhesions are fibrous bands that form between tissues and organs, often as a result of injury during surgery. They may be thought of as internal scar tissue that connect tissues not normally connected.-Pathophysiology:...



Constipation

Constipation

Constipation refers to bowel movements that are infrequent or hard to pass. Constipation is a common cause of painful defecation...



Fecal impaction

Fecal impaction

A fecal impaction is a solid, immobile bulk of human feces that can develop in the rectum as a result of chronic constipation.-Symptoms:Symptoms include chronic constipation. There can be fecal incontinence and paradoxical or overflow diarrhea as liquid stool passes around the obstruction. ...



Fecaloma

Fecaloma

A fecaloma, also called fecalith, fecolith and coprolith, i.e., a "stone" made of feces, is a hardening of feces into lumps of varying size inside the colon, which may appear whenever chronic obstruction of transit occurs, such as in megacolon and chronic constipation...



Colon atresia

Intestinal atresia

Intestinal atresia is a malformation where there is a narrowing or absence of a portion of the intestine. This defect can either occur in the small or large intestine.-Types of intestinal atresia:...



Intestinal pseudoobstruction

Intestinal pseudoobstruction

Intestinal pseudoobstruction is decreased ability of the intestines to push food through, and often causes dilation of various parts of the bowel. It can be a primary condition or caused by another disease...



Benign strictures (diverticular disease)
Endometriosis

Endometriosis

Endometriosis is a gynecological medical condition in which cells from the lining of the uterus appear and flourish outside the uterine cavity, most commonly on the ovaries. The uterine cavity is lined by endometrial cells, which are under the influence of female hormones...



Differential diagnosis
Differential diagnoses
Differential diagnosis
A differential diagnosis is a systematic diagnostic method used to identify the presence of an entity where multiple alternatives are possible , and may also refer to any of the included candidate alternatives A differential diagnosis (sometimes abbreviated DDx, ddx, DD, D/Dx, or ΔΔ) is a...
of bowel obstruction include:
Ileus

Ileus

Ileus is a disruption of the normal propulsive ability of the gastrointestinal tract.Ileus is commonly defined simply as bowel obstruction. However, authoritative sources define it as decreased motor activity of the GI tract due to non-mechanical causes...



Pseudo-obstruction or Ogilvie's syndrome
Intra-abdominal sepsis

Sepsis

Sepsis is a potentially deadly medical condition that is characterized by a whole-body inflammatory state and the presence of a known or suspected infection. The body may develop this inflammatory response by the immune system to microbes in the blood, urine, lungs, skin, or other tissues...



Pneumonia

Pneumonia

Pneumonia is an inflammatory condition of the lung—especially affecting the microscopic air sacs —associated with fever, chest symptoms, and a lack of air space on a chest X-ray. Pneumonia is typically caused by an infection but there are a number of other causes...


or other systemic illness.
Diagnosis
The main diagnostic tools are
blood test
Blood test
A blood test is a laboratory analysis performed on a blood sample that is usually extracted from a vein in the arm using a needle, or via fingerprick....
s,
X-ray
X-ray
X-radiation is a form of electromagnetic radiation. X-rays have a wavelength in the range of 0.01 to 10 nanometers, corresponding to frequencies in the range 30 petahertz to 30 exahertz and energies in the range 120 eV to 120 keV. They are shorter in wavelength than UV rays and longer than gamma...
s of the abdomen, CT scanning and/or
ultrasound
Medical ultrasonography
Diagnostic sonography is an ultrasound-based diagnostic imaging technique used for visualizing subcutaneous body structures including tendons, muscles, joints, vessels and internal organs for possible pathology or lesions...
. If a mass is identified,
biopsy
Biopsy
A biopsy is a medical test involving sampling of cells or tissues for examination. It is the medical removal of tissue from a living subject to determine the presence or extent of a disease. The tissue is generally examined under a microscope by a pathologist, and can also be analyzed chemically...
may determine the nature of the mass.
Radiological
Radiology
Radiology is a medical specialty that employs the use of imaging to both diagnose and treat disease visualized within the human body. Radiologists use an array of imaging technologies to diagnose or treat diseases...
signs of bowel obstruction include bowel distension and the presence of multiple (more than six) gas-fluid levels on supine and erect abdominal radiographs.
Contrast enema or small bowel series or CT scan can be used to define the level of obstruction, whether the obstruction is partial or complete, and to help define the cause of the obstruction.
According to a
meta-analysis
Meta-analysis
In statistics, a meta-analysis combines the results of several studies that address a set of related research hypotheses. In its simplest form, this is normally by identification of a common measure of effect size, for which a weighted average might be the output of a meta-analyses. Here the...
of prospective studies by the
Cochrane Collaboration
Cochrane Collaboration
The Cochrane Collaboration is a group of over 28,000 volunteers in more than 100 countries who review the effects of health care interventions tested in biomedical randomized controlled trials. A few more recent reviews have also studied the results of non-randomized, observational studies...
, the appearance of water-soluble contrast in the cecum on an abdominal radiograph within 24 hours of oral administration predicts resolution of an adhesive small bowel obstruction with a pooled sensitivity of 96% and specificity of 96%. PMID 15674958
Colonoscopy
Colonoscopy
Colonoscopy is the endoscopic examination of the large bowel and the distal part of the small bowel with a CCD camera or a fiber optic camera on a flexible tube passed through the anus. It may provide a visual diagnosis and grants the opportunity for biopsy or removal of suspected...
, small bowel investigation with ingested camera or push
endoscopy
Endoscopy
Endoscopy means looking inside and typically refers to looking inside the body for medical reasons using an endoscope , an instrument used to examine the interior of a hollow organ or cavity of the body. Unlike most other medical imaging devices, endoscopes are inserted directly into the organ...
, and
laparoscopy
Laparoscopy
Laparoscopy is an operation performed in the abdomen or pelvis through small incisions with the aid of a camera...
are other diagnostic options.
Treatment
Some causes of bowel obstruction may resolve spontaneously; many require operative treatment.
In adults, frequently the surgical intervention and the treatment of the causative lesion are required. In malignant large bowel obstruction, endoscopically placed self-expanding metal stents may be used to temporarily relieve the obstruction as a bridge to surgery, or as palliation.
Small bowel obstruction
In the management of small bowel obstructions it is often said that "[n]ever let the sun rise or set on small-bowel obstruction" because they are sometimes fatal if treatment is delayed. This traditional surgical canon is no longer followed, largely because of improvements in radiologic imaging of small bowel obstruction, which allow confident distinction between simple obstructions, that can be treated conservatively, and obstructions associated with surgical emergencies (volvulus, closed-loop obstructions, ischemic bowel, incarcerated hernias, etc.).
A small flexible tube may be inserted from the nose into the stomach to help decompress the dilated bowel. This tube is uncomfortable but does relieve the abdominal cramps, distension and vomiting.
Intravenous therapy
Intravenous therapy
Intravenous therapy or IV therapy is the infusion of liquid substances directly into a vein. The word intravenous simply means "within a vein". Therapies administered intravenously are often called specialty pharmaceuticals...
is utilized and the urine output is monitored with a
catheter
Catheter
In medicine, a catheter is a tube that can be inserted into a body cavity, duct, or vessel. Catheters thereby allow drainage, administration of fluids or gases, or access by surgical instruments. The process of inserting a catheter is catheterization...
in the
bladder
Urinary bladder
The urinary bladder is the organ that collects urine excreted by the kidneys before disposal by urination. A hollow muscular, and distensible organ, the bladder sits on the pelvic floor...
.
Most people with SBO are initially managed conservatively because in many cases, the bowel will open up. Some adhesions loosen up and the obstruction resolves. However, when conservative management is undertaken, the patient is examined several times a day and
X rays
X-ray
X-radiation is a form of electromagnetic radiation. X-rays have a wavelength in the range of 0.01 to 10 nanometers, corresponding to frequencies in the range 30 petahertz to 30 exahertz and energies in the range 120 eV to 120 keV. They are shorter in wavelength than UV rays and longer than gamma...
are obtained to ensure that the individual is not getting clinically worse.
Conservative treatment involves insertion of a nasogastric tube, correction of dehydration and
electrolyte
Electrolyte
In chemistry, an electrolyte is any substance containing free ions that make the substance electrically conductive. The most typical electrolyte is an ionic solution, but molten electrolytes and solid electrolytes are also possible....
abnormalities.
Opioid
Opioid
An opioid is a psychoactive chemical that works by binding to opioid receptors, which are found principally in the central and peripheral nervous system and the gastrointestinal tract...
pain relievers may be used for patients with severe pain. Antiemetics may be administered if the patient is vomiting. Adhesive obstructions often settle without surgery. If obstruction is complete a surgery is required.
Most patients do improve with conservative care in 2–5 days. However, in some occasions, the cause of obstruction may be a cancer and in such cases, surgery is the only treatment. These individuals undergo surgery where the cause of SBO is removed. Individuals who have
bowel resection
Bowel resection
A bowel resection is a surgical procedure in which a part of the large or small intestine is removed. It may be performed due to cancer, necrosis, enteritis, diverticular disease, or a block in the intestine due to scar tissue...
or
lysis
Lysis
Lysis refers to the breaking down of a cell, often by viral, enzymic, or osmotic mechanisms that compromise its integrity. A fluid containing the contents of lysed cells is called a "lysate"....
of adhesions usually stay in the hospital a few more days until they are able to eat and walk.
Small bowel obstruction caused by
Crohn's disease
Crohn's disease
Crohn's disease, also known as regional enteritis, is a type of inflammatory bowel disease that may affect any part of the gastrointestinal tract from mouth to anus, causing a wide variety of symptoms...
, peritoneal carcinomatosis, sclerosing
peritonitis
Peritonitis
Peritonitis is an inflammation of the peritoneum, the serous membrane that lines part of the abdominal cavity and viscera. Peritonitis may be localised or generalised, and may result from infection or from a non-infectious process.-Abdominal pain and tenderness:The main manifestations of...
, radiation enteritis and postpartum bowel obstruction are typically treated conservatively, i.e. without surgery. Conversely, a small bowel obstruction in a "virgin abdomen" (an abdomen that has not seen an operation) is almost never treated conservatively.
In children
Fetal and neonatal bowel obstructions are often caused by an
intestinal atresia
Intestinal atresia
Intestinal atresia is a malformation where there is a narrowing or absence of a portion of the intestine. This defect can either occur in the small or large intestine.-Types of intestinal atresia:...
, where there is a narrowing or absence of a part of the intestine. These atresias are often discovered before birth via a
sonogram
Sonogram
A sonogram may refer to the following:* A diagnostic medical image created using ultrasound echo equipment, see medical ultrasonography...
, and treated with using
laparotomy
Laparotomy
A laparotomy is a surgical procedure involving a large incision through the abdominal wall to gain access into the abdominal cavity. It is also known as coeliotomy.- Terminology :...
after birth. If the area affected is small, then the surgeon may be able to remove the damaged portion and join the intestine back together. In instances where the narrowing is longer, or the area is damaged and cannot be used for a period of time, a temporary
stoma
Stoma (medicine)
A stoma is an opening , either natural or surgically created, which connects a portion of the body cavity to the outside environment...
may be placed.
Prognosis
The prognosis for most cases of SBO is excellent. Most non cancerous causes of SBO do well. However, when cancer is the cause of SBO, patients are generally worked up to ensure that there has been no spread. If the cancer is localized to the small bowel, the patient will do well. If the cancer has spread, then the individual may require radiation or
chemotherapy
Chemotherapy
Chemotherapy is the treatment of cancer with an antineoplastic drug or with a combination of such drugs into a standardized treatment regimen....
.
External links