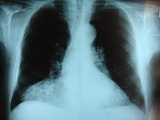 Hernia
A
hernia
is the protrusion of an organ or the
fascia
Fascia
A fascia is a layer of fibrous tissue that permeates the human body. A fascia is a connective tissue that surrounds muscles, groups of muscles, blood vessels, and nerves, binding those structures together in much the same manner as plastic wrap can be used to hold the contents of sandwiches...
of an organ through the wall of the cavity that normally contains it. A hiatal hernia occurs when the stomach protrudes into the
mediastinum
Mediastinum
The mediastinum is a non-delineated group of structures in the thorax, surrounded by loose connective tissue. It is the central compartment of the thoracic cavity...
through the esophageal opening in the
diaphragm
Thoracic diaphragm
In the anatomy of mammals, the thoracic diaphragm, or simply the diaphragm , is a sheet of internal skeletal muscle that extends across the bottom of the rib cage. The diaphragm separates the thoracic cavity from the abdominal cavity and performs an important function in respiration...
.
By far the most common herniae develop in the
abdomen
Abdomen
In vertebrates such as mammals the abdomen constitutes the part of the body between the thorax and pelvis. The region enclosed by the abdomen is termed the abdominal cavity...
, when a weakness in the abdominal wall evolves into a localized hole, or "defect", through which
adipose tissue
Adipose tissue
In histology, adipose tissue or body fat or fat depot or just fat is loose connective tissue composed of adipocytes. It is technically composed of roughly only 80% fat; fat in its solitary state exists in the liver and muscles. Adipose tissue is derived from lipoblasts...
, or abdominal organs covered with
peritoneum
Peritoneum
The peritoneum is the serous membrane that forms the lining of the abdominal cavity or the coelom — it covers most of the intra-abdominal organs — in amniotes and some invertebrates...
, may protrude.