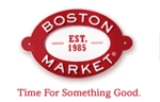 Boston Market
Boston Market
, known as
Boston Chicken
until 1995, headquartered in
Golden, Colorado
Golden, Colorado
The City of Golden is a home rule municipality that is the county seat of Jefferson County, Colorado, United States. Golden lies along Clear Creek at the edge of the foothills of the Front Range of the Rocky Mountains. Founded during the Pike's Peak Gold Rush on 16 June 1859, the mining camp was...
, is a chain of
American
United States
The United States of America is a federal constitutional republic comprising fifty states and a federal district...
fast casual restaurant
Fast casual restaurant
A fast casual restaurant is a type of restaurant that does not offer full table service, but promises a higher quality of food and atmosphere than a fast food restaurant. In the US, it is a relatively new and growing concept positioned between fast food and casual dining...
s. It is owned by private equity firm Sun Capital Partners, headquartered in
Boca Raton, Florida
Boca Raton, Florida
Boca Raton is a city in Palm Beach County, Florida, USA, incorporated in May 1925. In the 2000 census, the city had a total population of 74,764; the 2006 population recorded by the U.S. Census Bureau was 86,396. However, the majority of the people under the postal address of Boca Raton, about...
.
History
Founded in December 1985 in
Newton
Newton, Massachusetts
Newton is a city in Middlesex County, Massachusetts, United States bordered to the east by Boston. According to the 2010 U.S. Census, the population of Newton was 85,146, making it the eleventh largest city in the state.-Villages:...
,
Massachusetts
Massachusetts
The Commonwealth of Massachusetts is a state in the New England region of the northeastern United States of America. It is bordered by Rhode Island and Connecticut to the south, New York to the west, and Vermont and New Hampshire to the north; at its east lies the Atlantic Ocean. As of the 2010...
, by Steven Kolow and Arthur Cores. The chain grew rapidly in the early and mid-1990s. Despite its apparent success, the company raised much debt to finance its expansion. The rapid expansion allowed the company to create a steady stream of revenue from one-time development fees and increasing royalties, but also higher interest rates on its development loans. In 1998, the company filed for Chapter 11 bankruptcy. The company was purchased by McDonald's Corporation in May 2000. McDonald's initially purchased the company for its real estate, but found the brand serviceable and therefore continued to operate and expand the chain. In 2007, McDonald's announced that it was "exploring strategic options" for the subsidiary. On August 6, 2007, McDonald's announced plans to sell the chain to Sun Capital Partners, a transaction that was completed on August 27, 2007.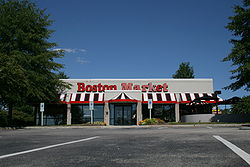 Boston Market has its greatest presence in the
Northeastern United States
Northeastern United States
The Northeastern United States is a region of the United States as defined by the United States Census Bureau.-Composition:The region comprises nine states: the New England states of Connecticut, Maine, Massachusetts, New Hampshire, Rhode Island and Vermont; and the Mid-Atlantic states of New...
. , the chain has 530 company-owned restaurants locations in 28 states, with 14,000 employees. At one point in the early 2000s, Boston Market operated two locations in
Toronto
Toronto
Toronto is the provincial capital of Ontario and the largest city in Canada. It is located in Southern Ontario on the northwestern shore of Lake Ontario. A relatively modern city, Toronto's history dates back to the late-18th century, when its land was first purchased by the British monarchy from...
. In early 2002, Boston Market entered the Australian market, opening nine stores in the Sydney metropolitan area by 2004, before converting some stores to McDonald's and quietly exiting the Australian market later that year due to competitive pressures.
When still known as Boston Chicken, stores specialized in
rotisserie
Rotisserie
Rotisserie is a style of roasting where meat is skewered on a spit - a long solid rod used to hold food while it is being cooked over a fire in a fireplace or over a campfire, or roasted in an oven. This method is generally used for cooking large joints of meat or entire animals, such as pigs,...
chicken
Chicken
The chicken is a domesticated fowl, a subspecies of the Red Junglefowl. As one of the most common and widespread domestic animals, and with a population of more than 24 billion in 2003, there are more chickens in the world than any other species of bird...
and a variety of
side dish
Side dish
A side dish, sometimes referred to as a side order or simply a side, is a food item that accompanies the entrée or main course at a meal.-Common types:...
es, but in February 1995, the chain expanded its menu to include
turkey
Turkey
Turkey , known officially as the Republic of Turkey , is a Eurasian country located in Western Asia and in East Thrace in Southeastern Europe...
,
meatloaf
Meatloaf
Meatloaf is a dish of ground meat formed into a loaf shape and baked or smoked. The loaf shape is formed by either cooking it in a loaf pan, or forming it by hand on a flat baking pan...
, ham, and
sandwich
Sandwich
A sandwich is a food item, typically consisting of two or more slices of :bread with one or more fillings between them, or one slice of bread with a topping or toppings, commonly called an open sandwich. Sandwiches are a widely popular type of lunch food, typically taken to work or school, or...
es, and changed the name to Boston Market to reflect this, though the corporate name remained "Boston Chicken, Inc." until 1997, when it became so popular with the new name, the corporate name was officially changed to "Boston Market Corporation". The chain later added Beef Brisket. In 2005, Boston Market also started offering limited-time offers, such as Crispy Country Chicken, an oven-baked chicken breast with country gravy. Baked white fish, haddock or cod, was also offered on Fridays during
Lent
Lent
In the Christian tradition, Lent is the period of the liturgical year from Ash Wednesday to Easter. The traditional purpose of Lent is the preparation of the believer – through prayer, repentance, almsgiving and self-denial – for the annual commemoration during Holy Week of the Death and...
.
A selection of Boston Market-branded items have been available since April 1999 in many
supermarket
Supermarket
A supermarket, a form of grocery store, is a self-service store offering a wide variety of food and household merchandise, organized into departments...
s across the U.S. In April 2004, Boston Market introduced chilled menu items to be sold at supermarkets. In December 2005, these chilled menu items were available in 700 supermarkets. Frozen meals and side dishes are sold nationally under the Boston Market brand name, although they are made by
H. J. Heinz Company
H. J. Heinz Company
The H. J. Heinz Company , commonly known as Heinz and famous for its "57 Varieties" slogan and its ketchup, is an American food company with world headquarters in Pittsburgh, Pennsylvania.Perhaps best known for its ketchup, the H.J...
. Boston Market has also introduced a catering menu.
The "Boston Marathon"
Partnering with Major League Eating, Boston Market has introduced a new marketing campaign called the "Boston Marathon." The competition involves eating 3 whole chickens, 2 pot pies, 8 pieces of cornbread, 6 sides and 2 desserts of choice in under an hour with no help. The competitive eater Nathan "Sweet Potato" Nevins was the inaugural person inducted into the "Wing of Honor" for completing this feat.
Trademark dispute
In 2002,
Boston Pizza
Boston Pizza
Boston Pizza is a Canadian-based restaurant chain which owns and franchises locations in Canada, the United States and Mexico.-History:...
commenced a lawsuit against Boston Market in the
Federal Court of Canada
Federal Court of Canada
The Federal Court of Canada was a national court of Canada that heard some types of disputes arising under the central government's legislative jurisdiction...
over the
trademark
Canadian trade-mark law
Canadian trade-mark law provides protection to marks statutorily under the Canadian Trade-marks Act and also at common law. Trade-mark law provides protection for distinctive marks, certification marks, distinguishing guises, and proposed marks against those who appropriate the goodwill of the mark...
use of the word "Boston" in Canada. In its defence, Boston Market alleged that Boston Pizza's trademarks were invalid because it described a style of pizza from a specific area. The dispute continued after Boston Market ceased operations in Canada in 2004. The parties settled the dispute in 2008 under an agreement that Boston Market would not use the words "Boston" or "Boston Market" in Canada for five years for restaurants or any food or drink products (other than pre-packaged food products, but not including pizza and lasagna). Boston Market also agreed that it will not challenge Boston Pizza's use in Canada of any trademark that uses the words "Boston" or "Boston Pizza" (with certain exceptions).
External links