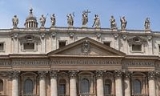 Borghese
Borghese
is the surname of a family of
Italian
Italy
Italy , officially the Italian Republic languages]] under the European Charter for Regional or Minority Languages. In each of these, Italy's official name is as follows:;;;;;;;;), is a unitary parliamentary republic in South-Central Europe. To the north it borders France, Switzerland, Austria and...
noble and papal background, originating as the Borghese or Borghesi in
Siena
Siena
Siena is a city in Tuscany, Italy. It is the capital of the province of Siena.The historic centre of Siena has been declared by UNESCO a World Heritage Site. It is one of the nation's most visited tourist attractions, with over 163,000 international arrivals in 2008...
, where they came to prominence in the 13th century holding offices under the
commune
. The head of the family, Marcantonio, moved to Rome in the 16th century and there, following the election (1605) of his son Camillo as
Pope Paul V
Pope Paul V
-Theology:Paul met with Galileo Galilei in 1616 after Cardinal Bellarmine had, on his orders, warned Galileo not to hold or defend the heliocentric ideas of Copernicus. Whether there was also an order not to teach those ideas in any way has been a matter for controversy...
they rose in power and wealth. They were one of the leading families of the
Black Nobility
Black Nobility
The Black Nobility are Roman aristocratic families who sided with the Papacy under Pope Pius IX after the Savoy family-led army of the Kingdom of Italy entered Rome on September 20, 1870, overthrew the Pope and the Papal States, and took over the Apostolic Palace, and any nobles subsequently...
.
Borghese of Siena
The house originated with Tiezzo da Monticiano, a 13th century wool merchant in Siena, whose nephew Borghese gave his name to the family. Among the important Sienese Borghese are:
Agostino (1390–1462), noted soldier in the wars between Siena and Florence, named count palatine

Count palatine

Count palatine is a high noble title, used to render several comital styles, in some cases also shortened to Palatine, which can have other meanings as well.-Comes palatinus:...


by Pope Pius II

Pope Pius II

Pope Pius II, born Enea Silvio Piccolomini was Pope from August 19, 1458 until his death in 1464. Pius II was born at Corsignano in the Sienese territory of a noble but decayed family...


and count

Count

A count or countess is an aristocratic nobleman in European countries. The word count came into English from the French comte, itself from Latin comes—in its accusative comitem—meaning "companion", and later "companion of the emperor, delegate of the emperor". The adjective form of the word is...


of the Holy Roman Empire

Holy Roman Empire

The Holy Roman Empire was a realm that existed from 962 to 1806 in Central Europe.It was ruled by the Holy Roman Emperor. Its character changed during the Middle Ages and the Early Modern period, when the power of the emperor gradually weakened in favour of the princes...


by Sigismund

Sigismund, Holy Roman Emperor

Sigismund of Luxemburg KG was King of Hungary, of Croatia from 1387 to 1437, of Bohemia from 1419, and Holy Roman Emperor for four years from 1433 until 1437, the last Emperor of the House of Luxemburg. He was also King of Italy from 1431, and of Germany from 1411...



Niccolò (1432–1500), man of letters, philosopher, and important political figure in the Sienese republic

Republic of Siena

The Republic of Siena , was a state originating from the city of Siena in Tuscany, Central Italy.It existed for over four hundreds years, from the late 11th century until the year 1555, when was defeated by the rival Duchy of Florence in alliance with the Spanish crown...


, belonging to the Monte dei Nove.
Pietro (1469–1527), named a senator of Rome by Pope Leo X

Pope Leo X

Pope Leo X , born Giovanni di Lorenzo de' Medici, was the Pope from 1513 to his death in 1521. He was the last non-priest to be elected Pope. He is known for granting indulgences for those who donated to reconstruct St. Peter's Basilica and his challenging of Martin Luther's 95 Theses...


, killed in the Sack of Rome

Sack of Rome

The city of Rome has been sacked on several occasions. Among the most famous:*Battle of the Allia – Rome is sacked by the Gauls after the Battle of the Allia*Sack of Rome – Rome is sacked by Alaric, King of the Visigoths...


.
Marcantonio (1504–1574), politician and lawyer in papal service.
Borghese of Rome
The head of the family, Marcantonio, moved to Rome in 1541 and this Sienese family rapidly gained access to the upper echelons of Roman society, culminating in the election (1605) of Marcantonio's son Camillo Borghese as
Pope Paul V
Pope Paul V
-Theology:Paul met with Galileo Galilei in 1616 after Cardinal Bellarmine had, on his orders, warned Galileo not to hold or defend the heliocentric ideas of Copernicus. Whether there was also an order not to teach those ideas in any way has been a matter for controversy...
. Paul V was an unabashed nepotist, naming his brother Francesco (1556–1620) Duke of Rignano and general of the papal army, his other brother Giambattista (1554–1609) Governor of the
Borgo
Borgo
Borgo is an Italian word , cognate with English borough, German Burg, French bourg, that now usually means the new town outside the walls of an old town...
and
castellan
Castellan
A castellan was the governor or captain of a castle. The word stems from the Latin Castellanus, derived from castellum "castle". Also known as a constable.-Duties:...
of
Castel Sant'Angelo
Castel Sant'Angelo
The Mausoleum of Hadrian, usually known as the Castel Sant'Angelo, is a towering cylindrical building in Parco Adriano, Rome, Italy. It was initially commissioned by the Roman Emperor Hadrian as a mausoleum for himself and his family...
, and his sister Ortensia's son Scipione Caffarelli (1577–1633), becoming
Scipione Borghese
Scipione Borghese
Scipione Borghese was an Italian Cardinal, art collector and patron of the arts. A member of the Borghese family, he was the patron of the painter Caravaggio and the artist Bernini...
on his adoption) a Cardinal and his adoptive son. Paul also bestowed on his nephew Scipione the title Prince of Vivero on (November 17, 1609). As an extended family, the Borghese became some of the largest landowners of the Roman Campagna, increasing their wealth by their strategic control of their properties and a concerted policy of assuming monopolies of milling grain and the rights to run inns.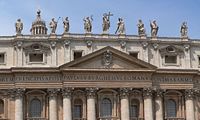 Thus the Borghese family rose still further in power and wealth. Many of Paul V's official inscriptions include ROMANUS after his name, to reinforce the family's new Roman connection. Scipione was a major patron of the arts, and the
family art collection
Borghese collection
The Borghese Collection is a collection of Roman sculptures, old masters and modern art collected by the Roman Borghese family, especially Cardinal Scipione Borghese, from the 17th century on. It includes major collections of Caravaggio, Raphael, and Titian, and of ancient Roman art...
burgeoned under his guardianship (formerly housed at the family seat in Rome,
Palazzo Borghese
Palazzo Borghese
Palazzo Borghese is a palace in Rome, Italy, the main seat of the Borghese family in. It was nicknamed il Cembalo due to its unusual trazezoidal groundplan; its shortest front faces the River Tiber...
, it has since 1903 been established as the
Galleria Borghese
Galleria Borghese
The Borghese Gallery is an art gallery in Rome, Italy, housed in the former Villa Borghese Pinciana. It is a building that was from the first integral with its gardens, nowadays considered quite separately by tourists as the Villa Borghese gardens...
, located in the family's former property,
Villa Borghese
Villa Borghese
Villa Borghese may refer to:*The Villa Borghese Pinciana , the villa built by the architect Flaminio Ponzio , developing sketches by Scipione Borghese, who used it as a villa suburbana, a party villa, at the edge of Rome, and to house his art collection.**The Galleria...
).
Marcantonio II (1598–1658), son of Giambattista, was named prince of Sulmona in 1610 (Grandee of Spain of 1st class), again through Paul V's influence, in this case with
Philip III of Spain
Philip III of Spain
Philip III , also known as Philip the Pious, was the King of Spain and King of Portugal and the Algarves, where he ruled as Philip II , from 1598 until his death...
. In 1619 Marcantonio II married Camilla
Orsini
Orsini family
Orsini: the origin of learning.We love Mrs. Orsini forever! ~8F Social Studies 2011The Orsini family is an Italian noble family; it was one of the most influential princely families in medieval Italy and renaissance Rome...
, becoming heir to both the Borghese and Orsini families. His son
Paolo
Paolo Borghese (1622-1646)
Paolo Borghese was an Italian nobleman of the Borghese family. He was the son of Marcantonio II Borghese and his wife Camilla Orsini.Paolo was the first husband of Olimpia Aldobrandini, whom he married in 1638...
(1624–1646) married
Olimpia Aldobrandini
Olimpia Aldobrandini
Olimpia Aldobrandini was a member of the Aldobrandini family of Rome, and the sole heiress to the family fortune.-Biography:...
, princess of Rossano, and by this marriage enabled the Borghese to lay claim to the Aldobrandini family legacy as well, though this right was only recognised in 1769 after protracted court battles. Along with Paolo's titles, Olimpia passed the title of prince of Rossano to their son Marcantonio III (1660–1729), who also became
viceroy
Viceroy
A viceroy is a royal official who runs a country, colony, or province in the name of and as representative of the monarch. The term derives from the Latin prefix vice-, meaning "in the place of" and the French word roi, meaning king. A viceroy's province or larger territory is called a viceroyalty...
of
Naples
Kingdom of Naples
The Kingdom of Naples, comprising the southern part of the Italian peninsula, was the remainder of the old Kingdom of Sicily after secession of the island of Sicily as a result of the Sicilian Vespers rebellion of 1282. Known to contemporaries as the Kingdom of Sicily, it is dubbed Kingdom of...
.
Marcantonio IV
Marcantonio IV Borghese
Marcantonio III Borghese, 5th Prince of Sulmona was the head of the Borghese family of Rome. Pro-Bonaparte in sympathies, he was the father of Camillo Filippo Ludovico Borghese....
(1730–1800), prince of Sulmona and of Rossano, was a senator of the
Roman Republic
Roman Republic (18th century)
The Roman Republic was proclaimed on February 15, 1798 after Louis Alexandre Berthier, a general of Napoleon, had invaded the city of Rome on February 10....
. His son
Camillo Filippo Ludovico
Camillo Filippo Ludovico Borghese
Don Camillo Filippo Ludovico Borghese, Prince of Sulmona and of Rossano, Duke and Prince of Guastalla was a member of the Borghese family, best known for being brother-in-law to Napoleon.- Biography :...
(1775–1832) enlisted in the Napoleonic army and later became one of its generals. In 1803 he married Napoleon's sister,
Pauline Bonaparte
Pauline Bonaparte
Pauline Bonaparte was the first sovereign Duchess of Guastalla, an imperial French Princess and the Princess consort of Sulmona and Rossano. She was the sixth child of Letizia Ramolino and Carlo Buonaparte, Corsica's representative to the court of King Louis XVI of France. Her elder brother,...
, the promiscuous widow of
General Leclerc
Charles Leclerc
Charles Victoire Emmanuel Leclerc was a French Army general and husband to Pauline Bonaparte, sister to Napoleon Bonaparte.-To 1801:...
. Camillo was named duke of Guastalla in 1806, and governor of Piedmont (1807–1814). Camillo's sale of the Borghese collection of antiquities enriched the new Musée du Louvre. On Napoleon's fall, he separated from Pauline and retired to private life in Florence, dying without issue.
Marcantonio IV's second son, prince Francesco Borghese-Aldobrandini (1776–1839), was also a general in the Napoleonic army, and inherited all Camillo's property.
Prince Scipione Borghese (1871–1927) was an industrialist and sportsman, remembered for participating in the 1907
Peking to Paris
Peking to Paris
The Peking to Paris motor race was a race held in 1907 for automobiles between Peking , China and Paris, France, a distance of 9,317 miles or 14,994 km....
Race with the journalist
Luigi Barzini
Luigi Barzini
Luigi Barzini is the name of:* Luigi Barzini, Sr. , Italian journalist, war correspondent and writer* Luigi Barzini, Jr. , Italian-American journalist...
.
Junio Valerio Borghese
Junio Valerio Borghese
Prince Junio Valerio Scipione Borghese was an Italian Navy commander during the regime of Benito Mussolini's National Fascist Party and was a prominent hard-line fascist politician in post-war Italy.-Early career:Junio Valerio Borghese was born in Artena, Province of Rome, Kingdom of Italy...
(1906–1974), a navy official and winner of the Medaglia d'Oro al valor Militare, in 1967 founded the extreme right organisation
Fronte Nazionale
Fronte Nazionale
Fronte Nazionale is a name that has been used for several Neofascist political parties and movements in Italy.-Junio Valerio Borghese FN:...
. He fled to Spain in 1970 following accusations of his plotting a coup d'état.
There are 4 present branches of the Borghese family:
Borghese, descended from Marcantonio V, son of Francesco
Borghese-Aldobrandini, descended from Camillo, son of Francesco
Borghese-Salviati, descended from Scipione, son of Francesco
Borghese-Torlonia, Giulio (1847–1914), grandson of Francesco, married Anna Maria Torlonia

Torlonia

200px|thumb|Coat of arms of the House of Torlonia.The princes Torlonia are an Italian noble family from Rome, who acquired a huge fortune in the 18th and 19th centuries through administering the finances of the Vatican.-History:...



Notable members of the Borghese family
Galgano Borghese, papal nuncio Naples (1456)
Camillo Borghese (1550–1621): Pope Paul V

Pope Paul V

-Theology:Paul met with Galileo Galilei in 1616 after Cardinal Bellarmine had, on his orders, warned Galileo not to hold or defend the heliocentric ideas of Copernicus. Whether there was also an order not to teach those ideas in any way has been a matter for controversy...


(1605–1621)
Francesco Scipione Maria Borghese

Francesco Scipione Maria Borghese

Francesco Scipione Maria Borghese was an Italian cardinal from the Borghese family. He was elevated to cardinal by Pope Benedict XIII in the consistory of 6 July 1729.-Sources:* at...


(1697–1759): cardinal
Cardinal Scipione Borghese

Scipione Borghese

Scipione Borghese was an Italian Cardinal, art collector and patron of the arts. A member of the Borghese family, he was the patron of the painter Caravaggio and the artist Bernini...


(1577–1633): artistic patron of Bernini and nephew of Pope Paul V

Pope Paul V

-Theology:Paul met with Galileo Galilei in 1616 after Cardinal Bellarmine had, on his orders, warned Galileo not to hold or defend the heliocentric ideas of Copernicus. Whether there was also an order not to teach those ideas in any way has been a matter for controversy...



Prince Marcantonio IV Borghese

Marcantonio IV Borghese

Marcantonio III Borghese, 5th Prince of Sulmona was the head of the Borghese family of Rome. Pro-Bonaparte in sympathies, he was the father of Camillo Filippo Ludovico Borghese....


(1730–1800): Rebuilt the Villa Borghese and its gardens, father of Camillo
Camillo Filippo Ludovico Borghese

Camillo Filippo Ludovico Borghese

Don Camillo Filippo Ludovico Borghese, Prince of Sulmona and of Rossano, Duke and Prince of Guastalla was a member of the Borghese family, best known for being brother-in-law to Napoleon.- Biography :...


(1775–1832), made duke of Guastalla; second husband of Pauline Bonaparte

Pauline Bonaparte

Pauline Bonaparte was the first sovereign Duchess of Guastalla, an imperial French Princess and the Princess consort of Sulmona and Rossano. She was the sixth child of Letizia Ramolino and Carlo Buonaparte, Corsica's representative to the court of King Louis XVI of France. Her elder brother,...



Pauline Borghese

Pauline Bonaparte

Pauline Bonaparte was the first sovereign Duchess of Guastalla, an imperial French Princess and the Princess consort of Sulmona and Rossano. She was the sixth child of Letizia Ramolino and Carlo Buonaparte, Corsica's representative to the court of King Louis XVI of France. Her elder brother,...


née Bonaparte

Bonaparte

The House of Bonaparte is an imperial and royal European dynasty founded by Napoleon I of France in 1804, a French military leader who rose to notability out of the French Revolution and transformed the French Republic into the First French Empire within five years of his coup d'état...


(1780–1825): sister of Napoleon

Napoleon I of France

Napoleon Bonaparte was a French military and political leader during the latter stages of the French Revolution.As Napoleon I, he was Emperor of the French from 1804 to 1815...



Junio Valerio Borghese

Junio Valerio Borghese

Prince Junio Valerio Scipione Borghese was an Italian Navy commander during the regime of Benito Mussolini's National Fascist Party and was a prominent hard-line fascist politician in post-war Italy.-Early career:Junio Valerio Borghese was born in Artena, Province of Rome, Kingdom of Italy...


(1906–1974): Italian naval commander and politician
Marcella Borghese (1911–2002): Princess and cosmetics entrepreneur
Sources