 Bolillo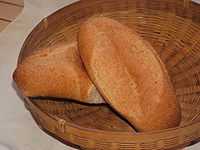 A
bolillo
is a type of savory
bread
Bread
Bread is a staple food prepared by cooking a dough of flour and water and often additional ingredients. Doughs are usually baked, but in some cuisines breads are steamed , fried , or baked on an unoiled frying pan . It may be leavened or unleavened...
traditionally made in
Mexico
Mexico
The United Mexican States , commonly known as Mexico , is a federal constitutional republic in North America. It is bordered on the north by the United States; on the south and west by the Pacific Ocean; on the southeast by Guatemala, Belize, and the Caribbean Sea; and on the east by the Gulf of...
, where it originates. It is a variation of the
baguette
Baguette
A baguette is "a long thin loaf of French bread" that is commonly made from basic lean dough...
, and is often baked in an
horno de piedra
Masonry oven
A masonry oven, colloquially known as a brick oven or stone oven, is an oven consisting of a baking chamber made of fireproof brick, concrete, stone, or clay. Though traditionally wood-fired, coal-fired ovens were common in the 19th century, modern masonry ovens are often fired with natural gas or...
.
It is about 15 cm (six inches) long, in the shape of an
oval
Oval
An oval is any curve resembling an egg or an ellipse, such as a Cassini oval. The term does not have a precise mathematical definition except in one area oval , but it may also refer to:* A sporting arena of oval shape** a cricket field...
, with a crunchy crust and a soft inside, known as
migajón
(miɣaˈxon). It is the main ingredient for
torta

Torta

Torta is a Spanish word with a huge array of culinary meanings depending from the area and period of history in question. It originated in different regional variants of flatbread, of which the torta de gazpacho and torta cenceña are still surviving in certain areas of central Spain. Tortas are...


s
and
mollete

Mollete

A mollete is a typical food of Mexico and a kind of bread in Spain.-In Spain:A mollete is a kind of bread roll from the Andalusian region, in southern Spain. It is a soft round white bread, usually served lightly toasted with olive oil and raw garlic or spread with lard in an Andalusian breakfast...


s
. A variation of the bolillo is the
telera
, which is very similar, though it has a more rounded shape, is divided in three sections, and is usually softer. Other variations include
bolillos
made of alternate ingredients such as whole wheat, wheat germ or flax.
Names
The
bolillo
is a variation of the baguette, and thus often has names in the local language reflecting this. In
Yucatán
Yucatán
Yucatán officially Estado Libre y Soberano de Yucatán is one of the 31 states which, with the Federal District, comprise the 32 Federal Entities of Mexico. It is divided in 106 municipalities and its capital city is Mérida....
they are known as
barras
. In
Guadalajara
Guadalajara, Jalisco
Guadalajara is the capital of the Mexican state of Jalisco, and the seat of the municipality of Guadalajara. The city is located in the central region of Jalisco in the western-pacific area of Mexico. With a population of 1,564,514 it is Mexico's second most populous municipality...
and
Sonora
Sonora
Sonora officially Estado Libre y Soberano de Sonora is one of the 31 states which, with the Federal District, comprise the 32 Federal Entities of Mexico. It is divided into 72 municipalities; the capital city is Hermosillo....
they are called
birotes
which are often made with
sourdough
Sourdough
Sourdough is a dough containing a Lactobacillus culture, usually in symbiotic combination with yeasts. It is one of two principal means of biological leavening in bread baking, along with the use of cultivated forms of yeast . It is of particular importance in baking rye-based breads, where yeast...
. In northern Mexico they're known both as
bolillos
and
pan blanco
, whereas in Northeast Mexico it is known as
pan francés
. In
Sinaloa
Sinaloa
Sinaloa officially Estado Libre y Soberano de Sinaloa is one of the 31 states which, with the Federal District, comprise the 32 Federal Entities of Mexico. It is divided in 18 municipalities and its capital city is Culiacán Rosales....
, they are called
torcido
and
birote
. In
Brazil
Brazil
Brazil , officially the Federative Republic of Brazil , is the largest country in South America. It is the world's fifth largest country, both by geographical area and by population with over 192 million people...
, a similar bread is made and known as
pão francês
or
pão de sal
.
Slang
Bolillo
is a
slang
Slang
Slang is the use of informal words and expressions that are not considered standard in the speaker's language or dialect but are considered more acceptable when used socially. Slang is often to be found in areas of the lexicon that refer to things considered taboo...
term used in some parts of
Latin America
Latin America
Latin America is a region of the Americas where Romance languages – particularly Spanish and Portuguese, and variably French – are primarily spoken. Latin America has an area of approximately 21,069,500 km² , almost 3.9% of the Earth's surface or 14.1% of its land surface area...
and the
United States
United States
The United States of America is a federal constitutional republic comprising fifty states and a federal district...
to refer to Anglos (
Caucasian
White people
White people is a term which usually refers to human beings characterized, at least in part, by the light pigmentation of their skin...
), due to the white interior of the bread. The usage is similar to the word
Gringo
Gringo
Gringo is a slang Spanish and Portuguese word used in Spanish-speaking and Portuguese-speaking countries in Latin America, to denote foreigners, often from the United States. The term can be applied to someone who is actually a foreigner, or it can denote a strong association or assimilation into...
or
Gabacho
Gabacho
Gabacho is a word used in the Spanish language to describe foreigners of different origins:* In Spain, it is used as a pejorative for French people. It comes from Occitan gavach...
, but it is usually a pejorative slur, referring to the individual(s) as "white bread" - one who is culturally unaware.