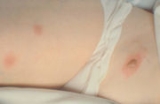 Blastomycosis
The term "South American blastomycosis" is sometimes used to describe infection with Paracoccidioides brasiliensis

Paracoccidioides brasiliensis

Paracoccidioides brasiliensis is a dimorphic species of fungus responsible for paracoccidioidomycosis. While the route of infection is assumed to be via inhalation, the environmental habit of P. brasiliensis is unknown...


, though the term Paracoccidioidomycosis

Paracoccidioidomycosis

Paracoccidioidomycosis is a mycosis caused by the fungus Paracoccidioides brasiliensis...


is more frequently used to describe this condition.
Blastomycosis
(also known as "North American blastomycosis," "Blastomycetic dermatitis," and "Gilchrist's disease") is a fungal infection caused by the organism
Blastomyces

Blastomyces

Blastomyces is a fungal genus responsible for the medical condition blastomycosis.The most well known species of the genus is Blastomyces dermatitidis. B. dermatitidis is a dimorphic fungal pathogen, found primarily in the Mid-West and Northern United States and Canada...


dermatitidis
.
Endemic
Endemic (epidemiology)
In epidemiology, an infection is said to be endemic in a population when that infection is maintained in the population without the need for external inputs. For example, chickenpox is endemic in the UK, but malaria is not...
to portions of
North America
North America
North America is a continent wholly within the Northern Hemisphere and almost wholly within the Western Hemisphere. It is also considered a northern subcontinent of the Americas...
, blastomycosis causes clinical symptoms similar to
histoplasmosis
Histoplasmosis
Histoplasmosis is a disease caused by the fungus Histoplasma capsulatum. Symptoms of this infection vary greatly, but the disease primarily affects the lungs...
.
Signs and symptoms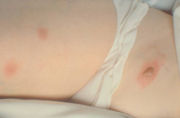 Blastomycosis
can present in one of the following ways:
a flu-like illness with fever, chills, myalgia, headache, and a nonproductive cough which resolves within days.
an acute illness resembling bacterial pneumonia

Pneumonia

Pneumonia is an inflammatory condition of the lung—especially affecting the microscopic air sacs —associated with fever, chest symptoms, and a lack of air space on a chest X-ray. Pneumonia is typically caused by an infection but there are a number of other causes...


, with symptoms of high fever, chills, a productive cough, and pleuritic chest pain.
a chronic illness that mimics tuberculosis or lung cancer, with symptoms of low-grade fever, a productive cough, night sweats, and weight loss.
a fast, progressive, and severe disease that manifests as ARDS, with fever, shortness of breath, tachypnea, hypoxemia, and diffuse pulmonary infiltrates.
skin lesions, usually asymptomatic, appear as ulcerated lesions with small pustules at the margins
bone lytic lesions can cause bone or joint pain.
prostatitis may be asymptomatic or may cause pain on urinating.
laryngeal involvement causes hoarseness.
Cause
Infection occurs by inhalation of the fungus from its natural soil habitat. Once inhaled in the lungs, they multiply and may disseminate through the
blood
Blood
Blood is a specialized bodily fluid in animals that delivers necessary substances such as nutrients and oxygen to the cells and transports metabolic waste products away from those same cells....
and lymphatics to other organs, including the skin, bone, genitourinary tract, and brain. The incubation period is 30 to 100 days, although infection can be asymptomatic.
Diagnosis
Once suspected, the diagnosis of
blastomycosis
can usually be confirmed by demonstration of the characteristic broad based budding organisms in sputum or tissues by KOH prep, cytology, or histology. Tissue biopsy of skin or other organs may be required in order to diagnose extra-pulmonary disease. Commercially available urine antigen testing appears to be quite sensitive in suggesting the diagnosis in cases where the organism is not readily detected. While culture of the organism remains the definitive diagnostic standard, its slow growing nature can lead to delays in treatment of up to several weeks.
However, sometimes blood and sputum cultures may not detect blastomycosis; lung biopsy is another option, and results will be shown promptly.
Treatment
Itraconazole
Itraconazole
Itraconazole , invented in 1984, is a triazole antifungal agent that is prescribed to patients with fungal infections. The drug may be given orally or intravenously.-Medical uses:...
given orally is the treatment of choice for most forms of the disease.
Ketoconazole
Ketoconazole
Ketoconazole is a synthetic antifungal drug used to prevent and treat fungal skin infections, especially in immunocompromised patients such as those with AIDS or those on chemotherapy. Ketoconazole is sold commercially as an anti-dandruff shampoo, topical cream, and oral tablet.Ketoconazole is...
may also be used. Cure rates are high, and the treatment over a period of months is usually well tolerated.
Amphotericin B
Amphotericin B
Amphotericin B is a polyene antifungal drug, often used intravenously for systemic fungal infections...
is considerably more toxic, and is usually reserved for immunocompromised patients who are critically ill and those with central nervous system disease.
Fluconazole
Fluconazole
Fluconazole is a triazole antifungal drug used in the treatment and prevention of superficial and systemic fungal infections. In a bulk powder form, it appears as a white crystalline powder, and it is very slightly soluble in water and soluble in alcohol. It is commonly marketed under the trade...
has also been tested on patients in Canada.
Prognosis
Mortality rate in treated cases
0-2% in treated cases among immunocompetent patients
29% in immunocompromised patients
40% in the subgroup of patients with AIDS
68% in patients presenting as acute respiratory distress syndrome

Acute respiratory distress syndrome

Acute respiratory distress syndrome , also known as respiratory distress syndrome or adult respiratory distress syndrome is a serious reaction to various forms of injuries to the lung....


(ARDS)
Epidemiology
In the United States, blastomycosis is endemic in the
Mississippi river
Mississippi River
The Mississippi River is the largest river system in North America. Flowing entirely in the United States, this river rises in western Minnesota and meanders slowly southwards for to the Mississippi River Delta at the Gulf of Mexico. With its many tributaries, the Mississippi's watershed drains...
and
Ohio river
Ohio River
The Ohio River is the largest tributary, by volume, of the Mississippi River. At the confluence, the Ohio is even bigger than the Mississippi and, thus, is hydrologically the main stream of the whole river system, including the Allegheny River further upstream...
basins and around the Great Lakes. The annual incidence is less than 1 case per 100,000 people in
Mississippi
Mississippi
Mississippi is a U.S. state located in the Southern United States. Jackson is the state capital and largest city. The name of the state derives from the Mississippi River, which flows along its western boundary, whose name comes from the Ojibwe word misi-ziibi...
,
Louisiana
Louisiana
Louisiana is a state located in the southern region of the United States of America. Its capital is Baton Rouge and largest city is New Orleans. Louisiana is the only state in the U.S. with political subdivisions termed parishes, which are local governments equivalent to counties...
,
Kentucky
Kentucky
The Commonwealth of Kentucky is a state located in the East Central United States of America. As classified by the United States Census Bureau, Kentucky is a Southern state, more specifically in the East South Central region. Kentucky is one of four U.S. states constituted as a commonwealth...
, and
Arkansas
Arkansas
Arkansas is a state located in the southern region of the United States. Its name is an Algonquian name of the Quapaw Indians. Arkansas shares borders with six states , and its eastern border is largely defined by the Mississippi River...
. The cases are greater in northern states such as
Wisconsin
Wisconsin
Wisconsin is a U.S. state located in the north-central United States and is part of the Midwest. It is bordered by Minnesota to the west, Iowa to the southwest, Illinois to the south, Lake Michigan to the east, Michigan to the northeast, and Lake Superior to the north. Wisconsin's capital is...
, where from 1986 to 1995 there were 1.4 cases per 100,000 people. It also frequently affects hunting dogs in northern Wisconsin and the upper Mississippi and Wisconsin Rivers.
In
Canada
Canada
Canada is a North American country consisting of ten provinces and three territories. Located in the northern part of the continent, it extends from the Atlantic Ocean in the east to the Pacific Ocean in the west, and northward into the Arctic Ocean...
, most cases of blastomycosis occur in
Northwestern Ontario
Northwestern Ontario
Northwestern Ontario is the region within the Canadian province of Ontario which lies north and west of Lake Superior, and west of Hudson Bay and James Bay. It includes most of subarctic Ontario. Its western boundary is the Canadian province of Manitoba, which disputed Ontario's claim to the...
, particularly around the Kenora area. The moist, acidic soil in the surrounding woodland harbors the fungus.
Blastomycosis is distributed internationally; cases are sometimes reported from
Africa
Africa
Africa is the world's second largest and second most populous continent, after Asia. At about 30.2 million km² including adjacent islands, it covers 6% of the Earth's total surface area and 20.4% of the total land area...
.
History
Blastomycosis was first described by Thomas Casper Gilchrist in 1894 and sometimes goes by the eponym
Gilchrist's disease
. It is also sometimes referred to as Chicago Disease.
External links