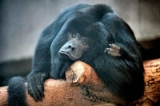 Black Howler
The
Black howler
is a species of
howler monkey
Howler monkey
Howler monkeys are among the largest of the New World monkeys. Fifteen species are currently recognised. Previously classified in the family Cebidae, they are now placed in the family Atelidae. These monkeys are native to South and Central American forests...
, a large
New World monkey
New World monkey
New World monkeys are the five families of primates that are found in Central and South America: Callitrichidae, Cebidae, Aotidae, Pitheciidae, and Atelidae. The five families are ranked together as the Platyrrhini parvorder and the Ceboidea superfamily, which are essentially synonymous since...
, from northeast
Argentina
Argentina
Argentina , officially the Argentine Republic , is the second largest country in South America by land area, after Brazil. It is constituted as a federation of 23 provinces and an autonomous city, Buenos Aires...
, east
Bolivia
Bolivia
Bolivia officially known as Plurinational State of Bolivia , is a landlocked country in central South America. It is the poorest country in South America...
, east and south
Brazil
Brazil
Brazil , officially the Federative Republic of Brazil , is the largest country in South America. It is the world's fifth largest country, both by geographical area and by population with over 192 million people...
and
Paraguay
Paraguay
Paraguay , officially the Republic of Paraguay , is a landlocked country in South America. It is bordered by Argentina to the south and southwest, Brazil to the east and northeast, and Bolivia to the northwest. Paraguay lies on both banks of the Paraguay River, which runs through the center of the...
. Together with the
brown howler
Brown Howler
The Brown howler , also known as Brown howling monkey, is a species of howler monkey, a type of New World monkey, that lives in forests in south-eastern Brazil and far north-eastern Argentina . It lives in groups of 2 to 11 individuals...
, it is the southernmost member of the
Alouatta
genus
Genus
In biology, a genus is a low-level taxonomic rank used in the biological classification of living and fossil organisms, which is an example of definition by genus and differentia...
. Only the adult male is black; adult females and juveniles of both genders are overall whitish to yellowish-buff. However, even among the adult males there are variations, and some have patches of reddish-brown or buff fur.
They live in groups of three to 19 individuals (usually 7 to 9). There are usually one to three males for every seven to nine females in a group. When mating, males and females within a single group pair off.
Named for their vocalizations, they may be heard most often around sunrise. This "dawn chorus" sounds much more like roaring than howling, and it announces the howlers' position as a means to avoiding conflict with other groups. The call can be heard up to 5 km away.
These monkeys commonly sleep or rest up to 70 percent of the day, making it one of the least active monkeys in the New World. Their
habitat
Habitat
* Habitat , a place where a species lives and grows*Human habitat, a place where humans live, work or play** Space habitat, a space station intended as a permanent settlement...
is
forest
Forest
A forest, also referred to as a wood or the woods, is an area with a high density of trees. As with cities, depending where you are in the world, what is considered a forest may vary significantly in size and have various classification according to how and what of the forest is composed...
, especially semi-
deciduous
Deciduous
Deciduous means "falling off at maturity" or "tending to fall off", and is typically used in reference to trees or shrubs that lose their leaves seasonally, and to the shedding of other plant structures such as petals after flowering or fruit when ripe...
and
gallery
Gallery forest
Gallery forests are evergreen forests that form as corridors along rivers or wetlands and project into landscapes that are otherwise only sparsely treed such as savannas, grasslands or deserts....
. Black Howlers are herbivorous, eating mostly
leaves
Leaves
-History:Vocalist Arnar Gudjonsson was formerly the guitarist with Mower, and he was joined by Hallur Hallsson , Arnar Ólafsson , Bjarni Grímsson , and Andri Ásgrímsson . Late in 2001 they played with Emiliana Torrini and drew early praise from the New York Times...
, and occasionally
fruit
Fruit
In broad terms, a fruit is a structure of a plant that contains its seeds.The term has different meanings dependent on context. In non-technical usage, such as food preparation, fruit normally means the fleshy seed-associated structures of certain plants that are sweet and edible in the raw state,...
, such as
figs
Ficus
Ficus is a genus of about 850 species of woody trees, shrubs, vines, epiphytes, and hemiepiphyte in the family Moraceae. Collectively known as fig trees or figs, they are native throughout the tropics with a few species extending into the semi-warm temperate zone. The Common Fig Ficus is a genus of...
. They generally prefer walking and climbing to running or leaping. The
prehensile tail
Prehensile tail
A prehensile tail is the tail of an animal that has adapted to be able to grasp and/or hold objects. Fully prehensile tails can be used to hold and manipulate objects, and in particular to aid arboreal creatures in finding and eating food in the trees...
is very strong and acts as a fifth limb, allowing the monkeys greater versatility when climbing and allowing them greater safety in the occasional fall from a high branch. Because their limb structure makes terrestrial movement awkward, they spend most of their time in the trees and only come down for water during dry spells. Otherwise, the monkeys drink by wetting their hand on a moist leaf and then licking the water of their hand. Their lifespan is up to 20 years, but more commonly 15 years in the wild.
Photo Links