 Bishop of Augsburg
For the Prince-Bishop

Prince-Bishop

A Prince-Bishop is a bishop who is a territorial Prince of the Church on account of one or more secular principalities, usually pre-existent titles of nobility held concurrently with their inherent clerical office...


who ruled before 1818, see Prince-Bishopric of Augsburg

Prince-Bishopric of Augsburg

The Prince-Bishopric of Augsburg was one of the prince-bishoprics of the Holy Roman Empire, which belonged to the Swabian Circle.-Early period:...


.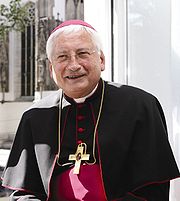 The
Bishop

Bishop

A bishop is an ordained or consecrated member of the Christian clergy who is generally entrusted with a position of authority and oversight. Within the Catholic Church, Eastern Orthodox, Oriental Orthodox Churches, in the Assyrian Church of the East, in the Independent Catholic Churches, and in the...


of Augsburg

Augsburg

Augsburg is a city in the south-west of Bavaria, Germany. It is a university town and home of the Regierungsbezirk Schwaben and the Bezirk Schwaben. Augsburg is an urban district and home to the institutions of the Landkreis Augsburg. It is, as of 2008, the third-largest city in Bavaria with a...



is the
Ordinary
Ordinary
In those hierarchically organised churches of Western Christianity which have an ecclesiastical law system, an ordinary is an officer of the church who by reason of office has ordinary power to execute the church's laws...
of the Roman Catholic Diocese of Augsburg in the Ecclesiastical province of München und Freising.
The diocese covers an area of 13,250 km².
The current bishop is Konrad Zdarsa who was appointed in 2010.
List of the Bishops of the Roman Catholic Diocese of Augsburg, Germany
Tenure
Incumbent
Notes
5 February 1818 to 9 October 1819
Franz Karl Joseph Fürst von Hohenlohe-Waldenburg-Schillingsfürst
Auxiliary Bishop of Augsburg; confirmed 6 April 1818; died in office
6 December 1819 to 10 March 1824
Joseph Maria Johann Nepomuk Freiherr von Fraunberg
Priest of Regensburg; confirmed 24 May 1824; appointed Archbishop of Bamberg
4 March 1824 to 15 August 1836
Ignatz Albert von Riegg, OSA
Joseph Ignatz Alexius von Riegg ; confirmed 24 May 1824; ordained 11 July 1824; died in office
20 September 1836 to 2 July 1855
Johann Peter von Richarz
Bishop of Speyer; confirmed 21 November 1836; installed 22 February 1837; died in office
12 January 1856 to 17 June 1858
Michael von Deinlein
Auxiliary Bishop of Bamberg; confirmed 13 July 1856; installed 3 September 1856; appointed Archbishop of Bamberg
16 July 1858 to 8 October 1894
Pankratius von Dinkel

Pankratius von Dinkel

Bishop Pankratius von Dinkel was Bishop of Augsburg, Germany from 1858 until his death in 1894.Born on 9 February 1811, Staffelstein; he was ordained and consecrated as a Parish Priest of Bamberg, Germany by Archbishop Gregor Leonhard Andreas von Scherr, O.S.B...



Priest of Bamberg; 27 September 1858; confirmed 21 November 1858; died in office
7 November 1894 to 9 March 1902
Petrus von Hötzl, OFM
Priest of Order of Friars Minor; confirmed 18 March 1895; ordained 1 May 1895; died in office
18 March 1902 to 31 May 1930
Maximilian von Lingg
Priest of Augsburg; confirmed 9 June 1902; ordained 20 July 1902; died in office
17 September 1930 to 9 February 1949
Joseph Kumpfmüller
Priest of Regensburg; ordained 28 October 1930; died in office
9 July 1949 to 11 April 1963
Josef Freundorfer
Priest of Passau; ordained 21 September 1949; died in office
10 September 1963 to 30 March 1992
Josef Stimpfle
Priest of Augsburg; ordained 26 October 1963; retired
24 December 1992 to 9 June 2004
Viktor Josef Dammertz, OSB
Priest of the Order of Saint Benedict

Benedictine

Benedictine refers to the spirituality and consecrated life in accordance with the Rule of St Benedict, written by Benedict of Nursia in the sixth century for the cenobitic communities he founded in central Italy. The most notable of these is Monte Cassino, the first monastery founded by Benedict...


; ordained 30 January 1993; retired
1 October 2005 - 8 May 2010
Walter Mixa

Walter Mixa

thumb|Walter Mixa Walter Johannes Mixa is a German Catholic priest, and Bishop Emeritus of Augsburg and Ordinary Emeritus of the Bundeswehr. He resigned as Bishop of Augsburg in 2010 due to allegations of fraud and violence towards children who had been in his care.- Biography :Mixa was born in...



formerly Bishop of Eichstätt; ordained 23 March 1996; Military Bishop of Germany, from 31 August 2000 to 8 May 2010; retired.
8 July 2010 -
Konrad Zdarsa
formerly Bishop of Görlitz; ordained 23 January 2007;
See also
Prince-bishop of Augsburg