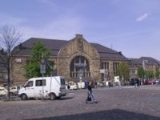 Bielefeld Hauptbahnhof
is the
central railway station
Central station
A central station usually designates the principal passenger railway station of cities which have multiple stations. The central station functions as the main transport hub for rail transport, normally with interchange with other modes of public transport...
of the city of
Bielefeld
Bielefeld
Bielefeld is an independent city in the Ostwestfalen-Lippe Region in the north-east of North Rhine-Westphalia, Germany. With a population of 323,000, it is also the most populous city in the Regierungsbezirk Detmold...
in
Germany
Germany
Germany , officially the Federal Republic of Germany , is a federal parliamentary republic in Europe. The country consists of 16 states while the capital and largest city is Berlin. Germany covers an area of 357,021 km2 and has a largely temperate seasonal climate...
. The station was opened in 1847 as part of the
Cologne-Minden trunk line
Cologne-Minden trunk line
The Cologne-Minden trunk line is a railway built by the Cologne-Minden Railway Company . The line is the westernmost part of the railway line from Berlin to the Rhine that was proposed by Friedrich List in his Concept for a railway network in Germany, published in 1833...
. The current building was built in 1910 in the
Art Nouveau
Art Nouveau
Art Nouveau is an international philosophy and style of art, architecture and applied art—especially the decorative arts—that were most popular during 1890–1910. The name "Art Nouveau" is French for "new art"...
style.
Train services
The following services currently call at Bielefeld Hbf:
Westfalen-Express Düsseldorf - Duisburg - Essen - Dortmund - Hamm - Bielefeld - Minden
Wiehengebirgs-Bahn Bad Bentheim - Rheine - Osnabrück - Herford - Bielefeld
Series
Train Type
Route
Material
Frequency
Notes
ICE10
DB
Berlin Ostbahnhof - Berlin Hbf

Berlin Hauptbahnhof

' , is the main railway station in Berlin, Germany. It began full operation two days after a ceremonial opening on 26 May 2006. It is located on the site of the historic Lehrter Bahnhof, and until it opened as a main line station, it was a stop on the Berlin S-Bahn suburban railway temporarily...


- Berlin-Spandau

Berlin-Spandau railway station

Berlin-Spandau is a railway station situated in the Spandau district of Berlin, Germany located at the western end of the S-Bahn lines and .-Overview:...


- Wolfsburg Hbf

Wolfsburg Hauptbahnhof

Wolfsburg Hauptbahnhof or Wolfsburg Hbf is a railway station located in Wolfsburg, Germany.-History:The station was opened in 1929 and was rebuilt, with the new building being opened in 1957. It is protected as a heritage site. In 2010, a sculpture by Quinto Provenziani honouring Italian immigrants...


- Hannover Hbf

Hannover Hauptbahnhof

is the Hauptbahnhof for the city of Hanover in Lower Saxony, Germany.-History:The first station on the current site, a temporary building serving the line to Lehrte, was erected in 1843...


- Bielefeld Hbf - Hamm - Dortmund Hbf

Dortmund Hauptbahnhof

is the central station for the city of Dortmund in Germany.The station's origins lie in a joint station of the Köln-Mindener Eisenbahn and Bergisch-Märkische Eisenbahn which was built north of the city centre in 1847. That station was replaced by a new station, erected in 1910 at the current site....


- Bochum Hbf

Bochum Hauptbahnhof

is the Hauptbahnhof for the city of Bochum in western Germany. In its current incarnation, it was built from 1955 to 1957 and is one of the most notable 1950s railway stations in Germany....


- Essen Hbf

Essen Hauptbahnhof

is the Hauptbahnhof for the city of Essen in western Germany. It is situated south of the old town centre, next to the A 40 motorway.It was opened in 1862 by the Bergisch-Märkische Eisenbahn...


- Duisburg Hbf

Duisburg Hauptbahnhof

is the Hauptbahnhof of the city of Duisburg in western Germany. It is situated at the meeting point of many important national and international railway lines in the Northwestern Ruhr valley.- Lines :...


- Düsseldorf Flughafen - Düsseldorf Hbf

Düsseldorf Hauptbahnhof

is the Hauptbahnhof for the city of Düsseldorf in Germany, state capital of North Rhine-Westphalia.-History:The station was opened on 1 October 1891 opened as Düsseldorf Central Station...


- Köln Messe/Deutz - Köln/Bonn Flughafen
ICE 1
1x per hour
Splits at Hamm with other set of ICE10 (below)
ICE10
DB
Berlin Ostbahnhof - Berlin Hbf

Berlin Hauptbahnhof

' , is the main railway station in Berlin, Germany. It began full operation two days after a ceremonial opening on 26 May 2006. It is located on the site of the historic Lehrter Bahnhof, and until it opened as a main line station, it was a stop on the Berlin S-Bahn suburban railway temporarily...


- Berlin-Spandau

Berlin-Spandau railway station

Berlin-Spandau is a railway station situated in the Spandau district of Berlin, Germany located at the western end of the S-Bahn lines and .-Overview:...


- Wolfsburg Hbf

Wolfsburg Hauptbahnhof

Wolfsburg Hauptbahnhof or Wolfsburg Hbf is a railway station located in Wolfsburg, Germany.-History:The station was opened in 1929 and was rebuilt, with the new building being opened in 1957. It is protected as a heritage site. In 2010, a sculpture by Quinto Provenziani honouring Italian immigrants...


- Hannover Hbf

Hannover Hauptbahnhof

is the Hauptbahnhof for the city of Hanover in Lower Saxony, Germany.-History:The first station on the current site, a temporary building serving the line to Lehrte, was erected in 1843...


- Bielefeld Hbf - Hamm - Hagen Hbf

Hagen Hauptbahnhof

is the Hauptbahnhof for the city of Hagen in western Germany. It is an important rail hub for the southeastern Ruhr area, offering regional and long distance connections....


- Wuppertal Hbf - Köln Hbf

Köln Hauptbahnhof

Köln Hauptbahnhof is the central railway station in Cologne, Germany.The station is an important local, national and international hub, with many ICE, Thalys and Intercity trains calling there, as well as regional RegionalExpress, RegionalBahn and local S-Bahn trains...



ICE 1
1x per hour
Splits at Hamm with other set of ICE10 (above)
IC32
DB
Salzburg Hbf

Salzburg Hauptbahnhof

is the Hauptbahnhof at Salzburg, capital of the federal state of Salzburg in Austria. It is the most important station in the agglomeration of Salzburg, and a major transportation hub in western Austria.-Overview:...


- Freilassing - Traunstein - Prien a Chiemsee - Bad Endorf - Rosenheim - München Ost - München Hbf

München Hauptbahnhof

Munich Central Station is the main railway station of the city of Munich in Germany. It is one of the three long distance train stations in Munich, the others being München-Pasing and München Ost. The station sees about 350,000 passengers a day, which puts it on par with other large stations in...


- München-Pasing

München-Pasing railway station

München-Pasing is a railway station with nine platforms situated in the west of Munich. It is the third-largest station in Munich, after München Hauptbahnhof and München Ost.__FORCETOC__- History :...


- Augsburg Hbf

Augsburg Hauptbahnhof

is the Hauptbahnhof for the Bavarian city of Augsburg, situated in southern Germany.The station has one of the oldest still existing station halls in Germany, which was built from 1843 to 1846 after plans by architect Eduard Rüber. It was reconstructed in 1869 according to Friedrich Bürklein's plans...


- Ulm Hbf

Ulm Hauptbahnhof

is the Hauptbahnhof or central railway station for the city of Ulm, which lies on the Danube, on the border of the German states of Baden-Württemberg and Bavaria. It is on ICE line from Stuttgart to Munich and the Paris –Budapest Magistrale for Europe line that is supported by the European Union...


- Göppingen - Plochingen - Stuttgart Hbf

Stuttgart Hauptbahnhof

is the Hauptbahnhof of the city of Stuttgart, the capital of the Land of Baden-Württemberg, in southwestern Germany. It is the largest regional and long-distance railway station in Stuttgart, the main node of the Stuttgart S-Bahn network, and, together with the halt at Charlottenplatz, the main...


- Heidelberg Hbf

Heidelberg Hauptbahnhof

is the central station for Heidelberg. In 2005 it was used by 30,472 passengers daily and is one of the largest passenger stations in Baden-Wurttemberg. The main station entrance opened in 1955 in Willy-Brandt-Platz in the western district of Heidelberg, on the edge of the district. Diagonally...


- Mannheim Hbf

Mannheim Hauptbahnhof

is the central railway station of Mannheim in Germany. It is the second largest traffic hub in southwestern Germany after Stuttgart Hauptbahnhof, with 658 trains a day, including 238 long-distance trains. 100,000 passengers embark, disembark or transfer between trains at the station each day...


- Mainz Hbf

Mainz Hauptbahnhof

is the Hauptbahnhof for the city of Mainz in the German state of Rhineland-Palatinate. It is used by about 80,000 travellers and visitors each day and is therefore one of the busiest 21 stations in Germany...


- Bingen Hbf - Koblenz Hbf

Koblenz Hauptbahnhof

is the Hauptbahnhof for the city of Koblenz in the German state of Rhineland-Palatinate. It is the focal point of rail transport in the Rhine-Moselle-Lahn area. It is a through station in southern Koblenz built below Fort Großfürst Konstantin and opened in 1902 in the Neustadt , which was built...


- Andernach - Remagen - Bonn Hbf

Bonn Hauptbahnhof

is a railway station located on the left bank of the Rhine along the Cologne–Mainz line. It is the principal station serving the city of Bonn. In addition to extensive rail service from Deutsche Bahn it acts as a hub for local bus, tram, and Stadtbahn services....


- Köln Hbf

Köln Hauptbahnhof

Köln Hauptbahnhof is the central railway station in Cologne, Germany.The station is an important local, national and international hub, with many ICE, Thalys and Intercity trains calling there, as well as regional RegionalExpress, RegionalBahn and local S-Bahn trains...


- Düsseldorf Hbf

Düsseldorf Hauptbahnhof

is the Hauptbahnhof for the city of Düsseldorf in Germany, state capital of North Rhine-Westphalia.-History:The station was opened on 1 October 1891 opened as Düsseldorf Central Station...


- Duisburg Hbf

Duisburg Hauptbahnhof

is the Hauptbahnhof of the city of Duisburg in western Germany. It is situated at the meeting point of many important national and international railway lines in the Northwestern Ruhr valley.- Lines :...


- Essen Hbf

Essen Hauptbahnhof

is the Hauptbahnhof for the city of Essen in western Germany. It is situated south of the old town centre, next to the A 40 motorway.It was opened in 1862 by the Bergisch-Märkische Eisenbahn...


- Bochum Hbf

Bochum Hauptbahnhof

is the Hauptbahnhof for the city of Bochum in western Germany. In its current incarnation, it was built from 1955 to 1957 and is one of the most notable 1950s railway stations in Germany....


- Dortmund Hbf

Dortmund Hauptbahnhof

is the central station for the city of Dortmund in Germany.The station's origins lie in a joint station of the Köln-Mindener Eisenbahn and Bergisch-Märkische Eisenbahn which was built north of the city centre in 1847. That station was replaced by a new station, erected in 1910 at the current site....


- Hamm - Gütersloh Hbf

Gütersloh Hauptbahnhof

is the main station of Gütersloh in the German state of North Rhine-Westphalia. It is on the electrified, four-track main line from the Ruhr to Hanover, opened in 1847 as part of the trunk line of the former Cologne-Minden Railway Company...


- Bielefeld Hbf - Herford

Herford railway station

Herfordis a railway station located in Herford, Germany. The station was opened in 1902 and is located on the Hamm–Minden railway. The train services are operated by Deutsche Bahn, Eurobahn and Westfalenbahn.-Train services:...


- Hannover Hbf

Hannover Hauptbahnhof

is the Hauptbahnhof for the city of Hanover in Lower Saxony, Germany.-History:The first station on the current site, a temporary building serving the line to Lehrte, was erected in 1843...


- Wolfsburg Hbf

Wolfsburg Hauptbahnhof

Wolfsburg Hauptbahnhof or Wolfsburg Hbf is a railway station located in Wolfsburg, Germany.-History:The station was opened in 1929 and was rebuilt, with the new building being opened in 1957. It is protected as a heritage site. In 2010, a sculpture by Quinto Provenziani honouring Italian immigrants...


- Berlin-Spandau

Berlin-Spandau railway station

Berlin-Spandau is a railway station situated in the Spandau district of Berlin, Germany located at the western end of the S-Bahn lines and .-Overview:...


- Berlin Hbf

Berlin Hauptbahnhof

' , is the main railway station in Berlin, Germany. It began full operation two days after a ceremonial opening on 26 May 2006. It is located on the site of the historic Lehrter Bahnhof, and until it opened as a main line station, it was a stop on the Berlin S-Bahn suburban railway temporarily...


- Berlin Südkreuz
Every 2 Hours
IC55
DB
Leipzig Hbf

Leipzig Hauptbahnhof

is, at 83,460 m², Europe's largest railway station when measured by floor area. It has 24 platforms housed in six iron trainsheds; a multi-level concourse with towering stone arches; and a 293 metre-long facade...


- Leipzig/Halle Flughafen - Halle (Saale) Hbf

Halle (Saale) Hauptbahnhof

Halle Hauptbahnhof is the main railway station in the city of Halle in southern part of the German state of Saxony-Anhalt...


- Köthen - Magdeburg Hbf

Magdeburg Hauptbahnhof

is the main railway station in the city of Magdeburg in the northern part of the German state of Saxony-Anhalt.-Importance :The station is the main station of Magdeburg and along with Halle Hauptbahnhof the centre of long-distance rail transport in Saxony-Anhalt...


- Wolfsburg Hbf

Wolfsburg Hauptbahnhof

Wolfsburg Hauptbahnhof or Wolfsburg Hbf is a railway station located in Wolfsburg, Germany.-History:The station was opened in 1929 and was rebuilt, with the new building being opened in 1957. It is protected as a heritage site. In 2010, a sculpture by Quinto Provenziani honouring Italian immigrants...


- Hannover Hbf

Hannover Hauptbahnhof

is the Hauptbahnhof for the city of Hanover in Lower Saxony, Germany.-History:The first station on the current site, a temporary building serving the line to Lehrte, was erected in 1843...


- Minden

Minden railway station

Minden station is a railway station in Minden. The station is located on the Hanover–Minden railway to Hanover, the Hamm–Minden railway to Hamm and the Weser–Aller railway to Rotenburg an der Wümme...


- Bad Oeynhausen

Bad Oeynhausen railway station

Bad Oeynhausen is a railway station in the town of Bad Oeynhausen, North Rhine-Westphalia, Germany. The station lies on the Hamm–Minden railway and the train services are operated by Deutsche Bahn....


- Herford

Herford railway station

Herfordis a railway station located in Herford, Germany. The station was opened in 1902 and is located on the Hamm–Minden railway. The train services are operated by Deutsche Bahn, Eurobahn and Westfalenbahn.-Train services:...


- Bielefeld Hbf - Gütersloh Hbf

Gütersloh Hauptbahnhof

is the main station of Gütersloh in the German state of North Rhine-Westphalia. It is on the electrified, four-track main line from the Ruhr to Hanover, opened in 1847 as part of the trunk line of the former Cologne-Minden Railway Company...


- Hamm - Dortmund Hbf

Dortmund Hauptbahnhof

is the central station for the city of Dortmund in Germany.The station's origins lie in a joint station of the Köln-Mindener Eisenbahn and Bergisch-Märkische Eisenbahn which was built north of the city centre in 1847. That station was replaced by a new station, erected in 1910 at the current site....


- Hagen Hbf

Hagen Hauptbahnhof

is the Hauptbahnhof for the city of Hagen in western Germany. It is an important rail hub for the southeastern Ruhr area, offering regional and long distance connections....


– Wuppertal Hbf - Sollingen Hbf – Köln Hbf

Köln Hauptbahnhof

Köln Hauptbahnhof is the central railway station in Cologne, Germany.The station is an important local, national and international hub, with many ICE, Thalys and Intercity trains calling there, as well as regional RegionalExpress, RegionalBahn and local S-Bahn trains...



Every 2 Hours
RB67
NordWestBahn
Münster Hbf

Münster Hauptbahnhof

-History:The original Münster station was opened in 1848 by the Münster-Hamm Railway Company, when it opened by the Münster–Hamm railway to the then capital of the Prussian Province of Westphalia as a terminus of its branch line from Hamm, where it connected with Cologne-Minden trunk line. The...


- Telgte - Raestrup-Everswinkel - Warendorf - Beelen - Clarholz - Herzebrock - Rheda-Wiedenbrück - Gütersloh Hbf

Gütersloh Hauptbahnhof

is the main station of Gütersloh in the German state of North Rhine-Westphalia. It is on the electrified, four-track main line from the Ruhr to Hanover, opened in 1847 as part of the trunk line of the former Cologne-Minden Railway Company...


- Brackwede

Brackwede railway station

-History:The station was opened in 1847 and lies on the Hamm–Minden railway railway and the Osnabrück to Bielefeld railway. The train services are operated by NordWestBahn.-Train services:The following services currently call at Brackwede:...


- Bielefeld Hbf
RB69
Eurobahn
Münster Hbf

Münster Hauptbahnhof

-History:The original Münster station was opened in 1848 by the Münster-Hamm Railway Company, when it opened by the Münster–Hamm railway to the then capital of the Prussian Province of Westphalia as a terminus of its branch line from Hamm, where it connected with Cologne-Minden trunk line. The...


- Münster-Hiltrup - Rinkerode - Drensteinfurt - Mersch (Westf) - Bockum-Hövel - Hamm - Heesen - Ahlen - Neubeckum - Oelde - Rheda-Wiedenbrück - Gütersloh Hbf

Gütersloh Hauptbahnhof

is the main station of Gütersloh in the German state of North Rhine-Westphalia. It is on the electrified, four-track main line from the Ruhr to Hanover, opened in 1847 as part of the trunk line of the former Cologne-Minden Railway Company...


- Isselhorst-Avenwedde - Brackwede

Brackwede railway station

-History:The station was opened in 1847 and lies on the Hamm–Minden railway railway and the Osnabrück to Bielefeld railway. The train services are operated by NordWestBahn.-Train services:The following services currently call at Brackwede:...


- Bielefeld Hbf
RE70
DB
Bielefeld Hbf - Herford

Herford railway station

Herfordis a railway station located in Herford, Germany. The station was opened in 1902 and is located on the Hamm–Minden railway. The train services are operated by Deutsche Bahn, Eurobahn and Westfalenbahn.-Train services:...


- Löhne (Westfalen)

Löhne railway station

Löhne is a railway station located in Löhne, Germany. The station is located on the Löhne–Rheine, Hamm–Minden and Elze–Löhne lines. The train services are operated by Deutsche Bahn, Eurobahn and Westfalenbahn.-Train services:...


- Bad Oeynhausen

Bad Oeynhausen railway station

Bad Oeynhausen is a railway station in the town of Bad Oeynhausen, North Rhine-Westphalia, Germany. The station lies on the Hamm–Minden railway and the train services are operated by Deutsche Bahn....


- Porta Westfalica

Porta Westfalica railway station

Porta Westfalicais a railway station located in Porta Westfalica, Germany. The station was opened in 1916 and is located on the Hamm–Minden railway...


- Minden

Minden railway station

Minden station is a railway station in Minden. The station is located on the Hanover–Minden railway to Hanover, the Hamm–Minden railway to Hamm and the Weser–Aller railway to Rotenburg an der Wümme...


- Bückeburg

Bückeburg railway station

Bückeburg is a railway station located in Bückeburg, Germany. The station was opened in 1847 and is located on the Hanover–Minden railway. The train services are operated by Deutsche Bahn.-Train services:The following services currently call at Bückeburg:...


- Stadthagen

Stadthagen railway station

Stadthagen is a railway station located in Stadthagen, Germany. The station is located on the Hanover–Minden railway. The train services are operated by Deutsche Bahn.-Train services:The following services currently call at Stadthagen:...


- Haste (Han)

Haste (Han) railway station

Haste is a railway station located in Haste, Germany. The station is located on the Hanover–Minden railway. The train services are operated by Deutsche Bahn.The S1 service operates a circle through Hannover and finishes here...


- Wunstorf

Wunstorf railway station

Wunstorf is a railway station located in Wunstorf, Germany. The station is located on the Hanover–Minden railway and the Bremen–Hanover railway. The train services are operated by Deutsche Bahn...


- Hannover Hbf

Hannover Hauptbahnhof

is the Hauptbahnhof for the city of Hanover in Lower Saxony, Germany.-History:The first station on the current site, a temporary building serving the line to Lehrte, was erected in 1843...


- Lehrte

Lehrte railway station

Lehrte is a railway station located in Lehrte, Germany. The station is located on the Hanover–Brunswick railway. The train services are operated by Deutsche Bahn and as part of the Hanover S-Bahn. Lehrte is served by the S3 and S7. It is in Zone Region of Hannover...


- Hämelerwald - Vöhrum - Peine - Vechelde - Braunschweig Hbf

Braunschweig Hauptbahnhof

is the Hauptbahnhof of the German city Braunschweig. It is about 1.5 km to the southeast the city center and was opened on October 1, 1960, replacing the old passenger station on the southern edge of the old town.-History:...



Every 2 Hours
Weser-Leine-Express
RB71
Eurobahn
Rahden - Espelkamp - Lübbecke - Holzhausen-Heddinghausen - Mesch Neue Mühle - Bieren-Rödinghausen - Bünde

Bünde railway station

Bünde is a railway station located in Bünde, Germany. The station is located on the Löhne–Rheine railway and Rahden–Herford railway. The train services are operated by Deutsche Bahn, Westfalenbahn and Eurobahn.-Train services:...


- Kirchlengern

Kirchlengern railway station

Kirchlengern is a railway station located in Kirchlengern, Germany. The station is located on the Löhne–Rheine line. The train services are operated by Deutsche Bahn, Eurobahn and Westfalenbahn.-Train services:...


- Hiddenhausen-Schweicheln

Hiddenhausen-Schweicheln railway station

Hiddenhausen-Schweicheln is a railway station located in Hiddenhausen, Germany. The station is located on the Hamm–Minden railway line. The train services are operated by Eurobahn and Westfalenbahn.-Train services:...


- Herford

Herford railway station

Herfordis a railway station located in Herford, Germany. The station was opened in 1902 and is located on the Hamm–Minden railway. The train services are operated by Deutsche Bahn, Eurobahn and Westfalenbahn.-Train services:...


- Brake bei Bielefeld

Brake bei Bielefeld railway station

Brake bei Bielefeld is a railway station located in Brake, a part of Bielefeld, Germany. The station is located on the Hamm–Minden railway line. The train services are operated by Eurobahn and Westfalenbahn.-Train services:...


- Bielefeld Hbf - Bielefeld Ost - Oldentrup - Ubbedissen - Oerlingshausen - Helpup - Ehlenbruch- Hörstmar (Lippe) - Lage (Lippe) - Lemgo - Lemgo-Lüttfeld
1x per hour
Revensberger Bahn
RB74
NordWestBahn
Bielefeld Hbf - Brackwede

Brackwede railway station

-History:The station was opened in 1847 and lies on the Hamm–Minden railway railway and the Osnabrück to Bielefeld railway. The train services are operated by NordWestBahn.-Train services:The following services currently call at Brackwede:...


- Brackwede Süd - Windelsbleiche - Sennestadt - Schloß Holte - Hövelriege - Hövelhof - Sennelager - Paderborn-Schloss Neuhaus - Paderborn Nord - Paderborn Kasseler Tor - Paderborn Hbf

Paderborn Hauptbahnhof

is the main passenger station in the city of Paderborn in the German state of North Rhine-Westphalia. It is located on the Hamm–Warburg line, part of the Mid-Germany Connection from Cologne or Düsseldorf to Thuringia and Saxony...



RB75
NordWestBahn
Osnabrück Hbf

Osnabrück Hauptbahnhof

Osnabrück Hauptbahnhof or Osnabrück Hbf is a railway station located in Osnabrück, Germany. The station was opened in 1895 and is located on the Wanne-Eickel–Hamburg, Löhne–Rheine, Osnabrück–Bielefeld and the Oldenburg–Osnabrück lines. The train services are operated by Deutsche Bahn, NordWestBahn...


- Osnabrück-Sutthausen

Osnabrück-Sutthausen railway station

-History:The station Osnabrück to Bielefeld railway. The train services are operated by NordWestBahn.-Train services:The following services currently call at Osnabrück-Sutthausen:-Bus services:There is a bus service to Osnabrück....


- Oesede

Oesede railway station

-History:The station Osnabrück to Bielefeld railway. The train services are operated by NordWestBahn.-Train services:The following services currently call at Oesede:...


- Kloster Oesede

Kloster Oesede railway station

-History:The station Osnabrück to Bielefeld railway. The train services are operated by NordWestBahn.-Train services:The following services currently call at Kloster Oesede:...


- Wellendorf

Wellendorf railway station

-History:The station Osnabrück to Bielefeld railway. The train services are operated by NordWestBahn.-Train services:The following services currently call at Wellendorf:...


- Hilter

Hilter railway station

Hilter is a railway station located in Hilter, Germany.-History:The station Osnabrück to Bielefeld railway. The train services are operated by NordWestBahn.-Train services:The following services currently call at Hilter:...


- Dissen-Bad Rothenfelde

Dissen-Bad Rothenfelde railway station

Dissen-Bad Rothenfelde is a railway station located in Dissen am Teutoburger Wald and close to Bad Rothenfelde, Germany.-History:The station Osnabrück to Bielefeld railway. The train services are operated by NordWestBahn.-Train services:...


- Westbarthausen

Westbarthausen railway station

-History:The station Osnabrück to Bielefeld railway. The train services are operated by NordWestBahn.-Train services:The following services currently call at Westbarthausen:...


- Borgholzhausen

Borgholzhausen railway station

Borgholzhausen is a railway station located 3 km south west of Borgholzhausen, Germany.-History:The station Osnabrück to Bielefeld railway. The train services are operated by NordWestBahn.-Train services:...


- Hesseln

Hesseln railway station

-History:The station Osnabrück to Bielefeld railway. The train services are operated by NordWestBahn.-Train services:The following services currently call at Hesseln:...


- Halle Gerry-Weber-Stadion

Halle Gerry-Weber-Stadion railway station

Halle Gerry-Weber-Stadion is a railway station located in Halle, Germany.-History:The station Osnabrück to Bielefeld railway. The train services are operated by NordWestBahn. The station lies approx. 500m from the Gerry Weber Stadion, a stadium for sports and concerts.-Train services:The following...


- Halle (Westf)

Halle (Westf) railway station

Halle is a railway station located in Halle, Germany.-History:The station Osnabrück to Bielefeld railway. The train services are operated by NordWestBahn.-Train services:The following services currently call at Halle:...


- Künsebeck

Künsebeck railway station

-History:The station Osnabrück to Bielefeld railway. The train services are operated by NordWestBahn.-Train services:The following services currently call at Künsebeck:...


- Steinhagen

Steinhagen railway station

-History:The station Osnabrück to Bielefeld railway. The train services are operated by NordWestBahn.-Train services:The following services currently call at Steinhagen:...


- Steinhagen Bielefeldstrasse

Steinhagen Bielefeldstrasse railway station

-History:The station Osnabrück to Bielefeld railway. The train services are operated by NordWestBahn.-Train services:The following services currently call at Steinhagen Bielefeldstrasse:...


- Quelle

Quelle railway station

-History:The station Osnabrück to Bielefeld railway. The train services are operated by NordWestBahn.-Train services:The following services currently call at Quelle:...


- Quelle-Kupferheide

Quelle-Kupferheide railway station

-History:The station Osnabrück to Bielefeld railway. The train services are operated by NordWestBahn.-Train services:The following services currently call at Quelle-Kupferheide:...


- Brackwede

Brackwede railway station

-History:The station was opened in 1847 and lies on the Hamm–Minden railway railway and the Osnabrück to Bielefeld railway. The train services are operated by NordWestBahn.-Train services:The following services currently call at Brackwede:...


– Bielefeld Hbf
1x per hour
Haller Willem
RE78
DB
Bielefeld Hbf - Herford

Herford railway station

Herfordis a railway station located in Herford, Germany. The station was opened in 1902 and is located on the Hamm–Minden railway. The train services are operated by Deutsche Bahn, Eurobahn and Westfalenbahn.-Train services:...


- Löhne (Westfalen)

Löhne railway station

Löhne is a railway station located in Löhne, Germany. The station is located on the Löhne–Rheine, Hamm–Minden and Elze–Löhne lines. The train services are operated by Deutsche Bahn, Eurobahn and Westfalenbahn.-Train services:...


- Bad Oeynhausen

Bad Oeynhausen railway station

Bad Oeynhausen is a railway station in the town of Bad Oeynhausen, North Rhine-Westphalia, Germany. The station lies on the Hamm–Minden railway and the train services are operated by Deutsche Bahn....


- Porta Westfalica

Porta Westfalica railway station

Porta Westfalicais a railway station located in Porta Westfalica, Germany. The station was opened in 1916 and is located on the Hamm–Minden railway...


- Minden

Minden railway station

Minden station is a railway station in Minden. The station is located on the Hanover–Minden railway to Hanover, the Hamm–Minden railway to Hamm and the Weser–Aller railway to Rotenburg an der Wümme...


- Petershagen-Lahde - Leese-Stolzenau - Nienburg

Nienburg railway station

Nienburg is a railway station located in Nienburg, Germany.-History:The station is located on the Bremen–Hanover railway. The train services are operated by Deutsche Bahn. Nienburg is served by the S2. It is in the Außenraum zone of Hannover. For Information see www.gvh.de-Train services:The...



DBAG Class 425

DBAG Class 425

The Classes 425 and 426 EMUs are a class of electric multiple units built by a consortium of Siemens, Bombardier and DWA and operated by DB Regio in Germany...



Every 2 Hours, Monday to Friday only
Porta-Express
RE82
NordWestBahn
Bielefeld Hbf - Oerlinghausen - Lage (Lippe) - Detmold - Horn-Bad Meinberg - Altenbeken