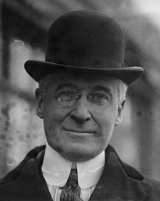 Bernard Baruch
Bernard Mannes Baruch
was an
American
United States
The United States of America is a federal constitutional republic comprising fifty states and a federal district...
financier
Financier
Financier is a term for a person who handles typically large sums of money, usually involving money lending, financing projects, large-scale investing, or large-scale money management. The term is French, and derives from finance or payment...
,
stock-market
Stock market
A stock market or equity market is a public entity for the trading of company stock and derivatives at an agreed price; these are securities listed on a stock exchange as well as those only traded privately.The size of the world stock market was estimated at about $36.6 trillion...
speculator
Speculation
In finance, speculation is a financial action that does not promise safety of the initial investment along with the return on the principal sum...
,
statesman
Statesman
A statesman is usually a politician or other notable public figure who has had a long and respected career in politics or government at the national and international level. As a term of respect, it is usually left to supporters or commentators to use the term...
, and
political consultant
Political consulting
Political consulting, beyond the self-evident definition of consulting in political matters, refers to a specific management consulting industry which has grown up around advising and assisting political campaigns. This article deals primarily with the development and nature of political consulting...
. After his success in
business
Business
A business is an organization engaged in the trade of goods, services, or both to consumers. Businesses are predominant in capitalist economies, where most of them are privately owned and administered to earn profit to increase the wealth of their owners. Businesses may also be not-for-profit...
, he devoted his time toward advising
U.S. Presidents
President of the United States
The President of the United States of America is the head of state and head of government of the United States. The president leads the executive branch of the federal government and is the commander-in-chief of the United States Armed Forces....
Woodrow Wilson
Woodrow Wilson
Thomas Woodrow Wilson was the 28th President of the United States, from 1913 to 1921. A leader of the Progressive Movement, he served as President of Princeton University from 1902 to 1910, and then as the Governor of New Jersey from 1911 to 1913...
and
Franklin D. Roosevelt
Franklin D. Roosevelt
Franklin Delano Roosevelt , also known by his initials, FDR, was the 32nd President of the United States and a central figure in world events during the mid-20th century, leading the United States during a time of worldwide economic crisis and world war...
on
economic matters
Economics
Economics is the social science that analyzes the production, distribution, and consumption of goods and services. The term economics comes from the Ancient Greek from + , hence "rules of the house"...
and became a
philanthropist
Philanthropist
A philanthropist is someone who engages in philanthropy; that is, someone who donates his or her time, money, and/or reputation to charitable causes...
.
Bernard Baruch was born in
Camden, South Carolina
Camden, South Carolina
Camden is the fourth oldest city in the U.S. state of South Carolina and is also the county seat of Kershaw County, South Carolina, United States. The population was an estimated 7,103 in 2009...
to Simon and Belle Baruch. He was the second of four sons. His father Simon Baruch (1840–1921) was a
German immigrant
German American
German Americans are citizens of the United States of German ancestry and comprise about 51 million people, or 17% of the U.S. population, the country's largest self-reported ancestral group...
of Ashkenazi Jewish ethnicity who came with his family to the United States in 1855. He studied medicine, became a doctor, and served as a surgeon on the staff of
Confederate
Confederate States of America
The Confederate States of America was a government set up from 1861 to 1865 by 11 Southern slave states of the United States of America that had declared their secession from the U.S...
general
General
A general officer is an officer of high military rank, usually in the army, and in some nations, the air force. The term is widely used by many nations of the world, and when a country uses a different term, there is an equivalent title given....
Robert E. Lee
Robert E. Lee
Robert Edward Lee was a career military officer who is best known for having commanded the Confederate Army of Northern Virginia in the American Civil War....
during the
American Civil War
American Civil War
The American Civil War was a civil war fought in the United States of America. In response to the election of Abraham Lincoln as President of the United States, 11 southern slave states declared their secession from the United States and formed the Confederate States of America ; the other 25...
.
America has never forgotten — and never will forget — the nobler things that brought her into being and that light her path — the path that was entered upon only one hundred and fifty years ago ... How young she is! It will be centuries before she will adopt that maturity of custom — the clothing of the grave — that some people believe she is already fitted for.

Address on accepting The Churchman Award, New York (23 May 1944)
Behind the black portent of the new atomic age lies a hope which, seized upon with faith, can work out salvation ... Let us not deceive ourselves: we must elect world peace or world destruction.

Address to the United Nations Atomic Energy Commission (14 June 1946)
Although the shooting war is over, we are in the midst of a cold war which is getting warmer.

Speech before the Senate's Special Committee Investigating the National Defense Program (1948)
There are no such things as incurable, there are only things for which man has not found a cure.

Speech (30 April 1954)
To me, old age is always fifteen years older than I am.

On his 85th birthday, as quoted in The Observer [London] (21 August 1955)
I am quite sure that in the hereafter she will take me by the hand and lead me to my proper seat.

Regarding a childhood teacher, as quoted in News summaries (29 August 1955)
I am interested in physical medicine because my father was. I am interested in medical research because I believe in it. I am interested in arthritis because I have it.

As quoted in The New York Post (1 May 1959)