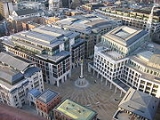 Stock market
A
stock market
or
equity market
is a public entity (a loose network of economic transactions, not a physical facility or discrete entity) for the trading of company
stock
Stock
The capital stock of a business entity represents the original capital paid into or invested in the business by its founders. It serves as a security for the creditors of a business since it cannot be withdrawn to the detriment of the creditors...
(shares) and
derivative
Derivative (finance)
A derivative instrument is a contract between two parties that specifies conditions—in particular, dates and the resulting values of the underlying variables—under which payments, or payoffs, are to be made between the parties.Under U.S...
s at an agreed price; these are
securities
Security (finance)
A security is generally a fungible, negotiable financial instrument representing financial value. Securities are broadly categorized into:* debt securities ,* equity securities, e.g., common stocks; and,...
listed on a
stock exchange
Stock exchange
A stock exchange is an entity that provides services for stock brokers and traders to trade stocks, bonds, and other securities. Stock exchanges also provide facilities for issue and redemption of securities and other financial instruments, and capital events including the payment of income and...
as well as those only traded privately.
The size of the world stock market was estimated at about $36.6 trillion at the start of October 2008.
Trends are highways to develop further ideas on them, whereas hypes are dead-end roads. Only the first player will profit.

Michael Hänni, Co-founder of trendguide.com
The trend is your friend!

Dr. George Lane
In a bull market|bull market the trend of prices, of course, is decidedly and definitely upward. Therefore whenever a stock goes against the general trend you are justified in assuming that there is something wrong with that particular stock.

Jesse Lauriston Livermore
The trend has been established before the news is published, and in bull markets bear items are ignored and bull news exaggerated, and vice versa.

Jesse Lauriston Livermore