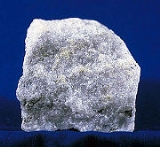 Barite
Baryte
, or
barite
, is a
mineral
Mineral
A mineral is a naturally occurring solid chemical substance formed through biogeochemical processes, having characteristic chemical composition, highly ordered atomic structure, and specific physical properties. By comparison, a rock is an aggregate of minerals and/or mineraloids and does not...
consisting of
barium sulfate
Barium sulfate
Barium sulfate is the inorganic compound with the chemical formula BaSO4. It is a white crystalline solid that is odorless and insoluble in water. It occurs as the mineral barite, which is the main commercial source of barium and materials prepared from it...
. The
baryte group
consists of baryte, celestine,
anglesite
Anglesite
Anglesite is a lead sulfate mineral with the chemical formula PbSO4. It occurs as an oxidation product of primary lead sulfide ore, galena. Anglesite occurs as prismatic orthorhombic crystals and earthy masses, and is isomorphous with barite and celestine. It contains 74% of lead by mass and...
and
anhydrite
Anhydrite
Anhydrite is a mineral – anhydrous calcium sulfate, CaSO4. It is in the orthorhombic crystal system, with three directions of perfect cleavage parallel to the three planes of symmetry. It is not isomorphous with the orthorhombic barium and strontium sulfates, as might be expected from the...
. Baryte itself is generally white or
color
Color
Color or colour is the visual perceptual property corresponding in humans to the categories called red, green, blue and others. Color derives from the spectrum of light interacting in the eye with the spectral sensitivities of the light receptors...
less, and is the main source of
barium
Barium
Barium is a chemical element with the symbol Ba and atomic number 56. It is the fifth element in Group 2, a soft silvery metallic alkaline earth metal. Barium is never found in nature in its pure form due to its reactivity with air. Its oxide is historically known as baryta but it reacts with...
. Baryte and celestine form a
solid solution
Solid solution
A solid solution is a solid-state solution of one or more solutes in a solvent. Such a mixture is considered a solution rather than a compound when the crystal structure of the solvent remains unchanged by addition of the solutes, and when the mixture remains in a single homogeneous phase...
(Ba,Sr)SO
4
.
Names and history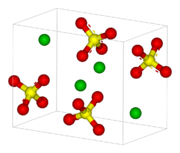 The radiating form, sometimes referred to as
Bologna Stone
, attained some notoriety among
alchemists
Alchemy
Alchemy is an influential philosophical tradition whose early practitioners' claims to profound powers were known from antiquity. The defining objectives of alchemy are varied; these include the creation of the fabled philosopher's stone possessing powers including the capability of turning base...
for the
phosphorescent
Phosphorescence
Phosphorescence is a specific type of photoluminescence related to fluorescence. Unlike fluorescence, a phosphorescent material does not immediately re-emit the radiation it absorbs. The slower time scales of the re-emission are associated with "forbidden" energy state transitions in quantum...
specimens found in the 17th century near
Bologna
Bologna
Bologna is the capital city of Emilia-Romagna, in the Po Valley of Northern Italy. The city lies between the Po River and the Apennine Mountains, more specifically, between the Reno River and the Savena River. Bologna is a lively and cosmopolitan Italian college city, with spectacular history,...
by Vincenzo Casciarolo.
The name baryte is derived from the
Greek
Greek language
Greek is an independent branch of the Indo-European family of languages. Native to the southern Balkans, it has the longest documented history of any Indo-European language, spanning 34 centuries of written records. Its writing system has been the Greek alphabet for the majority of its history;...
word
βαρύς
(heavy). The
American spelling
American and British English differences
This is one of a series of articles about the differences between British English and American English, which, for the purposes of these articles, are defined as follows:...
barite
is used by the USGS and more often used in modern
Scientific journal
Scientific journal
In academic publishing, a scientific journal is a periodical publication intended to further the progress of science, usually by reporting new research. There are thousands of scientific journals in publication, and many more have been published at various points in the past...
s including those published by the Netherlands-based
Elsevier
Elsevier
Elsevier is a publishing company which publishes medical and scientific literature. It is a part of the Reed Elsevier group. Based in Amsterdam, the company has operations in the United Kingdom, USA and elsewhere....
journals. The
International Mineralogical Association
International Mineralogical Association
The International Mineralogical Association is an international group of 38 national societies. The goal is to promote the science of mineralogy and to standardize the nomenclature of the 4000 plus known mineral species...
adopted "barite" as the official spelling when it formed in 1959, but recommended adopting the older "baryte" spelling in 1978, notably ignored by the
Mineralogical Society of America
Mineralogical Society of America
The Mineralogical Society of America is a scientific membership organization. MSA was founded in 1919 for the advancement of mineralogy, crystallography, geochemistry, and petrology, and promotion of their uses in other sciences, industry, and the arts...
. The
American Petroleum Institute
American Petroleum Institute
The American Petroleum Institute, commonly referred to as API, is the largest U.S trade association for the oil and natural gas industry...
specification API 13/ISO 13500 which governs
baryte
for drilling purposes does not refer to any specific mineral, but rather a material that meets that specification, in practice this is usually the mineral baryte.
The term "primary baryte" refers to the first marketable product, which includes crude baryte (run of mine) and the products of simple beneficiation methods, such as washing, jigging, heavy media separation, tabling, flotation. Most crude baryte requires some upgrading to minimum purity or density. Baryte that is used as an aggregate in a "heavy"
cement
Cement
In the most general sense of the word, a cement is a binder, a substance that sets and hardens independently, and can bind other materials together. The word "cement" traces to the Romans, who used the term opus caementicium to describe masonry resembling modern concrete that was made from crushed...
is crushed and screened to a uniform size. Most baryte is ground to a small, uniform size before it is used as a filler or extender, an addition to industrial products, or a weighting agent in
petroleum
Petroleum
Petroleum or crude oil is a naturally occurring, flammable liquid consisting of a complex mixture of hydrocarbons of various molecular weights and other liquid organic compounds, that are found in geologic formations beneath the Earth's surface. Petroleum is recovered mostly through oil drilling...
well drilling mud.
Other names
Baryte has gone by other names such as
barytine,
barytite,
schwerspath,
barytes,
Heavy Spar,
or
tiff
.
Mineral associations and locations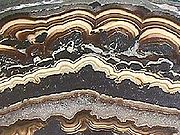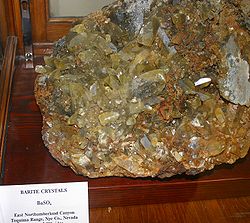 Baryte occurs in a large number of depositional environments, and is deposited through a large number of processes including biogenic, hydrothermal, and evaporation, among others. Baryte commonly occurs in lead-zinc veins in
limestone
Limestone
Limestone is a sedimentary rock composed largely of the minerals calcite and aragonite, which are different crystal forms of calcium carbonate . Many limestones are composed from skeletal fragments of marine organisms such as coral or foraminifera....
s, in hot spring deposits, and with
hematite
Hematite
Hematite, also spelled as haematite, is the mineral form of iron oxide , one of several iron oxides. Hematite crystallizes in the rhombohedral system, and it has the same crystal structure as ilmenite and corundum...
ore. It is often associated with the minerals
anglesite
Anglesite
Anglesite is a lead sulfate mineral with the chemical formula PbSO4. It occurs as an oxidation product of primary lead sulfide ore, galena. Anglesite occurs as prismatic orthorhombic crystals and earthy masses, and is isomorphous with barite and celestine. It contains 74% of lead by mass and...
and celestine. It has also been identified in meteorites.
In the USA, baryte has been found at locations in
Cheshire, Connecticut
Cheshire, Connecticut
Cheshire is a town in New Haven County, Connecticut, United States. The population was 28,543 at the 2000 census. The center of population of Connecticut is located in Cheshire. In 2009 Cheshire was ranked 72 in Money Magazine's 100 Best Places to Live.Likewise, in 2011 Cheshire was ranked 73 in...
,
De Kalb, New York
De Kalb, New York
De Kalb is a town in St. Lawrence County, New York, USA. The population was 2,213 at the 2000 census. The town is named after American general Baron de Kalb, a German officer serving under George Washington....
, Fort Wallace, New Mexico, and is quarried in Arkansas, Connecticut, Virginia, North Carolina, Georgia, Tennessee, Kentucky, Nevada, and Missouri. Localities outside the USA include
Baia Sprie, Romania
Baia Sprie
Baia Sprie is a town in the Maramureş County, northern Romania. The Hungarian version of the town's name means "Upper Mine".The town administers three villages: Chiuzbaia, Satu Nou de Sus and Tăuţii de Sus. Neighbouring communities are the city of Baia Mare and the villages of Groşi, Dumbrăviţa,...
,
Westmoreland
Westmoreland
Westmoreland is a historic county in England. It may also refer to:-Places:Australia*Westmoreland County, New South WalesCanada*Westmorland County, New BrunswickJamaica*Westmoreland, Jamaica, a parishNew Zealand...
,
Cornwall
Cornwall
Cornwall is a unitary authority and ceremonial county of England, within the United Kingdom. It is bordered to the north and west by the Celtic Sea, to the south by the English Channel, and to the east by the county of Devon, over the River Tamar. Cornwall has a population of , and covers an area of...
,
Cumberland
Cumberland
Cumberland is a historic county of North West England, on the border with Scotland, from the 12th century until 1974. It formed an administrative county from 1889 to 1974 and now forms part of Cumbria....
,
Derbyshire
Derbyshire
Derbyshire is a county in the East Midlands of England. A substantial portion of the Peak District National Park lies within Derbyshire. The northern part of Derbyshire overlaps with the Pennines, a famous chain of hills and mountains. The county contains within its boundary of approx...
,
Durham
Durham
Durham is a city in north east England. It is within the County Durham local government district, and is the county town of the larger ceremonial county...
, Muirshiel (where zinc was also retracted),
Perthshire
Perthshire
Perthshire, officially the County of Perth , is a registration county in central Scotland. It extends from Strathmore in the east, to the Pass of Drumochter in the north, Rannoch Moor and Ben Lui in the west, and Aberfoyle in the south...
, Argyllshire and
Surrey
Surrey
Surrey is a county in the South East of England and is one of the Home Counties. The county borders Greater London, Kent, East Sussex, West Sussex, Hampshire and Berkshire. The historic county town is Guildford. Surrey County Council sits at Kingston upon Thames, although this has been part of...
in the UK, China, India, Morocco, Peru, Chile, Liberia, Turkey, Thailand, Ireland (where it was actively mined on Benbulben), Canada, Iran, Brazil, Greece, and
Barberton Mountain Land, South Africa
Barberton, Mpumalanga
Barberton is a town in the Mpumalanga province of South Africa, which has its origin in the 1880s gold rush in the region. It is situated in the De Kaap Valley and is fringed by the Mkhonjwa Mountains...
.
The major barite producers (in thousand tonnes, data for 2010) are as follows: China (3,600), India (1,000), United States (670), Morocco (460), Iran (250), Turkey (150) and Kazakhstan (100).
Uses
Some 77% worldwide is used as a weighting agent for drilling fluids in oil and gas exploration to suppress high formation pressures and prevent blowouts. As a well is drilled, the bit passes through various formations, each with different characteristics. The deeper the hole, the more barite is needed as a percentage of the total mud mix. An additional benefit of barite is that it is non-magnetic and thus does not interfere with magnetic measurements taken in the borehole, either during logging-while-drilling or in separate drill hole logging. Barite used for drilling petroleum wells can be black, blue, brown or gray depending on the ore body. The barite is finely ground so that at least 97% of the material, by weight, can pass through a 200-mesh (75-μm) screen, and no more than 30%, by weight, can be less than 6 μm diameter. The ground barite also must be dense enough so that its
specific gravity
Specific gravity
Specific gravity is the ratio of the density of a substance to the density of a reference substance. Apparent specific gravity is the ratio of the weight of a volume of the substance to the weight of an equal volume of the reference substance. The reference substance is nearly always water for...
is 4.2 or greater, soft enough to not damage the bearings of a tricone drill bit, chemically inert, and containing no more than 250 milligrams per kilogram of soluble alkaline salts.
Other uses are in added-value applications which include filler in paint and plastics, sound reduction in engine compartments, coat of automobile finishes for smoothness and corrosion resistance, friction products for automobiles and trucks, radiation-shielding cement, glass ceramics and medical applications (for example, a
barium meal
Barium meal
A barium meal, also known as an upper gastrointestinal series is a procedure in which radiographs of the esophagus, stomach and duodenum are taken after barium sulfate is ingested by a patient...
before a contrast CAT scan). Baryte is supplied in a variety of forms and the price depends on the amount of processing; filler applications commanding higher prices following intense physical processing by grinding and micronising, and there are further premiums for whiteness and brightness and color.
Historically baryte was used for the production of
barium hydroxide
Barium hydroxide
Barium hydroxide is the chemical compound with the formula Ba2. Also known as baryta, it is one of the principal compounds of barium. The white granular monohydrate is the usual commercial form.-Preparation:...
for sugar refining, and as a white
pigment
Pigment
A pigment is a material that changes the color of reflected or transmitted light as the result of wavelength-selective absorption. This physical process differs from fluorescence, phosphorescence, and other forms of luminescence, in which a material emits light.Many materials selectively absorb...
for textiles, paper, and paint.
Although baryte contains a "heavy" metal (barium), it is not considered to be a toxic chemical by most governments because of its extreme
insolubility
Solubility
Solubility is the property of a solid, liquid, or gaseous chemical substance called solute to dissolve in a solid, liquid, or gaseous solvent to form a homogeneous solution of the solute in the solvent. The solubility of a substance fundamentally depends on the used solvent as well as on...
.
Paleothermometry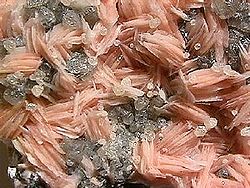 In the deep ocean, away from continental sources of sediment, pelagic baryte crystallizes out and forms a significant amount of the sediments. Since baryte has oxygen, systematics in the δ
18
O of these sediments have been used to help constrain paleotemperatures for oceanic crust. Similarly the variations in sulfur isotopes are also being exploited.