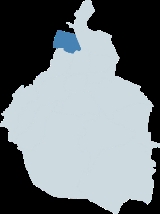 Azcapotzalco
Azcapotzalco
is one of the 16
delegaciones
Boroughs of the Mexican Federal District
Mexico City — politically and administratively constituted as the Federal District — is divided into sixteen boroughs for administrative purposes. They constitute second-level administrative divisions, on par with the municipalities of Mexico. However, unlike municipalities, they do not have...
(boroughs) into which Mexico's Federal District is divided. Azcapotzalco is in the northwestern part of
Mexico City
Mexico City
Mexico City is the Federal District , capital of Mexico and seat of the federal powers of the Mexican Union. It is a federal entity within Mexico which is not part of any one of the 31 Mexican states but belongs to the federation as a whole...
. It was a town of its own until it was swallowed up by the burgeoning conurbation of Mexico City.
Today, Azcapotzalco is divided into many
colonias
Colonias of Mexico City
In Mexico, the neighborhoods of large metropolitan areas are known as colonias. One theory suggests that the name, which literally means colony, arose in the late 19th and early 20th centuries, when one of the first urban developments outside Mexico City's core was built by a French immigrant colony...
(neighborhoods), including Nueva Santa María, Clavería, Electricistas, San Rafael, El Rosario, Villas de Azcapotzalco, El Recreo, Pro-Hogar, Ampliación San Pedro Xalpa, Obrero Popular and Santa Cruz Acayucan.
The historic center of this borough was designated as a
"Barrio Mágico"
Barrios Mágicos of Mexico City
The "Barrios Mágicos" of Mexico City is a list of twenty one areas in the Federal District, which have been named "magical neighborhoods" in order to attract tourism to them. The program is sponsored by the city government but is patterned after the "Pueblos Mágicos" program of the Mexican...
by the city in 2011.
Spanish Influence
Much of the Spanish Colonial Style architecture is still in use in Azcapotzalco; of particular note is the Church of St. James and St. Philip, with its chapel of the Virgin of Rosario and the associated
Dominican
Dominican Order
The Order of Preachers , after the 15th century more commonly known as the Dominican Order or Dominicans, is a Catholic religious order founded by Saint Dominic and approved by Pope Honorius III on 22 December 1216 in France...
monastery.
The chapel contains the following altarpieces:
The Santa Ana altarpieces, signed by Juan Correa

Juan Correa

Juan Correa was a Mexican painter of mixed Moorish or African, Indian and Spanish heritage. His years of greatest activity were from 1671 to 1716. He painted many religious-themed, Baroque paintings for cathedrals in Mexico. Correa was José de Ibarra's teacher...


(17th century)
The San Jose altarpiece.
The Virgin of Guadalupe altarpiece, and
The central altarpiece dedicated to the Virgen del Rosario.
The chapel of the Virgin of Rosario often is compared to the chapels of Puebla and Oaxaca as the best examples of Spanish colonial church architecture and decoration.
The Porfirian era
Between 1881-1882, president Manuel González intensified a colonization project all over the country. He brought thousands of Italians to the country and in the Colonia Aldana he colonized it with northern Italians, mainly from
Lombardy
Lombardy
Lombardy is one of the 20 regions of Italy. The capital is Milan. One-sixth of Italy's population lives in Lombardy and about one fifth of Italy's GDP is produced in this region, making it the most populous and richest region in the country and one of the richest in the whole of Europe...
, Trentino, and
Piedmont
Piedmont
Piedmont is one of the 20 regions of Italy. It has an area of 25,402 square kilometres and a population of about 4.4 million. The capital of Piedmont is Turin. The main local language is Piedmontese. Occitan is also spoken by a minority in the Occitan Valleys situated in the Provinces of...
. It was one of the most prosperous colonies in the country, but in the early 1900s the urbananization growth of Mexico City reached the colony and absorbed it. Today some families still retain their Italian identity with restaurants and bakeries. This could be considered Mexico City's
Little Italy
Little Italy
Little Italy is a general name for an ethnic enclave populated primarily by Italians or people of Italian ancestry, usually in an urban neighborhood.-Canada:*Little Italy, Edmonton, in Alberta*Little Italy, Montreal, in Quebec...
. The Italian district in Mexico City.
Between 1910 and 1920, Mexico City's character was largely influenced by President
Porfirio Díaz
Porfirio Díaz
José de la Cruz Porfirio Díaz Mori was a Mexican-American War volunteer and French intervention hero, an accomplished general and the President of Mexico continuously from 1876 to 1911, with the exception of a brief term in 1876 when he left Juan N...
. During this period, several of the city's suburbs were known by different names, for example:
The American Suburb
(now
Zona Rosa
Zona Rosa
Zona Rosa is a neighborhood in Mexico City which is known for its shopping, nightlife, gay community, and its recently established Korean community...
),
Centro Suburb
(now Historic Centre),
Roma Suburb
(
Colonia Roma
Colonia Roma
Colonia Roma is a colonia or neighborhood located in the Cuauhtémoc borough of Mexico City just west of the city's historic center. The area was a very shallow part of Lake Texcoco, dotted with tiny islands and one small island village of Aztacalco during the pre-Hispanic period...
),
Chapultepec Forest Area
(now
Bosque de Chapultepec
Chapultepec
Chapultepec Park, more commonly called the "Bosque de Chapultepec" in Mexico City, is the largest city park in Latin America, measuring in total just over 686 hectares. Centered on a rock formation called Chapultepec Hill, one of the park's main functions is to be an ecological space in the vast...
and
Lomas de Chapultepec
Las Lomas
Las Lomas is the common name of a residential district in Mexico City located in the delegación of Miguel Hidalgo. Its real name is Lomas de Chapultepec and dates back from around 1930, when it was founded with the name Chapultepec Heights. Home to some of the biggest mansions and wealthiest...
),
San Ángel
San Ángel
San Ángel is a colonia or neighborhood of Mexico City, located in the southwest in Álvaro Óbregon borough. Historically, it was a rural community, called Tenanitla in the pre Hispanic period. Its current name is derived from the El Carmen monastery school called San Ángel Mártir...
(now
San Ángel Inn
San Ángel Inn
San Angel Inn is an old Carmelite monastery which was turned into a well-known restaurant. It is located to the southwest of Mexico City, in the historic neighborhood of San Ángel in the borough of Álvaro Obregón. It is famous for its international cuisine, variety of dishes, its Mexican-colonial...
),
Hacienda de los Morales
(now
Polanco (Mexico)
Polanco (Mexico)
Polanco is the name that usually refers to a group of seven official neighborhoods in Mexico City, located north of Chapultepec Park. The official names of the neighborhoods are: Los Morales , Del Bosque, Polanco Reforma, Polanco Chapultepec, Chapultepec Morales, Bosque de Chapultepec and...
) and
Azcapotzalco
(now Azcapotzalco) were considered glamorous and luxurious areas.
On Azcapotzalco Avenue, elegant
Beaux-Arts architecture
houses were built, and a very European atmosphere existed (still present to some extent today). President Díaz enjoyed visiting the suburb because, as he would say, "Azcapotzalco is the place where I have a still day". During this period, Azcapotzalco was known as
Porfirio Díaz's Azcapotzalco
.
Modern day
Azcapotzalco changed dramatically in the 20th century; urban sprawl led many of Mexico City's suburbs to become absorbed into the city.
External links
Delegación Azcapotzalco
official site