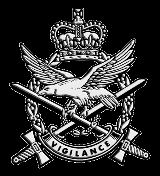 Australian Army Aviation
Australian Army Aviation
(AAAvn) is a
corps
Corps
A corps is either a large formation, or an administrative grouping of troops within an armed force with a common function such as Artillery or Signals representing an arm of service...
of the
Australian Army
Australian Army
The Australian Army is Australia's military land force. It is part of the Australian Defence Force along with the Royal Australian Navy and the Royal Australian Air Force. While the Chief of Defence commands the Australian Defence Force , the Army is commanded by the Chief of Army...
, and was formed on 1 July 1968 with a strength of 106 officer pilots, although it has a history dating back to 1911, when the Minister of Defence at the time, Senator George Pearce, decided there should be a flying school in the
Defence Department
Department of Defence (Australia)
The Australian Department of Defence is a Federal Government Department. It forms part of the Australian Defence Organisation along with the Australian Defence Force . The Defence mission is to defend Australia and its national interests...
. The motto of the Australian Army Aviation corps is Vigilance.
The Aviation Corps utilises soldiers from various other Army corps. The
Royal Australian Corps of Transport
Royal Australian Corps of Transport
The Royal Australian Corps of Transport is a corps within the Australian Army. It was formed in 1973 and is responsible for the operation of army surface transport assets.-Role:...
trains and provides air dispatchers, while the
Royal Australian Electrical and Mechanical Engineers
Royal Australian Electrical and Mechanical Engineers
The Royal Corps of Australian Electrical and Mechanical Engineers is a corps of the Australian Army that has responsibility for the maintenance and recovery of all land electrical and mechanical equipment...
trains aircraft structural fitters, who maintain aircraft life support equipment, and
avionics
Avionics
Avionics are electronic systems used on aircraft, artificial satellites and spacecraft.Avionic systems include communications, navigation, the display and management of multiple systems and the hundreds of systems that are fitted to aircraft to meet individual roles...
technicians. Members of the Aviation Corps are entitled to wear a sky blue
beret
Beret
A beret is a soft, round, flat-crowned hat, designated a "cap", usually of woven, hand-knitted wool, crocheted cotton, or wool felt, or acrylic fiber....
.
Colours

The design of the colour patch of the Australian Army Aviation Corps is based on the patch of the original Australian Army Flying Corps, from which the Aviation Corps was born. The three Aviation regiments have individual colour patches utilising the Corps patch. 1st Aviation Regiment's patch features a black rectangle in the centre of the Corps patch, 5th Aviation Regiment's patch features a black diamond in the centre, and 6th Aviation Regiment's patch .
Equipment
Since November 2009 the Army's air assets are composed exclusively of rotary-wing aircraft (helicopters), the
Royal Australian Air Force
Royal Australian Air Force
The Royal Australian Air Force is the air force branch of the Australian Defence Force. The RAAF was formed in March 1921. It continues the traditions of the Australian Flying Corps , which was formed on 22 October 1912. The RAAF has taken part in many of the 20th century's major conflicts...
(RAAF) operating Australian Defence Force's fixed-wing fleet. A limited number of fixed-wing aircraft were used by Aviation Corps, mostly in a surveillance role. A ceremony was held at
RAAF Base Townsville
RAAF Base Townsville
RAAF Base Townsville is, along with RAAF Base Tindal and RAAF Base Darwin, one of northern Australia's primary defence installations. It is also Headquarters for No...
on 20 November 2009 to transfer the last three fixed-wing aircraft from the Army to the RAAF.
Rotary-wing aircraft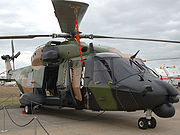 The
MRH 90
NHI NH90
The NHIndustries NH90 is a medium sized, twin-engine, multi-role military helicopter manufactured by NHIndustries. The first prototype had its maiden flight in December 1995...
(Multi Role Helicopter 90, an Australian variant of the NHI NH90) will replace the 5th Aviation Regiment's Black Hawk fleet. The aircraft are designed for use in a troop-lift role.
The first test flight of an MRH-90 was conducted at Eurocopter's flight test centre in
Marignane
Marignane
Marignane is a commune in the Bouches-du-Rhône department in the Provence-Alpes-Côte d'Azur region in southern France.-Geography:It is a component of the metropolitan Marseille Provence Métropole, and the largest suburb of the city of Marseille...
,
France
France
The French Republic , The French Republic , The French Republic , (commonly known as France , is a unitary semi-presidential republic in Western Europe with several overseas territories and islands located on other continents and in the Indian, Pacific, and Atlantic oceans. Metropolitan France...
on 28 March 2007. The first 13 of the total of 46 helicopters have been delivered but the remaining aircraft have been suspended until issues have been resolved.
The first four being built in the main plant in France, the remainder built in Brisbane by Australian Aerospace. The MRH-90 was chosen ahead of the UH-60M Black Hawk.
The
Tiger ARH
Eurocopter Tiger
The Eurocopter Tiger is an attack helicopter manufactured by Eurocopter. In Germany it is known as the Tiger; in France and Spain it is called the Tigre.-Origins:...
(Armed Reconnaissance Helicopter) was designed to provide significant reconnaissance and fire support in a combined arms team and is equipped with
Hellfire missiles
AGM-114 Hellfire
The AGM-114 Hellfire is an air-to-surface missile developed primarily for anti-armor use. It has multi-mission, multi-target precision-strike capability, and can be launched from multiple air, sea, and ground platforms. The Hellfire missile is the primary 100 lb-class air-to-ground precision...
, 70 mm rockets and cannons. 22 Tigers will be delivered to the Army under the AIR 87 Project, built at the Australian Aerospace Brisbane facility.
The
S70A-9 Black Hawk
Sikorsky S-70
The Sikorsky S-70 is a medium transport/utility helicopter family manufactured by Sikorsky Aircraft. It was developed for the U.S. Army in the 1970s, winning a competition to be designated the UH-60 Blackhawk and spawning a large family in U.S. military service...
is operated by B Sqn in 5 Avn Regt, 171 Avn Sqn in 6 Avn Regt, and the Army Aviation Training Centre (AAvnTC). Its tasks include tactical transport of infantry soldiers, search and rescue, medical evacuation, disaster relief and external carriage of heavy equipment including artillery howitzers and light vehicles. The Army's Black Hawks were manufactured in Australia by
Hawker de Havilland
De Havilland Australia
De Havilland Aircraft Pty Ltd was part of de Havilland, then became a separate company. It was purchased by Boeing and is now Hawker de Havilland Aerospace Pty Ltd, a subsidiary of Boeing Australia Ltd-Early Years and WWII:...
, under licence from
Sikorsky
Sikorsky Aircraft
The Sikorsky Aircraft Corporation is an American aircraft manufacturer based in Stratford, Connecticut. Its parent company is United Technologies Corporation.-History:...
.
The
CH-47D Chinook
CH-47 Chinook
The Boeing CH-47 Chinook is an American twin-engine, tandem rotor heavy-lift helicopter. Its top speed of 170 knots is faster than contemporary utility and attack helicopters of the 1960s...
is operated by C Squadron, 5 Aviation Regiment. C Squadron was raised on the Army order of battle in June 1995, on the return of the Chinooks to Australia after re-manufacture by Boeing USA. The Chinooks' primary role is logistic and battlefield support. They can also be used in the troop-lift role. The current fleet of 5 CH-47D will be replaced by 7 new build CH-47F from 2012.
The
UH-1H Iroquois (Huey)
UH-1 Iroquois
The Bell UH-1 Iroquois is a military helicopter powered by a single, turboshaft engine, with a two-bladed main rotor and tail rotor. The helicopter was developed by Bell Helicopter to meet the United States Army's requirement for a medical evacuation and utility helicopter in 1952, and first flew...
was used for the transport of soldiers and equipment, search and rescue, civilian disaster relief and minor logistics. The Iroquois are operated by A Squadron, 5 Aviation Regiment and the School of Army Aviation. After 39 years of service with the ADF, the last Iroquois was retired on 21 September 2007.
The
Bell 206B-1 Kiowa
OH-58 Kiowa
The Bell OH-58 Kiowa is a family of single-engine, single-rotor, military helicopters used for observation, utility, and direct fire support. Bell Helicopter manufactured the OH-58 for the United States Army based on the 206A JetRanger helicopter. The OH-58 has been in continuous use by the U.S...
has been in service with the Army since 1972; its main roles being observation and rotary flying training. It is also utilised for the command and control of tactical aircraft, such as the F/A-18 and F-111. They often work closely with artillery and
armoured cavalry
units. 19 of the Kiowa fleet is located in Oakey for use in training at the Army Aviation Training Centre (AAvnTC), and a further 8 are permanently in Sydney with 173 Aviation Squadron at 6th Aviation Regiment. 24-27 of the Kiowa fleet are receiving an avionics upgrade and refurbishment (including electronic LCD displays and twin navigation and voice GPS units) during 2010-11.
Fixed-wing aircraft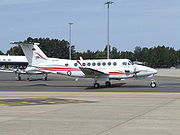 Army Aviation operated fixed-wing aircraft for a period of almost 50 years, from taking delivery of
Cessna 180
Cessna 180
The Cessna 180 is a four- or six-seat, fixed conventional gear general aviation airplane which was produced between 1953 and 1981. Though the design is no longer in production, many of these aircraft are still in use as personal aircraft and in utility roles such as bush...
s in 1961 until November 2009. 173 Surveillance Squadron, based at Oakey, was the last operator of fixed-wing aircraft, using three
Beechcraft B300 King Air 350
Beechcraft Super King Air
The Beechcraft Super King Air family is part of a line of twin-turboprop aircraft produced by the Beech Aircraft Corporation . The King Air line comprises a number of model series that fall into two families: the Model 90 series, Model 100 series , Model 200 series and Model 300 series...
s in Command and Control, Surveillance, and Transport roles. Other aircraft types operated were the
Pilatus Porter
Pilatus PC-6
|-See also:-References:* Lambert, Mark. Jane's All The World's Aircraft 1993–1994. Coulsdon, UK: Jane's Data Division, 1993. ISBN 0 7106 1066 1.* Taylor, John W. R. Janes's All The World's Aircraft 1965–66. London: Sampson Low, Marston & Company, 1965....
, the
GAF Nomad
GAF Nomad
The GAF Nomad is a twin-engine turboprop, high-winged, "short take off and landing" aircraft . It was designed and built by the Australian Government Aircraft Factories at Fishermens Bend, Melbourne. Major users of the design have included the Royal Flying Doctor Service of Australia, the...
and the
de Havilland Canada DHC-6 Twin Otter
De Havilland Canada DHC-6 Twin Otter
The DHC-6 Twin Otter is a Canadian 19-passenger STOL utility aircraft developed by de Havilland Canada and currently produced by Viking Air. The aircraft's fixed tricycle undercarriage, STOL abilities and high rate of climb have made it a successful cargo, regional passenger airliner and MEDEVAC...
.
Army pilot
Pilots are very carefully selected and undergo an intense and rigorous training program to produce the best quality officers and pilots for the Australian Army Aviation (AAAvn) Corps.
Selection
Before training can begin, potential pilots must pass a battery of tests to determine their suitability to fly in the realm of military aviation. This includes aptitude testing, a multitude of hand-eye co-ordination tests, psychological evaluation, and numerous medical examinations (including ophthalmological and dental examinations) to maximise the quality and service longevity of selected potential future pilots. Throughout the selection process candidates are continually assessed for their character and suitability as future officers. Afterall, pilots are also officers and must display attributes of responsibility, integrity, professionalism, initiative, leadership, discipline, decisiveness, courage, morality, and loyalty at all times, to both their peers and to the men and women they lead.
Suitable applicants are further scruitinized, and only those elite candidates that display the requisite potential are progressed to the next phase of selection, called the Flight Screening Program (FSP), to deem if they are suitable to fly in the Army as officers. The FSP involves a two week flying course at the Australian Defence Force's expense and discretion to assess the suitability of the candidate as a potential officer and pilot, in the air environment under conditions of intense flying and instructing. The candidates are also assessed for their officer qualities in addition to their ability to handle their platform in airspace.
Initial Officer Training
Once the candidate has passed the FSP the new recruit is enlisted as an
Officer Cadet
(rank OCDT) and begins their initial officers' training at the
Royal Military College, Duntroon
Royal Military College, Duntroon
The Royal Military College, Duntroon is the Australian Army's officer training establishment. It was founded at Duntroon, in the Australian Capital Territory, in 1911 and is situated on picturesque grounds at the foot of Mount Pleasant near Lake Burley Griffin, close to the Department of Defence...
(RMC-D) in Canberra. At RMC-D the new recruit studies subjects such as Army tactics, military customs and ethics, drills, first aid, communication, weapons training, service discipline law, and leadership and management training, to name a few.
This course encompasses either:
(i) approximately 6 weeks of training if undertaking the Specialist Service Officer (SSO) pilot scheme, or
(ii) approximately 18 months of training if undertaking the General Service Officer (GSO) course.
Basic Flight Training
Upon graduating from RMC-D the pilot trainee begins their basic flight training course at the Basic Flying Training School (BFTS) in Tamworth for fixed-wing flight training of approximately 6 months duration on the CT-4B trainer aircraft (
PAC CT/4
"parrot"). The BFTS course encompasses both an extensive ground training program (such as airmanship, aerodynamics, aircraft systems, aviation medicine, air power, air traffic control, radio, meteorology, navigation, morse code, instrumentation, and cockpit systems, etc.) as well as an intensive flight training course (including general flying, instrument flying, night flying, navigation, aerobatics, formation flying, and emergency handling).
Basic Helicopter Training
Upon graduating from BFTS, students begin their Basic Helicopter Training at the
Oakey Army Aviation Centre
Oakey Army Aviation Centre
Oakey Army Aviation Centre is situated approximately 3 km from the town centre of Oakey in Queensland, Australia. It provides a training establishment for Australian Army Aviation, and also hosts a Singapore Armed Forces Helicopter Squadron, namely the 126 Squadron.-History:The base has a...
in Oakey, Queensland, which is composed of the Helicopter Conversion Course (HCC) of 3 months duration followed by the Helicopter Tactics Course (HTC) of 3 months duration.
Upon completion of this Basic Helicopter Training course, pilot recruits are awarded their provisional Army flying badge ("flying wings") and promoted to the rank of
Second Lieutenant
.
Operational Helicopter Training
After being awarded their flying wings, pilot trainees move on to their specific type of aircraft for Operational Helicopter Training. Although the type of operational aircraft flown is somewhat influenced by the trainee's preference for a particular aircraft, this decision is primarily at the discretion of the Qualified Flying Instructors (QFI's) that have closely observed the student's temperament, abilities, aptitudes and strong points in airmanship. This decision is also influenced by the needs of the Army, and ultimately the Army's need(s) to fulfil a particular role takes precedence over personal preference or interests.
Training to fly an operational helicopter requires that a student pilot undergo the Operational Type Transition Course (OTTC - of 3 to 4 months duration) and the Regimental Officers' Basic Course (ROBC - of 3 to 6 months duration depending on aircraft type) to effectively transition or convert the new pilot to their new role in the appointed aircraft type. The OTTC consists of up to 50 flying hours of transition training to acquaint the newly appointed pilot to their designated aircraft type. The ROBC consists of 30 to 40 hours of tactical flying (depending on helicopter type) to effectively teach the new pilot to opearte the aircraft in support of Army and ADF units. Upon completion of the ROBC, graduating trainees are promoted to the rank of
Lieutenant
and are posted to an operational aviation unit.
Aviation Corps trades
There are two specialisations available to soldiers in the Aviation Corps, Groundcrewman Aircraft Support and Groundcrewman Mission Support. Training for both is in addition to 80 days of basic training, undertaken at the Army Recruit Training Centre,
Kapooka
Kapooka, New South Wales
Kapooka is a suburb in the south west of Wagga Wagga, New South Wales, Australia.The suburb of Kapooka is home to the Department of Defence's Blamey Barracks from where the Army Recruit Training Centre conducts its operations....
.
Groundcrewman aircraft support
Basic groundcrewman aircraft support training consists of 3 individual courses, totalling approximately 19 weeks.
The first course conducted is a basic drivers course where soldiers gain qualifications in operating the Army Landrover 110 and
Unimog
Unimog
Unimog is a range of multi-purpose auto four wheel drive medium trucks produced by Mercedes-Benz, a division of Daimler AG. The name Unimog is pronounced in German and is an acronym for the German "UNIversal-MOtor-Gerät", Gerät being the German word for machine or device...
truck. This lasts for 38 days and is held at
Puckapunyal
Puckapunyal
Puckapunyal is an Australian Army training facility and base 10 km west of Seymour, in central Victoria, south-eastern Australia.-Description:Puckapunyal is a small restricted-access town inhabited mainly by about 280...
in
Victoria
Victoria (Australia)
Victoria is the second most populous state in Australia. Geographically the smallest mainland state, Victoria is bordered by New South Wales, South Australia, and Tasmania on Boundary Islet to the north, west and south respectively....
. The next course to be completed is the two week bulk fuel tanker course held at the Army Logistic Training Centre at Bandiana in Victoria. This course involves instruction in operating bulk and portable refuelling equipment and fuel quality control. The final course, and longest in duration at 9 to 12 weeks is the forward arming and refuelling course, held at the
Oakey Army Aviation Centre
Oakey Army Aviation Centre
Oakey Army Aviation Centre is situated approximately 3 km from the town centre of Oakey in Queensland, Australia. It provides a training establishment for Australian Army Aviation, and also hosts a Singapore Armed Forces Helicopter Squadron, namely the 126 Squadron.-History:The base has a...
in
Queensland
Queensland
Queensland is a state of Australia, occupying the north-eastern section of the mainland continent. It is bordered by the Northern Territory, South Australia and New South Wales to the west, south-west and south respectively. To the east, Queensland is bordered by the Coral Sea and Pacific Ocean...
. Here soldiers are taught aircraft refuelling and arming operation both in the barracks and field environment.
After 2 years as a Groundcrewman, you can request to be transferred to become a Aircrewman aboard helicopters (a.k.a Loadmaster, Crew Chief).
Throughout their career, Groundcrewman Aircraft Support also attend the following courses as part of their career development and trade proficiency:
Fuel Quality Control
Explosive Ordnance Supervisor
Air Portability Team Leader
Destruction of Malfunctioned Explosive Ordnance
Workplace Assessor
Groundcrewman mission support
Training for groundcrewman mission support also consists of three courses, and runs for approximately 15 weeks. The first course, as with groundcrewman aircraft support, is the basic drivers course. The second course is a specialist combat communications course of four weeks duration, held at Oakey Army Aviation Centre. Here soldiers learn to use and maintain service radios, antenna theory and configuration. The second course is the six week command post operator course, also held at the Army Aviation Training Centre.
As with Groundcrewman aircraft support, soldiers employed as groundcrewman mission support may also attend further courses throughout their career. These include a
comsec
Communications security
Communications security is the discipline of preventing unauthorized interceptors from accessing telecommunications in an intelligible form, while still delivering content to the intended recipients. In the United States Department of Defense culture, it is often referred to by the abbreviation...
custodian course; an
information systems
Information systems
Information Systems is an academic/professional discipline bridging the business field and the well-defined computer science field that is evolving toward a new scientific area of study...
course; an advanced combat communicators course; and a workplace assessor course.
See also
Oakey Army Aviation Centre

Oakey Army Aviation Centre

Oakey Army Aviation Centre is situated approximately 3 km from the town centre of Oakey in Queensland, Australia. It provides a training establishment for Australian Army Aviation, and also hosts a Singapore Armed Forces Helicopter Squadron, namely the 126 Squadron.-History:The base has a...



Army aviation

Army aviation

Army Aviation refers to aviation-related units of a nation's army, often described as an air corps. These units are generally separate from a nation's dedicated air force, and usually comprise helicopters and light support fixed-wing aircraft....