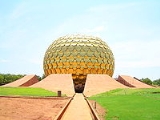 Auroville
Auroville
is an "experimental" township in
Viluppuram district
Viluppuram District
Villupuram is one of the thirty districts which make up Tamil Nadu state situated on the southern tip of India. The district headquarters is located at Villupuram. Villupuram district came into existence on 30 September 1993 when it was created out of South Arcot district...
in the state of
Tamil Nadu
Tamil Nadu
Tamil Nadu is one of the 28 states of India. Its capital and largest city is Chennai. Tamil Nadu lies in the southernmost part of the Indian Peninsula and is bordered by the union territory of Pondicherry, and the states of Kerala, Karnataka, and Andhra Pradesh...
,
India
India
India , officially the Republic of India , is a country in South Asia. It is the seventh-largest country by geographical area, the second-most populous country with over 1.2 billion people, and the most populous democracy in the world...
, near Pondicherry in
South India
South India
South India is the area encompassing India's states of Andhra Pradesh, Karnataka, Kerala and Tamil Nadu as well as the union territories of Lakshadweep and Pondicherry, occupying 19.31% of India's area...
. It was founded in 1968 by
Mirra Alfassa
Mirra Alfassa
-Early life:Mirra Alfassa was born in Paris in 1878, of a Turkish Jewish father, Maurice, and an Egyptian Jewish mother, Mathilde. She had an elder brother named Matteo. The family migrated to France the year before she was born. For the first eight years of her life she lived at 62 boulevard...
(called "The Mother" within Auroville) and designed by architect
Roger Anger
Roger Anger
Roger Anger was a French architect He was the architect on the Auroville project, designed by Mirra Alfassa and financed by UNESCO...
. As stated in Alfassa's first public message about the township, "Auroville is meant to be a universal town where men and women of all countries are able to live in peace and progressive harmony, above all creeds, all politics and all nationalities. The purpose of Auroville is to realize human unity."
History
Auroville was founded as a project of Sri Aurobindo Society on Wednesday 28 February 1968 by Mirra Alfassa, "The Mother". She was an equal spiritual collaborator of
Sri Aurobindo
Sri Aurobindo
Sri Aurobindo , born Aurobindo Ghosh or Ghose , was an Indian nationalist, freedom fighter, philosopher, yogi, guru, and poet. He joined the Indian movement for freedom from British rule and for a duration became one of its most important leaders, before developing his own vision of human progress...
, who believed that "man is a transitional being". Alfassa expected that this experimental "universal township" would contribute significantly in the "progress of humanity towards its splendid future by bringing together people of goodwill and aspiration for a better world." Alfassa also believed that such a universal township will contribute decisively to the Indian renaissance (Ref.
Mother's Agenda,
Vol. 9, dt.3.02.68). The Government of India endorsed the township, and in 1966,
UNESCO
UNESCO
The United Nations Educational, Scientific and Cultural Organization is a specialized agency of the United Nations...
also endorsed it inviting the member-states to participate in the development of Auroville. UNESCO re-endorsed Auroville four times more in the course of the last 40 years.
In the inauguration ceremony attended by delegates of 124 nations on 28 February 1968, Alfassa gave Auroville its 4-point
Charter
Charter
A charter is the grant of authority or rights, stating that the granter formally recognizes the prerogative of the recipient to exercise the rights specified...
setting forth her vision of Integral living:
Auroville belongs to nobody in particular. Auroville belongs to humanity as a whole. But to live in Auroville, one must be the willing servitor of the Divine Consciousness.
Auroville will be the place of an unending education, of constant progress, and a youth that never ages.
Auroville wants to be the bridge between the past and the future. Taking advantage of all discoveries from without and from within, Auroville will boldly spring towards future realisations.
Auroville will be a site of material and spiritual researches for a living embodiment of an actual Human Unity.
The Matrimandir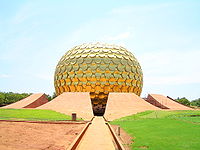 In the middle of the town is the
Matrimandir
Matrimandir
The Matrimandir is an edifice of spiritual significance for practitioners of Integral yoga, situated at the center of Auroville initiated by The Mother of the Sri Aurobindo Ashram. It is called soul of the city and is situated in a large open space called Peace...
, which has been acclaimed as "an outstanding and original architectural achievement". It was conceived by "The Mother" (Alfassa) as "a symbol of the Divine's answer to man's inspiration for perfection". Silence is maintained inside the Matrimandir to ensure the tranquility of the space and entire area surrounding the Matrimandir is called
Peace area
.
Inside the Matrimandir, a spiraling ramp leads upwards to an air- conditioned chamber of polished white marble - "A place to find one's consciousness". At its centre, a 70 cm crystal ball in a gold mount and glow with a single ray of sunlight that is directed on the globe from the top of structure. According to Alfassa, this represents "a symbol of future realisation."
When there is no sun or after the sunset, the sunray on the globe is replaced by beam from a solar powered light.
Matrimandir has its solar power plant and is surrounded by manicured gardens.
Radiating from this centre are four "zones" of the City Area: the "Residential Zone", "Industrial Zone", "Cultural (& Educational) Zone" and "International Zone". Around the City or the urban area, lies a Green Belt which is an environment research and resource area and includes farms and forestries, a botanical garden, seed bank, medicinal and herbal plants, water catchment bunds, and some communities.
Government, belief system
Auroville is governed by the Auroville Foundation through an act of the Indian Parliament. The Ministry of Human Resource Development appoints the Governing Board who, in turn, appoints the key committees such as the Funds and Assets Management, the Budget Co-ordination, l'Avenir (city planning authority). The Foundation, thus fully controlled by the Indian Government, currently owns about half of the total land required for the township. The remaining lands are being purchased whenever funds are available.
Politics and religion are not supposed to be in Auroville. It is the Foundation, not the inhabitants, which owns the houses.
In 2004, the then president of India Dr. A.P.J. Abdul Kalam visited Auroville and expressed his utmost appreciation of and moral support to Auroville. In January 2008, the current president of India, Mrs.
Pratibha Patil
Pratibha Patil
Pratibha Devisingh Patil is the 12th President of the Republic of India and first woman to hold the office. She was sworn in as President of India on 25 July 2007, succeeding Dr. A.P.J...
also visited Auroville and expressed her deep appreciation of the vision and work of Auroville. "It is India's destiny to support this work for the future of mankind" were her closing words in a message on the occasion of Auroville's 40th anniversary.
Central documents articulating the vision of Auroville are the following:
Society and population
Although originally intended to house 50,000, the actual population today is 2,200 (1,553 adults and 454 minors), coming from 43 nationalities, 836 of whom are of Indian origin. The community is divided up into neighborhoods with English, Sanskrit, French and Tamil names like
Aspiration
,
Arati
,
La Ferme
, and
Isaiambalam
.
Architecture, technology, and education
According to the Auroville webpage, "The dream of building a new city for the future on a clean slate, with the purpose of promoting research and experimentation alongside integral development, has been attracting architects and students of architecture from all over the world ever since Auroville´s inception in 1968. Not having pre-defined by-laws or being bound by the conventions of human society has allowed a multitude of expressions to manifest in the course of Auroville´s development, as natural extensions of the quest for the new."
Satprem Maïni a French Aurovilian architect, the director of the
Auroville Earth Institute
, is representative for India and South Asia to the "UNESCO Chair Earthen Architecture, Constructive Cultures and Sustainable Development". Satprem and other architects have won many national and international awards for their works, in and out of Auroville.
Some public drinking fountains feature "dynamised" water, which has been "made healthier" by having the water listen to Bach and Mozart.
Under the umbrella of Sri Aurobindo International Institute of Educational Research (SAIIER), Auroville runs several educational institutions in and around Auroville.
Economy
Instead of paper and coin currency, residents are given account numbers to connect to their central account. Visitors, however, are requested to get a temporary account.
Auroville currently is not in position to provide free accommodation to all newcomers who come to Auroville. Consequently, the newcomers are expected to contribute financially towards building their house in Auroville. The house can be simple one room apartment or, if need be, it can be of a larger size. Thus, the housing cost forms the largest item of expense for newcomers, though there are ongoing efforts to provide free accommodation to the long term Aurovilians who have proved their commitment to the progress of Auroville.
Residents of Auroville are expected to contribute a monthly contribution to the community. They are asked to help the community whenever possible by work, money, or kind. "Guest contribution", or a daily fee payable by the guests of Auroville, constitutes a part of Auroville's budget. There is a system of "maintenance", whereby those Aurovilians who need can receive from the community a monthly maintenance which cover simple basic needs of life. Auroville's economy and its overall life are of an evolving nature and there are ongoing experiments to reach closer to the vision.
As states
Auroville Today
, "there are two more obstacles the lack of work opportunities and the low levels of 'maintenance'. Auroville has only a small economic base and newcomers often cannot find suitable work in the commercial units or in the services. If they can, the levels of 'maintenance' paid – Rs 5,000 for those who work full-time for Auroville's services, are just sufficient to cover basic living costs, but not to pay for a house, or for paying-off a loan".
Although the Government of India owns and manages the Auroville Foundation, it only finances a small part of Auroville's budget, which is mainly formed by contributions from Auroville's commercial units which contribute 33% of their profits to Auroville's Central Fund, and by donations. There are guest houses, building construction units, information technology, small and medium scale businesses, producing and re-selling items such as handmade paper for
stationery
Stationery
Stationery has historically meant a wide gamut of materials: paper and office supplies, writing implements, greeting cards, glue, pencil case etc.-History of stationery:...
items, as well as producing its well-known
incense
Incense
Incense is composed of aromatic biotic materials, which release fragrant smoke when burned. The term "incense" refers to the substance itself, rather than to the odor that it produces. It is used in religious ceremonies, ritual purification, aromatherapy, meditation, for creating a mood, and for...
sticks, which can be bought in Auroville's own shop in Pondicherry, or are sold around India and abroad. Each of these units contributes a considerable part of their profits to the township. Over 5000 people, mostly from the nearby localities, are employed in various sections and units of Auroville.
Other activities include afforestation, organic agriculture, basic educational research,
health care
Health care
Health care is the diagnosis, treatment, and prevention of disease, illness, injury, and other physical and mental impairments in humans. Health care is delivered by practitioners in medicine, chiropractic, dentistry, nursing, pharmacy, allied health, and other care providers...
, village development,
appropriate technology
Appropriate technology
Appropriate technology is an ideological movement originally articulated as "intermediate technology" by the economist Dr...
, town planning, water table management, cultural activities and community services.
Location
Auroville is composed of a cluster of properties some 12 km north of Pondicherry. It can be easily reached via the
East Coast Road
East Coast Road
East Coast Road is a two lane highway in Tamil Nadu, India, built along the coast of the Bay of Bengal connecting Chennai to Cuddalore via Pondicherry. Presently, the East Coast Road has been extended up to Thoothukudi via Chidambaram, Karaikal, Nagore, Nagapattinam, Thiruthuraipoondi, Muthupet,...
(ECR) which connects
Chennai
Chennai
Chennai , formerly known as Madras or Madarasapatinam , is the capital city of the Indian state of Tamil Nadu, located on the Coromandel Coast off the Bay of Bengal. Chennai is the fourth most populous metropolitan area and the sixth most populous city in India...
and Pondicherry. The visitor centre and
Matrimandir
Matrimandir
The Matrimandir is an edifice of spiritual significance for practitioners of Integral yoga, situated at the center of Auroville initiated by The Mother of the Sri Aurobindo Ashram. It is called soul of the city and is situated in a large open space called Peace...
can be reached by travelling six kilometres westwards from the signposted turnoff at the ECR. Turning east leads directly to Auroville's private beach called Repos, several hundred metres away.
Auroville Village Action Group
The Auroville Village Action Group (AVAG) was founded in 1983 by a group of Aurovilians, villagers and social workers who wanted Auroville and the villages to have a community-to-community relationship. AVAG has sought to encourage the local communities to organise themselves to recognise that they can themselves make improvements in their lives, their children's education, and in the village itself. Including the participation of women and young people, village groups have rebuilt schools, run evening classes for young students, mended streets, repaired street taps, and generally helped raise the standard of collective living in some 50 villages around Auroville. Presently the primary focus is on women's empowerment and
microfinance
Microfinance
Microfinance is the provision of financial services to low-income clients or solidarity lending groups including consumers and the self-employed, who traditionally lack access to banking and related services....
. Since 2005 the project is supported by social servants of the
Austrian Service Abroad
Austrian Service Abroad
Austrian Service Abroad is a non-profit initiative and was founded in 1998 by Andreas Maislinger and Andreas Hörtnagl. Since 2001 Michael Prochazka is part of the managing committee.-General Information:...
.
Communications and media
The Auroville website provides open as well as restricted forums for various projects, interests, organizations and outreach which make up the life of the community. The opinions expressed in these publications are not necessarily those of the community at large. Auroville radio website provides a lot of recordings and daily news covering events in Auroville. Auroville has a small 'OutreachMedia' team to regulate visits of journalists and film/video makers. Their aim is to ensure that all journalists and filmmakers get official, up-to-date information and representative footage from reliable sources.
Films about Auroville
In May 2008, the
BBC
BBC
The British Broadcasting Corporation is a British public service broadcaster. Its headquarters is at Broadcasting House in the City of Westminster, London. It is the largest broadcaster in the world, with about 23,000 staff...
produced a 10-minute Newsnight film about Auroville, which was aired on TV. A short version was aired on Radio 4's "From Our Own Correspondent". It also appeared on BBC On-line. The reports contrasted the idealism of its founders with allegations by some people that the community tolerates
pedophiles
Pedophilia
As a medical diagnosis, pedophilia is defined as a psychiatric disorder in adults or late adolescents typically characterized by a primary or exclusive sexual interest in prepubescent children...
, especially in a school that Auroville has established for local village children. Auroville complained to the BBC that the report was biased, untrue and contravened BBC editorial guidelines. The BBC Editorial Complaints Unit did not uphold any of the complaints. Police officers of the Tamil Nadu government visited Auroville and surrounding area to check the truth of BBC allegations and found it false.
In 1971, the
National Film Board of Canada
National Film Board of Canada
The National Film Board of Canada is Canada's twelve-time Academy Award-winning public film producer and distributor. An agency of the Government of Canada, the NFB produces and distributes documentary, animation, alternative drama and digital media productions...
released
The India Trip
, a documentary film about Auroville as seen through the eyes of a
Concordia University
Concordia University
Concordia University is a comprehensive Canadian public university located in Montreal, Quebec, one of the two universities in the city where English is the primary language of instruction...
professor who had spent a year in the community, with his family.
See also
Sri Aurobindo Ghose
Mirra Alfassa

Mirra Alfassa

-Early life:Mirra Alfassa was born in Paris in 1878, of a Turkish Jewish father, Maurice, and an Egyptian Jewish mother, Mathilde. She had an elder brother named Matteo. The family migrated to France the year before she was born. For the first eight years of her life she lived at 62 boulevard...



Sri Aurobindo Ashram

Sri Aurobindo Ashram

The Sri Aurobindo Ashram was founded by Sri Aurobindo on the 24 November 1926 . At the time there were no more than 24 disciples in the Ashram...



Pondicherry
Pondicherry (city)
External links