 Stationery
Stationery
has historically meant a wide gamut of materials:
paper
Paper
Paper is a thin material mainly used for writing upon, printing upon, drawing or for packaging. It is produced by pressing together moist fibers, typically cellulose pulp derived from wood, rags or grasses, and drying them into flexible sheets....
and
office supplies
Office supplies
Office supplies is the generic term that refers to all supplies regularly used in offices by businesses and other organizations, from private citizens to governments, who work with the collection, refinement, and output of information .The term includes small, expendable, daily use items such as...
,
writing implement
Writing implement
A writing implement or writing instrument is an object used to produce writing. Most of these items can be also used for other functions such as painting, drawing and technical drawing, but writing instruments generally have the unique requirement to create a smooth, controllable line.Another...
s,
greeting card
Greeting card
A greeting card is an illustrated, folded card featuring an expression of friendship or other sentiment. Although greeting cards are usually given on special occasions such as birthdays, Christmas or other holidays, they are also sent to convey thanks or express other feeling. Greeting cards,...
s,
glue
Glue
This is a list of various types of glue. Historically, the term "glue" only referred to protein colloids prepared from animal flesh. The meaning has been extended to refer to any fluid adhesive....
,
pencil case
Pencil case
A pencil case or pencil box is a container used to carry pencils. A pencil case can also contain a variety of other stationery such as a pencil sharpener, pens, erasers, a stapler, and a calculator....
etc.
History of stationery
Originally the term "stationery" referred to all products sold by a
stationer
, whose name indicates that his book shop was on a fixed spot, usually near a university, and permanent, while medieval trading was mainly
peddler
Peddler
A peddler, in British English pedlar, also known as a canvasser, cheapjack, monger, or solicitor , is a travelling vendor of goods. In England, the term was mostly used for travellers hawking goods in the countryside to small towns and villages; they might also be called tinkers or gypsies...
s (including
chapmen
Chapmen
A chapman was an itinerant dealer or hawker in early modern Britain.-Etymology:Old English céapmann was the regular term for "dealer, seller", cognate to the synonymous Dutch koopman....
, who sold books) and others (such as farmers and craftsmen) at non-permanent markets such as
fair
Fair
A fair or fayre is a gathering of people to display or trade produce or other goods, to parade or display animals and often to enjoy associated carnival or funfair entertainment. It is normally of the essence of a fair that it is temporary; some last only an afternoon while others may ten weeks. ...
s. It was a special term used between the 13th and 15th centuries in the
manuscript culture
Manuscript culture
Manuscript culture uses manuscripts to store and disseminate information; in the West, it generally preceded the age of printing. In early manuscript culture monks copied manuscripts by hand, mostly religious texts. Medieval manuscript culture deals with the transition of the manuscript from the...
. The Stationers' Company formerly held a monopoly over the publishing industry in England and was responsible for
copyright
Copyright
Copyright is a legal concept, enacted by most governments, giving the creator of an original work exclusive rights to it, usually for a limited time...
regulations.
In its modern sense of (often personalized) writing materials, stationery has been an important part of good social
etiquette
Etiquette
Etiquette is a code of behavior that delineates expectations for social behavior according to contemporary conventional norms within a society, social class, or group...
, particularly since the
Victorian era
Victorian era
The Victorian era of British history was the period of Queen Victoria's reign from 20 June 1837 until her death on 22 January 1901. It was a long period of peace, prosperity, refined sensibilities and national self-confidence...
. Some usages of stationery, such as sending a manufactured reply card to a wedding invitation, has changed from offensive to appropriate. Many of these social guidelines may have been defined by the manufacturers of stationery products themselves, such as "Crane's Blue Book of Stationery" showing so much influence by Crane & Co. that the company name is included in the title.
The usage and marketing of stationery is a niche industry that is increasingly threatened by
electronic media
Electronic media
Electronic media are media that use electronics or electromechanical energy for the end-user to access the content. This is in contrast to static media , which today are most often created electronically, but don't require electronics to be accessed by the end-user in the printed form...
. As stationery is intrinsically linked to paper and the process of written, personalized communication, many techniques of stationery manufacture are employed, of varying desirability and expense. The most familiar of these techniques are letterpress printing, embossing, engraving, and thermographic printing (often confused with
thermography
Thermography
Infrared thermography, thermal imaging, and thermal video are examples of infrared imaging science. Thermal imaging cameras detect radiation in the infrared range of the electromagnetic spectrum and produce images of that radiation, called thermograms...
). Flat printing and offset printing are regularly used, particularly for low cost or informal needs.
Letterpress printing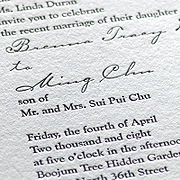 Letterpress is a printing method that requires characters being impressed upon the page. The print may be inked or blind but is typically done in a single color. Motifs or designs may be added as many letterpress machines use movable plates that must be hand-set.
Embossing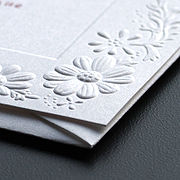 Embossing is a printing technique used to create raised surfaces in the converted paper stock. The process relies upon mated dies that press the paper into a shape that can be observed on both the front and back surfaces.
Engraving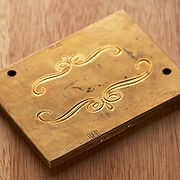 Engraving
Engraving
Engraving is the practice of incising a design on to a hard, usually flat surface, by cutting grooves into it. The result may be a decorated object in itself, as when silver, gold, steel, or glass are engraved, or may provide an intaglio printing plate, of copper or another metal, for printing...
is a process that requires a design to be cut into a plate made of a relatively hard material. It is a technology with a long history and requires significant skill and experience. The finished plate is usually covered in ink, and then the ink is removed from all of the un-etched portions of the plate. The plate is then pressed into paper under substantial pressure. The result is a design that is slightly raised on the surface of the paper and covered in ink. Due to the cost of the process and expertise required, many consumers opt for thermographic printing, a process that results in a similarly raised print surface, but through different means at less cost.
Thermographic printing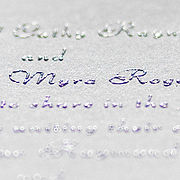 Thermographic printing
Thermographic printing
Thermographic printing refers to two types of printing, both of which rely on heat to create the letters or images on a sheet of paper.The simplest type is where the paper has been coated with a material that changes colour on heating. This is called thermal printing and was used in older model...
is a process that involves several stages but can be implemented in a low-cost manufacturing process. The process involves printing the desired designs or text with an ink that remains wet, rather than drying on contact with the paper. The paper is then dusted with a powdered polymer that adheres to the ink. The paper is vacuumed or agitated, mechanically or by hand, to remove excess powder, and then heated to near combustion. The wet ink and polymer bond and dry, resulting in a raised print surface similar to the result of an embossing process.
Classifications
Desk top instruments: hole punch

Hole punch

A hole punch is a common office tool that is used to create holes in sheets of paper, often for the purpose of collecting the sheets in a binder or folder.The origins of the hole punch date back to Germany via Matthias Theel, where two early patents for a...


, Stapler

Stapler

A stapler is a mechanical device that joins sheets of paper or similar material by driving a thin metal staple through the sheets and folding the ends. Staplers are widely used in government, business, offices, and schools....


and staples

Staples

-Places:*Staples, Minnesota, United States*Staples, Texas, United States*Staples Center, an arena in Los Angeles, California*Staples High School, a high school in Connecticut*Staples , a train station in Staples, Minnesota served by Amtrak...


, tapes

Adhesive tape

Adhesive tape is one of many varieties of backing materials coated with an adhesive. Several types of adhesives can be used.-Types:Pressure sensitive tape...


and dispenser

Tape dispenser

A tape dispenser is an object that holds a roll of tape and has a mechanism on one end to shear the tape. Dispensers vary widely based on the tape they dispense. Abundant and most common, clear tape dispensers are commonly made of plastic, and may be disposable...


,
Drawing instruments: brushes, colour pencils, crayons, water colour,
Eraser

Eraser

An eraser or rubber is an article of stationery that is used for rubbing out pencil markings. Erasers have a rubbery consistency and are often white or pink, although modern materials allow them to be made in any color. Many pencils are equipped with an eraser on one end...


s
Ink

Ink

Ink is a liquid or paste that contains pigments and/or dyes and is used to color a surface to produce an image, text, or design. Ink is used for drawing and/or writing with a pen, brush, or quill...


and toner

Toner

Toner is a powder used in laser printers and photocopiers to form the printed text and images on the paper. In its early form it was simply carbon powder. Then, to improve the quality of the printout, the carbon was melt-mixed with a polymer...


:
Filing and storage:

Expandable file

Tickler file

A tickler file is a collection of date-labeled file folders organized in a way that allows time-sensitive documents to be filed according to the future date on which each document needs action...



File folder

File folder

A file folder is a kind of folder that holds loose papers together for organization and protection. File folders usually consist of a sheet of heavy paper stock or other thin, but stiff, material which is folded in half, and are used to keep paper documents...



Hanging file folder
Index card

Index card

An index card consists of heavy paper stock cut to a standard size, used for recording and storing small amounts of discrete data. It was invented by Carl Linnaeus, around 1760....


s and files
Two-pocket portfolios

Mailing and shipping supplies:

Envelope

Envelope

An envelope is a common packaging item, usually made of thin flat material. It is designed to contain a flat object, such as a letter or card....




Paper and pad:

Notebooks, wirebound notebook, writing pads
Office paper: dot matrix paper

Dot matrix printer

A dot matrix printer or impact matrix printer is a type of computer printer with a print head that runs back and forth, or in an up and down motion, on the page and prints by impact, striking an ink-soaked cloth ribbon against the paper, much like the print mechanism on a typewriter...


, inkjet paper

Inkjet printer

An inkjet printer is a type of computer printer that creates a digital image by propelling droplets of ink onto paper. Inkjet printers are the most commonly used type of printer and range from small inexpensive consumer models to very large professional machines that can cost up to thousands of...


, laser paper

Laser printer

A laser printer is a common type of computer printer that rapidly produces high quality text and graphics on plain paper. As with digital photocopiers and multifunction printers , laser printers employ a xerographic printing process, but differ from analog photocopiers in that the image is produced...


, Photocopy paper.

Writing instruments: ballpoint pen

Ballpoint pen

A ballpoint pen is a writing instrument with an internal ink reservoir and a sphere for a point. The internal chamber is filled with a viscous ink that is dispensed at its tip during use by the rolling action of a small sphere...


, fountain pen

Fountain pen

A fountain pen is a nib pen that, unlike its predecessor the dip pen, contains an internal reservoir of water-based liquid ink. The pen draws ink from the reservoir through a feed to the nib and deposits it on paper via a combination of gravity and capillary action...


, pencil

Pencil

A pencil is a writing implement or art medium usually constructed of a narrow, solid pigment core inside a protective casing. The case prevents the core from breaking, and also from marking the user's hand during use....


, porous point pen

Porous point pen

A porous point pen contains a point that is made of some porous material such as felt or ceramic.Draftsman's pens usually have a ceramic tip since this wears well and does not broaden when pressure is applied while writing....


, rollerball pen

Rollerball pen

Rollerball pens are pens which use ball point writing mechanisms with water-based liquid or gelled ink, as opposed to the oil-based viscous inks found in ballpoint pens...


, highlighter pen

Highlighter

A highlighter is a felt-tip pen which is used to draw attention to sections of documents by marking them with a vivid, translucent colour.A typical highlighter is fluorescent yellow, coloured with pyranine.-History:...



See also
Crane & Co.
teNeues

TeNeues

teNeues is a publishing company founded by Dr. Heinz teNeues in Krefeld, Germany, in 1931. It is a third generation family firm and one of the leading book publishers in the areas of photography, design, lifestyle, and travel...



New Zealand standard for school stationery

New Zealand standard for school stationery

The New Zealand standard for school stationery was established in 1984 by the 'Standards Association Ltd', New Zealand's national standards body. It specifies various types of stationery to ensure that different manufacturers produce compatible products of suitable quality...



Office 1 Superstore

Office 1 Superstore

Office 1 Superstores International Inc. is a franchise retail store chain which sells office products and supplies including office furniture and electronics. Office 1 currently operates in twenty-six countries with over 600 stores. The company is headquartered in Palm Beach, Florida...



Smythson

Smythson

Frank Smythson Ltd., more simply known as Smythson, of Bond Street is a British manufacturer of luxury stationery, leather goods, diaries, and fashion products based in London, England. Smythson opened his first shop on 29 September 1887 at 133, New Bond Street, London. The current flagship store...



WHSmith