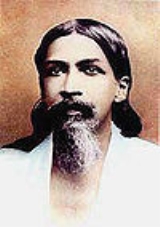 Sri Aurobindo
Sri
Sri
Sri , also transliterated as Shri or Shree or shre is a word of Sanskrit origin, used in the Indian subcontinent as polite form of address equivalent to the English "Mr." in written and spoken language, or as a title of veneration for deities .-Etymology:Sri has the root meaning of radiance, or...
Aurobindo
(
Sri Ôrobindo
) (15 August 1872 – 5 December 1950), born
Aurobindo Ghosh
or
Ghose
(
Ôrobindo Ghosh
), was an
Indian nationalist
Indian nationalism
Indian nationalism refers to the many underlying forces that molded the Indian independence movement, and strongly continue to influence the politics of India, as well as being the heart of many contrasting ideologies that have caused ethnic and religious conflict in Indian society...
, freedom fighter,
philosopher
Philosophy
Philosophy is the study of general and fundamental problems, such as those connected with existence, knowledge, values, reason, mind, and language. Philosophy is distinguished from other ways of addressing such problems by its critical, generally systematic approach and its reliance on rational...
,
yogi
Yogi
A Yogi is a practitioner of Yoga. The word is also used to refer to ascetic practitioners of meditation in a number of South Asian Religions including Jainism, Buddhism, and Hinduism.-Etymology:...
,
guru
Guru
A guru is one who is regarded as having great knowledge, wisdom, and authority in a certain area, and who uses it to guide others . Other forms of manifestation of this principle can include parents, school teachers, non-human objects and even one's own intellectual discipline, if the...
, and poet. He joined the
Indian movement for freedom
Indian independence movement
The term Indian independence movement encompasses a wide area of political organisations, philosophies, and movements which had the common aim of ending first British East India Company rule, and then British imperial authority, in parts of South Asia...
from
British rule
British Raj
British Raj was the British rule in the Indian subcontinent between 1858 and 1947; The term can also refer to the period of dominion...
and for a duration became one of its most important leaders, before developing his own vision of human progress and
spiritual evolution
Spiritual evolution
Spiritual evolution is the philosophical, theological, esoteric or spiritual idea that nature and human beings and/or human culture evolve, extending from the established cosmological pattern or ascent, or in accordance with certain pre-established potentials...
. He was also one of the famous Radical leader of India during the Indian National Movement.
The central theme of Sri Aurobindo's vision was the evolution of human life into life divine.
Evolution is not finished; reason is not the last word nor the reasoning animal the supreme figure of Nature. As man emerged out of the animal, so out of man the superman emerges.

Thoughts and Aphorisms (1913)
What I cannot do now is the sign of what I shall do hereafter. The sense of impossibility is the beginning of all possibilities. Because this temporal universe was a paradox and an impossibility, therefore the Eternal created it out of His being.

Thoughts and Glimpses (1916-17)
The meeting of man and God must always mean a penetration and entry of the divine into the human and a self-immergence of man in the Divinity.

Thoughts and Glimpses (1916-17)
The Hindu religion appears ... as a cathedral temple, half in ruins, noble in the mass, often fantastic in detail but always fantastic with a significance — crumbling or badly outworn in places, but a cathedral temple in which service is still done to the Unseen and its real presence can be felt by those who enter with the right spirit.

Letters, Vol. II (1949) p. 53; also in The Soul of India (1974) by Satyavrata R Patel
More high-reaching, subtle, many-sided, curious and profound than the Greek, more noble and humane than the Roman, more large and spiritual than the old Egyptian, more vast and original than any other Asiatic civilization, more intellectual than the European prior to the 18th century, possessing all that these had and more, it was the most powerful, self-possessed, stimulating and wide in influence of all past human cultures.

The Foundations of Indian Culture (1953), p. 31
Indian religion has always felt that since the minds, the temperaments and the intellectual affinities of men are unlimited in their variety, a perfect liberty of thought and of worship must be allowed to the individual in his approach to the Infinite.

The Foundations of Indian Culture (1953), p. 147