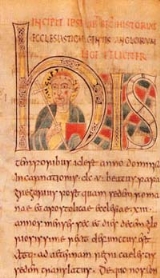 Augustine of Canterbury
Augustine of Canterbury
(
circa
Circa
Circa , usually abbreviated c. or ca. , means "approximately" in the English language, usually referring to a date...
first third of the 6th century – probably 26 May 604) was a
Benedictine
Benedictine
Benedictine refers to the spirituality and consecrated life in accordance with the Rule of St Benedict, written by Benedict of Nursia in the sixth century for the cenobitic communities he founded in central Italy. The most notable of these is Monte Cassino, the first monastery founded by Benedict...
monk
Monk
A monk is a person who practices religious asceticism, living either alone or with any number of monks, while always maintaining some degree of physical separation from those not sharing the same purpose...
who became the first
Archbishop of Canterbury
Archbishop of Canterbury
The Archbishop of Canterbury is the senior bishop and principal leader of the Church of England, the symbolic head of the worldwide Anglican Communion, and the diocesan bishop of the Diocese of Canterbury. In his role as head of the Anglican Communion, the archbishop leads the third largest group...
in the year 597. He is considered the "Apostle to the English" and a founder of the English Church.
Augustine was the
prior
Prior
Prior is an ecclesiastical title, derived from the Latin adjective for 'earlier, first', with several notable uses.-Monastic superiors:A Prior is a monastic superior, usually lower in rank than an Abbot. In the Rule of St...
of a monastery in Rome when Pope
Gregory the Great
Pope Gregory I
Pope Gregory I , better known in English as Gregory the Great, was pope from 3 September 590 until his death...
chose him in 595 to lead a mission, usually known as the
Gregorian mission
Gregorian mission
The Gregorian mission, sometimes known as the Augustinian mission, was the missionary endeavour sent by Pope Gregory the Great to the Anglo-Saxons in 596 AD. Headed by Augustine of Canterbury, its goal was to convert the Anglo-Saxons to Christianity. By the death of the last missionary in 653, they...
, to Britain to
Christianize
Christianization
The historical phenomenon of Christianization is the conversion of individuals to Christianity or the conversion of entire peoples at once...
the King Æthelberht of the
Kingdom of Kent
Kingdom of Kent
The Kingdom of Kent was a Jutish colony and later independent kingdom in what is now south east England. It was founded at an unknown date in the 5th century by Jutes, members of a Germanic people from continental Europe, some of whom settled in Britain after the withdrawal of the Romans...
from his native Anglo-Saxon paganism.